If your next trip is to the South of Spain, you should take a look at the best tips about what to bring on holidays to Andalucia. Your holidays are safe with these useful tips!
Holidays in Spain grant you a period of disconnection and relaxation. To fully enjoy it, you should take a look at some useful tips about what to bring to Andalucia, to be 100% prepared to make the most of your stay.
Documents to bring on holidays to Andalucia
EU citizens are allowed into Spain with their national ID or passport. No other documentation is required. If you're travelling with children, remember to take their passport/ID with you. In case you travel with pets, know that they need to own the European Pet Passport.
What to pack for holidays in Andalucia
There are some things you cannot forget to pack if you are planning to travel to Andalucia. Here goes a list of them:
Flight tickets and booking confirmations. Always remember to bring the important receipts with you, to avoid surprises once you reach your destination. If you want to avoid wasting papers, the main flight companies are now used to providing their customers with interactive mobile apps, where you can easily save your ticket and show it at the airport security.
Copy of your passport/ID, to be kept in a separate place from the original one, in case it is stolen or goes missing. If that happens, go the nearest police station (comisaría de policía), where you will be helped out with this and other issues.
Electric converter: since electric plugs are different in Spain, you will need to bring a universal charger with you, or else buy one (cargador universal) once you get to Andalucia.
Euros: don't forget to bring some cash with you, as well as ask your bank about the commissions applied to any purchase with your debit/credit card. ATMs (cajero automático) are widely available in every city and town of Andalucia.
Basic medicine: although small scissors are not allowed on aeroplanes, you should remember to bring plaster and basic medicine with you, such as that for diarrhoea and paracetamol. You will find a pharmacy (farmacia) wherever you go, as well as a list of the emergency pharmacies (farmacia de Guardia) on the door of health centres (clothing de salud).
Small bag to enjoy your evening wanderings and discoveries of the city without worrying about too much weight on your shoulders.
100 ml bottles. If you are travelling to Andalucia by plane, remember that you are allowed to carry on board small bottles of maximum 100 ml. They can be creams, shower gels, shampoos, conditioners and so on, and they have to be put in a transparent bag, which you will have to show at the airport security. If you are in no need of anything special, it is advisable to buy the things you need in any drugstore (droguería) or supermarket (supermercado) in Andalucia. They are cheaper, and you will save space in your luggage.
Something to shelter yourself from the sun rays. This list includes sunglasses and sunscreen with high SPF, especially for those who usually get sunburnt.
A camera: Andalucia is full of breathtaking spots and picturesque hideouts you will want to show to your family and friends once you get back home.
What to bring on holidays in Andalucia in spring
As a general rule, warm temperatures and mild weather characterise spring in Andalucia. However, be prepared to experience some showers and heavy winds, especially during early spring. Therefore, depending on the time of your holiday, it is advisable to bring an umbrella and a k-way. Likewise, bring some comfortable shoes, since in this period you will have the possibility to wander through the Andalusian cities and discover places and monuments.
The temperatures usually fall when the sun goes down, so it is better always to have a warm jacket or scarf to keep you sheltered from the night chill. If your destination is a coastal town in late spring, you can put a swimsuit in your luggage, since temperatures rise, thus making a good swim an early unmissable experience.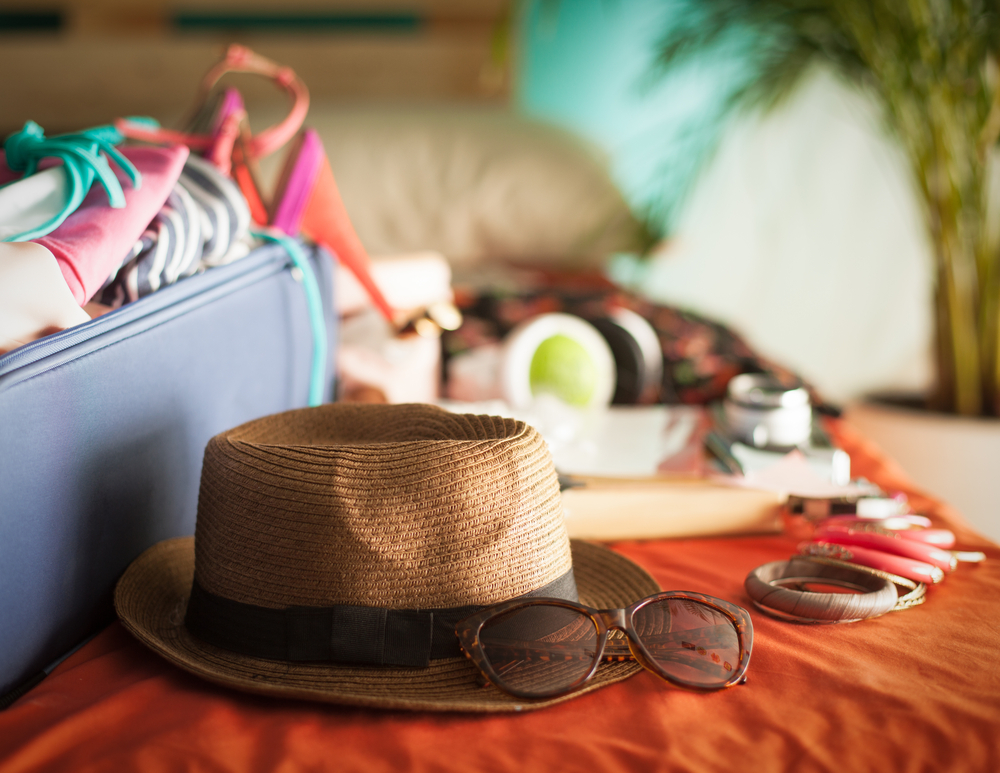 What to bring on holidays in Andalucia in summer
Everybody knows that summer in Andalucia deserves to be lived at best. Therefore, you should not forget to bring a swimsuit (bañador), flip flops (chanclas) and a microfiber beach towel (toalla de playa en microfibra), so that it won't occupy too much space, as well as drying faster.
Cotton pieces of clothes are also advisable, to let your skin breathe. Likewise, remember to bring sunscreen with high SPF in case you need some special cream, or you can also buy one (crema solar con alto factor de protección) in the most popular supermarkets in the Andalusian cities.
What to bring on holidays in Andalucia in autumn
Autumn in Andalucia is characterised by a drop in temperatures, although you can still wear T-shirts and shorts until mid-October. As in spring, autumn temperatures fall at night, making it indispensable to always have a jacket with you. Rains also become more frequent, so remember to put an umbrella in your luggage, just in case.
A coat is also a great piece of clothing, which you can wear while travelling and then put on in the case of need, especially if you are planning to come to Andalucia from late October to early December.
What to bring on holidays in Andalucia in winter
If you plan to come to Andalucia in winter, you should know that temperatures drop, although the sun keeps shining. Boots and anoraks are a must during this season, as well as warm jerseys and jeans. If you yearn for winter sports in Sierra Nevada or towns in the mountains, you will be pleased to know that it may snow in December and January in some areas of Andalucia.
Places to stay in Andalucia
The holiday homes and villas in Andalucia are the best options to spend your well-deserved holidays in southern Spain. Check them out and choose the one you like the most, to enjoy each and every season at its best.
Some tips you may find useful about what to bring on holidays to Andalucia, plus a very convenient travel checklist.
How many of these tips are you used to following when you want to spend some relaxing holidays in Andalucia? Tell us in the comments below.
What to bring on holidays in Andalucia, Spain is an article that talks about
Travel Tips
in
Andalusia