If you are planning to reach Andalucia by car, you should keep reading!
You can find every piece of information you need to travel to Andalucia by car.
Andalucia and the South of Spain are extremely easy to reach by car. It is connected with renewed highways, and the roads of Andalucia will make your trip extremely enjoyable.
If you can't help but move with your own vehicle, find out which are the main tips to drive around Andalucia safely.
Bringing your own car to Andalucia is the best option to enjoy this spectacular region at best. In fact, you can reach every single tiny town of Andalucia with your things all packed up and without having to get off and get on many more mediums of transports.
How to get to Andalucia by car
Andalucia is reachable from the main cities of Spain, France and Morocco. Some of the best roads of Andalucia are the following:
From Spain, and in particular from Madrid, take the highway AP4/A4, which passes through Cordoba, Seville, and Cadiz.
From France and Belgium, take the highway AP7/A7, which goes from Barcelona until Algeciras. From this town, you can easily get to Morocco from Andalucia by car, too.
Andalucia by car: types of roads in Spain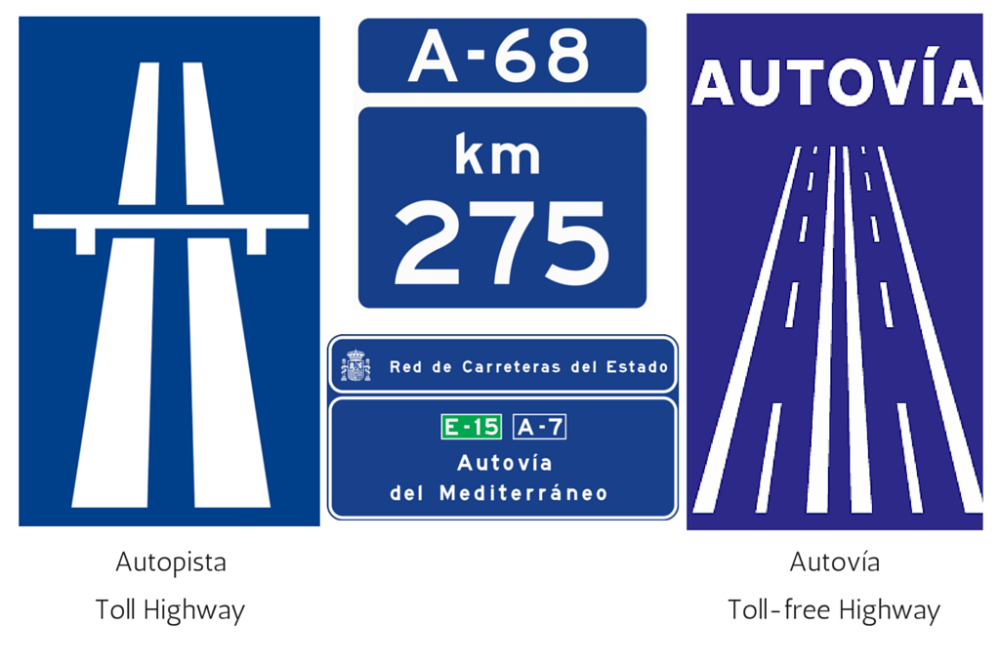 Andalucia is provided mostly with two lane fast highways.
Toll highways are identified with the letter AP, which stands for Autopista, followed by one or two digits that represent the number of the road (e.g. AP-57). They usually require payment, which may vary from €5 to €15. Most motorways also have an electronic system of payment. The main toll highways in Andalucia are the AP-7, the AP-46, and the AP-4. The first connects Fuengirola with Algeciras, passing through Marbella, and Estepona, and it costs €12,40 maximum from June to September, and during Holy Week. The second makes it possible to reach Malaga from Casabermeja for less than €6. The last one connects Seville with Cadiz, costing €7,20 maximum.
Toll-free highways are identified with the letter A, which stands for Autovía, followed by two digits that represent the number of the road (e.g. A-47). They don't require any payment.
Regional roads are identified with the letter A, followed by three digits that represent the number of the road (e.g. A-476). They are the alternative roads to toll and toll-free highways. They have free access, and recently they have been renewed with monitors to prevent people from travelling at a faster speed than the maximum allowed (90km/h).
Andalucia by car: Spain's speed limits

Andalucia's government is very strict about speed limits.
In built-up areas, you are not allowed to exceed 50km/h.
On ordinary roads and outside built-up areas, you can go travel at a maximum speed of 90km/h.
If you are on roads with more than one lane in each direction, the top speed is 100 km/h.
Lastly, on toll highways, toll-free highways, and dual carriageways, you are not allowed to go faster than 120 km/h.
Andalucia by car: road rules in Spain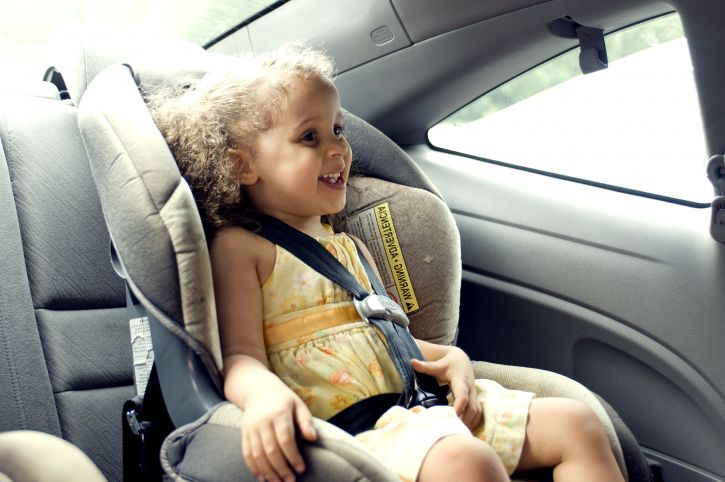 As elsewhere in Europe, apart from UK, Ireland, Malta and Cyprus, the drive is made on the right and overtake on the left.
You need to be at least 18 years old to drive in Andalucia.
It is compulsory to wear seat belts on the front and rear seats of all private vehicles.
If you are travelling with children, remember that if they measure less than 135cm, they must be placed in a child restraint system adapted to their weight and size.
You are not allowed to warn other drivers of the presence of the police on the road, nor you are authorised to own radar detectors.
Andalucia by car: driving license and important documents
If you want to drive around Andalucia, and in general in whole Spain, know that all countries' licences are accepted.
If you are travelling with the old green-style UK licence, you may have to carry an International Driving Permit with you. The IDP is valid for 12 months and allows the car to remain in Andalucia for up to 6 months.
The following documents are also essential on the roads of Andalucia.
ID/Passport
Valid driving licence/International Driving Permit
Proof of ownership (a Vehicle Registration Document if you are from the UK)
Roadworthiness certificate (MOT)
Insurance certificate
Andalucia by car: compulsory items to carry on board while in Spain
You'd better bring the following items with you. If during a police control, you are found not owning one of them, you may be charged fines.
Two warning triangles, to be placed 100 m in front of and behind your vehicle, in case you need to stop on the road
Reflective jackets, which you must wear if you get out of your vehicle on the road
If you are from the UK, remember to provide your car with headlamp beam deflectors (stickers that deflect the light in the desired direction are available in motor accessory shops)
Andalucia by car: fines in Spain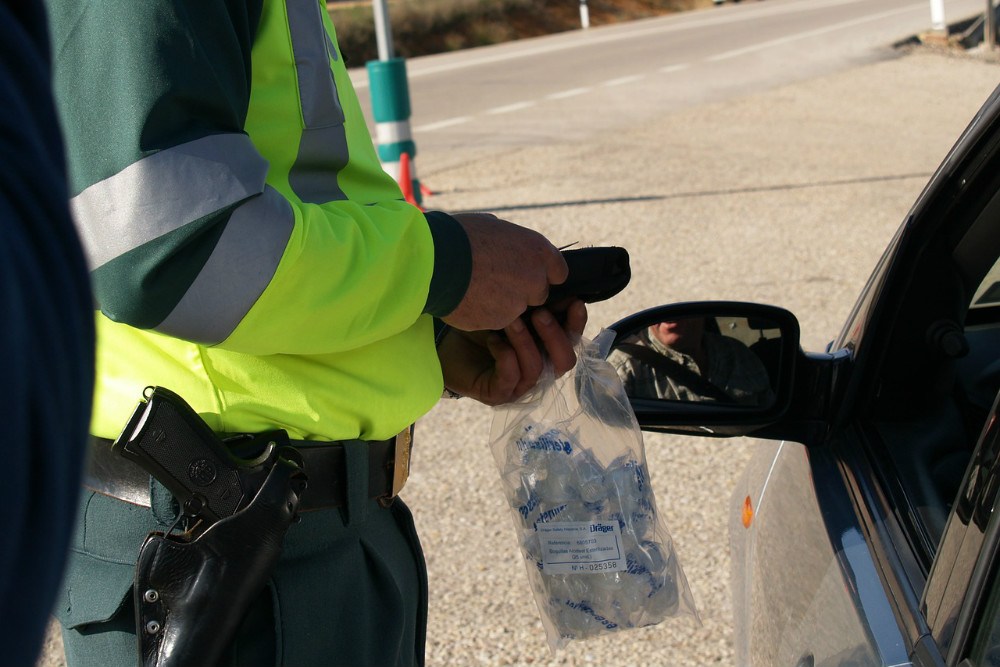 Spanish police (Guardia Civil) frequently carry out checks on drivers. If you are found guilty of any of the following, you will be fined, accordingly to the danger that you might have provoked. The Dirección General de Tráfico usually helps tourists that have been charged with fines.
Traffic violation
You will be asked to pay the fine on the spot. By doing so, you will have to pay only 50% of the fine total. If you refuse to pay on the spot, your car will be impounded until you pay. In this case, removal and impound costs will be added to the fine.
If you are resident in Spain, you will have to provide your address. If you pay within 20 days, you will get a discount of 50% of the total.
The only officers that can directly ask for money are those with a fluorescent waistcoat, labelled "tráfico".
Under the influence of alcohol
The tolerated limit is 0.05%, 0.25 mg/l (0.01% for drivers with a licence less than two years old).
Breath-testing is carried out on occasions, and if you refuse to undergo it, or the level of alcohol in your body is higher than 0.60 mg/l, the police will immobilise your vehicle, your licence suspended, and you might even receive a prison sentence.
Andalucia by car: parking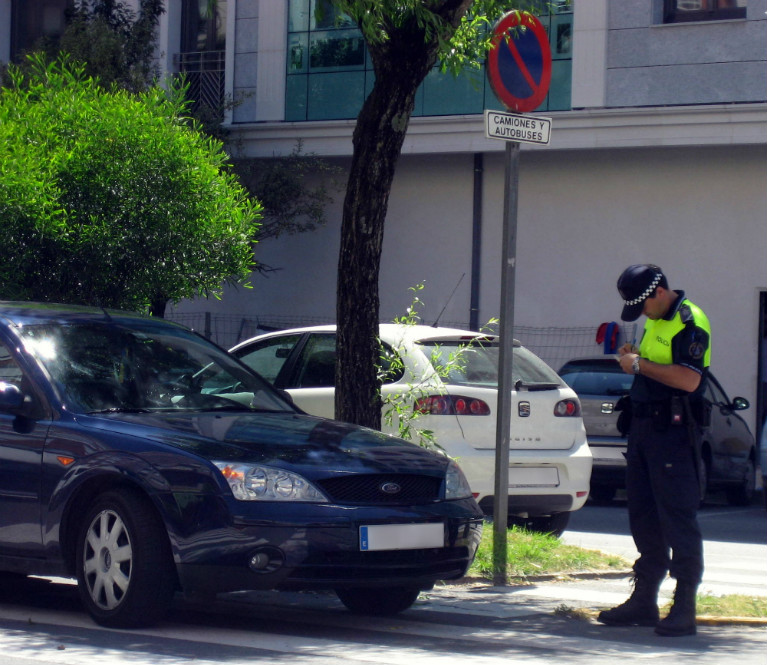 If you want to find free parking easier, you should move slightly away from the city centre.
Be careful! There are usually some people that help you find parking, in areas where it is usually harder to find it. Since this is an "illegal" practice, you should give them at least 1€, to avoid any inconvenience.
In Spanish cities, the most common types of parking are
Street parking
It is usually more difficult to park here due to working hours (9 am to 2 pm Monday to Saturday, and 5 pm to 8 pm Monday to Friday).
You can usually park for up to two hours during the day, with no limit from 8 pm to 8 am.
Blue lines indicate that you have to pay in a nearby parking meter or automatic machine.
Yellow lines mean that only disabled people are allowed to park in that area. You need to have a special permit displayed inside the windscreen.
Underground and multi-storey parking
Charge you with €10-to-15 per day.
They are safer than street parking and are extremely common in cities.
Andalucia by car: fuel in Spain
Petrol stations are available throughout the Andalusian territory. You can pay either with credit cards or in cash, to buy unleaded petrol, diesel oil and lubricating oil.
Andalucia by car: insurance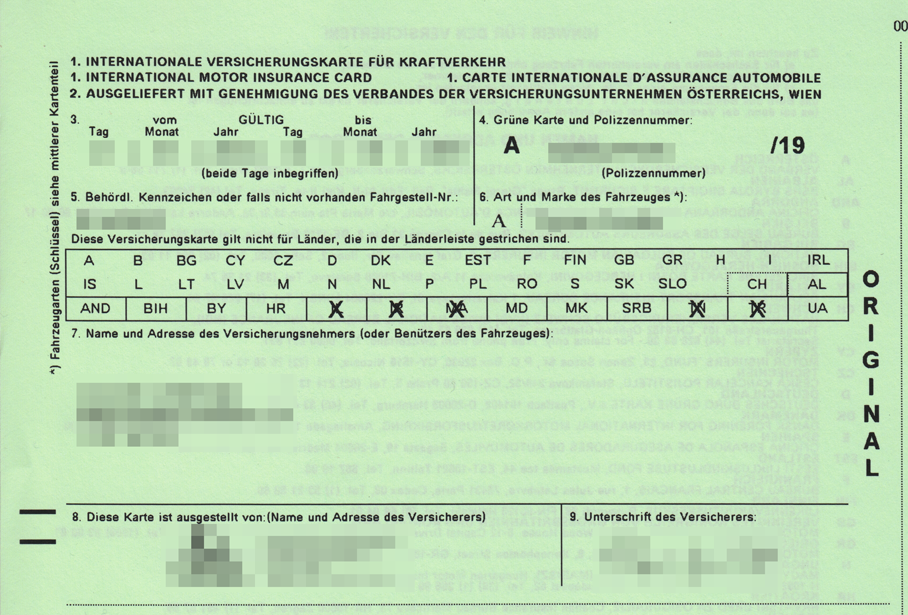 You will need to have insurance to drive in Andalucia. Usually, third-party motor insurance provides the Green Card, a document that proves that you have the minimum insurance cover required throughout Europe.
Andalucia by car: car rent
If you are wondering how you can rent a car in Andalucia, we suggest you take a look at Rentalcar.com, an online tool to compare the most affordable car rental companies.
Places to stay in Andalucia
Andalucia is worth visiting by car. In this case, you will need a place to relax in a dreamlike environment. Discover more than 1000 holiday homes in Andalucia; your holidays are just about to get started!
If you are satisfied with this guide about travel around Andalucia by car, or if you feel like something is missing, leave a comment and tell us what your thoughts are!
Andalucia by car: everything you need to know about driving in Andalucia is an article that talks about
Travel Tips
in
Andalusia