Finding out about the weather in Malaga and what to wear in each season of the year is essential when planning your getaway. Just follow Ruralidays' advice. 
If you're thinking about when to travel to Malaga, then it's inevitable that you're also wondering what the weather is like in the city, which will determine what clothes you pack in your bags. It's time to find out what the weather is like in Malaga, so that you can start packing. Ready?
Tip: Don't worry if you forget something, because you can find whatever you need in the shopping centres in Malaga and the Costa del Sol, as well as in the city centre (for example, on Calle Larios and Calle Nuevo). 
The climate in Malaga and how to find out about the weather during different seasons of the year
If this southern Andalusian city bathed by the Med is famous for one thing, it's the weather. The sun shines practically all year round and delivers spring temperatures on most of those 365 days. However, in autumn and winter in particular, Malaga may experience rainy days and above all, wind, therefore it is advisable to take a look at the weather forecast a few days before departing for Malaga.
Generally speaking, Malaga enjoys warm summers, typically humid and with a lack of rain, and mild winters, although there can be days when the temperature drops to 7ºC. Temperatures throughout the year range from 7 to 31 degrees, although the averages stay between 13 and 25ºC, in winter and summer respectively.
If you're the type who enjoys the sea, then you'll be pleased to know that June to September are the most suitable months, although there are summery days all year round.
Winter weather in Malaga
It always seems to be high season in Malaga, and for good reason. A rich programme of cultural events, the sea, great food and a pleasant climate, even in the coldest months. So, with the exception of a few particularly windy days, the truth is that in Malaga winters tend to be quite mild.
What's the weather like in Malaga in winter?
Malaga boasts one of the warmest winter temperatures in Europe, with an average daytime temperature of 17-18°C in winter months.
The Eastern and Western winds, which determine temperatures all year round, are stronger in winter.
Minimum temperatures rarely drop below 5ºC. 
Although rains in Malaga tend to be torrential, they are luckily not very common.
What clothes to pack for Malaga in winter
Despite pleasant average temperatures, it's advisable to pack a bit of everything in your suitcase. Don't go overboard but likewise, don't fall short, because in Malaga you have to take the element of surprise into account.
A jacket. Warm clothes are fine as you're sure to need them at some point. Due to humidity in this Andalusian city, you'll be grateful for the drop in temperatures in the early morning and after sunset.
Something to keep your neck warm. Either a neck warmer, a scarf or cowl. As with a jacket, this is an accessory or garment that you will probably make use of during your stay in the Andalusian capital, especially due to the strong winds that are common during winter in Malaga, especially if you opt for accommodation near the sea. 
As with any other tourist trip, footwear should be comfy and sturdy. Choose either trainers or walking boots, depending on how much you plan to walk around the city. Despite the good weather, we do not recommend sandals or flip flops. 
If rain is forecast over the dates of your holiday, consider packing some waterproof shoes, and in particular ones with good grip: the marble pavements in Malaga city are not great when it comes to puddles and water, meaning you need suitably non-slip shoes.
Light jumpers and at least one warmer one, as well as t-shirts.
Jeans or heavier trousers. 
If you want to take a few dresses, great. You can wear these on the sunnier days with your trainers.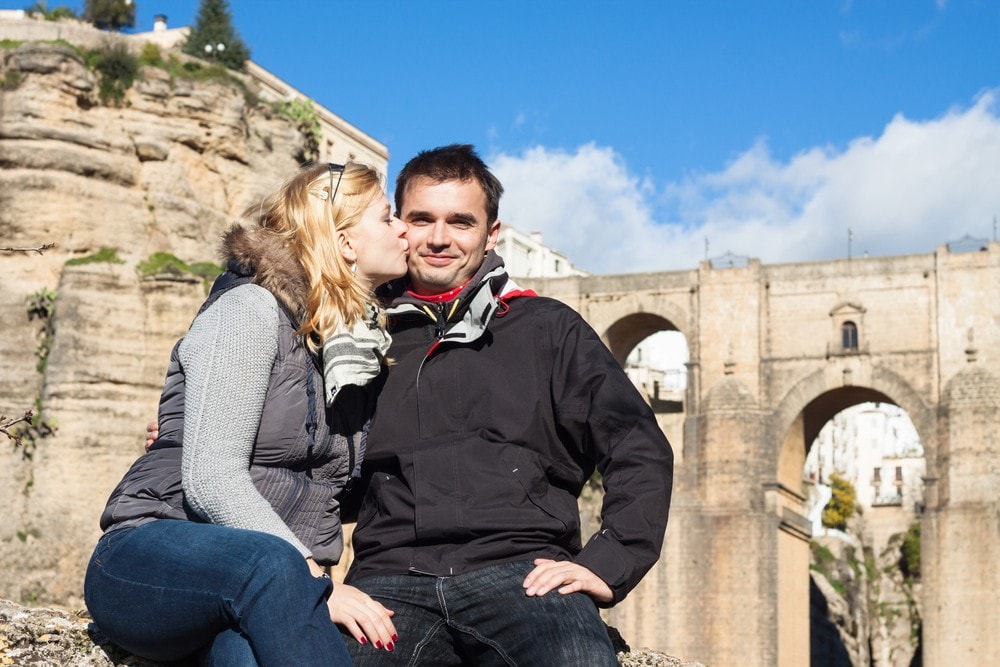 Summer weather in Malaga
Summer in Malaga is known for its warm average temperatures without the extreme spikes of heat that are common in other Andalusian cities such as Seville or Cordoba. Evenings are cool and days are hot, meaning it's essential to take sun protection and light clothing. 
If you're there during the
Terral
(a wind from the interior that brings high temperatures with it), then you might need to rethink your visit to the city, because over these 2-3 days it's pretty much impossible to go outside between 11 AM and 7 PM. However, in this case, you can make the most of the fabulous
beaches on the Costa del Sol
.
Although the climate is mild thanks to being beside the sea, with an average maximum summer temperature of 31ºC, there may be a few very muggy days with temperatures soaring to 40ºC at some times of day. 
There is no chance of rain, although there may be a few isolated summer storms.
The water temperature, depending on the prevailing winds, can reach 23ºC. Precisely due to these winds, said temperature may drop to a recorded minimum.
What clothes to pack for Malaga in summer
As is only logical during the summer months when packing your suitcase for the Andalusian city, you will need swimwear, light t-shirts, and some sandals or flip-flops. Specifically, you should pack the following in your suitcase for Malaga:
Light clothes. The more breathable, the better. Dresses, trousers, shorts, t-shirts, vests: prioritise light, cool, breathable fabrics and cotton or linen, and where possible avoid synthetic garments. 
Shoes should be comfy. Sandals, canvas shoes, espadrilles or even flip-flops to wear beyond the beach, if you plan to stay around town and near the seaside. If, however, you're planning to get out and about to other parts of the province, then it's a good idea to take light, breathable but sturdy shoes. 
Essentials to pack in your bags for Malaga are: sunglasses, hats or caps, and high factor sun cream. 
Swimwear is a must even if you're not planning to lounge at the beach or pool all day. With the warm weather, you're sure to head to the coast at some point and you'll be happy you took something to have a dip in. 
Make sure to pack something long-sleeved just in case. Whether a cardigan or light jumper, don't forget to pack something a bit warmer in your bag. After sunset on some days, you'll be glad you brought something warmer with you, and it's also ideal for the AC that is cranked up full in some transport, bars and shops. You could also take a light scarf instead.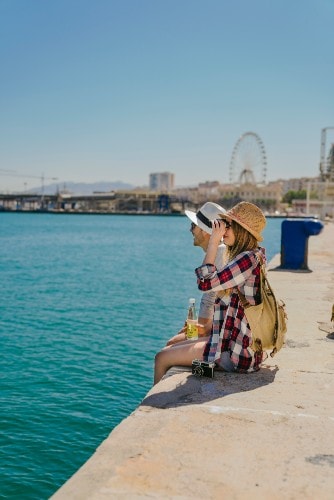 The weather in Malaga during spring and autumn
Being seasons with very similar weather, we can approach spring and autumn in the same way. The months of March, April and October are notable for being the rainiest of the year. However, temperatures tend to be mild and sometimes even reach summer levels.
Maximum temperatures don't usually drop below 17ºC, and in the months of September and start of October temperatures can still even reach 28ºC. The average minimum doesn't usually drop below 8°C, at night and in March and October especially.
Precisely thanks to these temperatures, it's commonly said that summer in Malaga lasts for eight months.
What clothes to pack for Malaga in spring or autumn
In this case it's simple: pack a suitcase that mixes what we've already mentioned for both summer and winter trips. A bit of everything is the trick, just in case, because in the same week you might have summer weather one day and winter temperatures the next.
A jacket. As in winter, this is the best way to keep warm when the temperatures drop. 
Comfy footwear, both open and closed. If you have room in your bag, take two different types of shoe. This means you'll have lighter shoes for warm days and sturdier shoes for the evening or cold days. If you don't have space, then trainers are ideal and more than enough.
Something to keep your neck warm for the coldest times of day. This will protect you from humidity, which can be annoying at times.
Long-sleeved jumpers and tops. Layer up depending on the forecast for the day or the temperature at the time of getting dressed.
Trousers and dresses. In this case, cotton—whether chinos or jeans—is best as it's both versatile and functional. 
Swimwear and flip flops, just in case 😉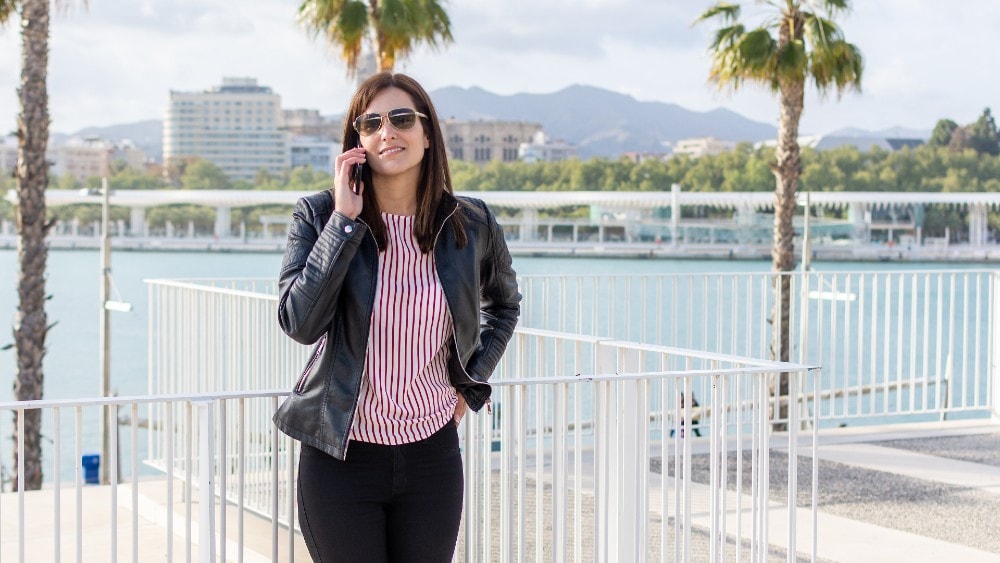 If there's one thing you'll love about your holiday, it's the weather in Malaga—one of its main attractions, meaning that this city can be enjoyed at any time of the year. Have a great trip!
The weather in Malaga: advice on choosing the right clothes is an article that talks about
Travel Tips
in
Malaga