If you're planning on visiting Malaga by car, knowing where to park your vehicle is fundamental. Discover with Ruralidays where you can park your car in Malaga.
Free parking in Malaga is more accessible than what might seem. In this post, you will find information about car parking in Malaga, which areas are the best to leave your vehicle for free, and much more. Take notes if you're going to visit Malaga with your car of if you decide to rent a car to move around the area (in that case, read here how to get to Malaga airport to the city centre).
Free parking in Malaga
You will be happy to know that the city is provided with free parking lots, and without moving away from the Old Town. Between them, you will find the following.
Colour of the lines: white
Calle Guillén Sotelo. This is one of the best free parking zones, as it is located at the feet of the Alcazaba and Gibralfaro mountain, between the gardens of Puerta Oscura and those of Pedro Luis Alonso, next to the Town Hall. Thanks to its fabulous location, finding a free spot here might be somewhat difficult; but you can always take your chances!
Calle Carretería. The bottleneck and a large number of cars that you may find along Carretería street mustn't dissuade you from looking for a free parking spot in this street, which serves as a ring road of the Old Town. The free parking space is located in a vacant lot that's converted into a popular parking lot among locals and tourists.
El Ejido district. The highest area of Malaga city centre is the perfect place to park your car for free without moving away too much. This district welcomes several universities and faculties, and all of them are provided with free parking lots.
La Rosaleda Football stadium. You can park your car for free in the vacant lots that envelop the stadium, especially in the Paseo de Martíricos, which runs parallel to Guadalmedina river.
Avenida Fátima and Avenida del Arroyo de Los Ángeles. In the area surrounding the Materno-Infantil Hospital, you can leave your car parked for free and you will be a 10-minute walk from the city centre.
If you want to park for free in Malaga, we recommend you keep an eye out for gorrillas. These are illegal parking lot attendant that usually watch the cars parked in the free parking lots of the city, by asking for a tip in return. However, you are not obligated to give them money.
Paid Parking Zone in Malaga
Malaga also features paid parking zones that are regulated by the City Council. The current regulation system of parking is known as SARE.
Zonas de rotación normal – Regular rotation zone
Colour of the lines: blue.
Price: €1/hour
You can park your car in these areas, also called "Zona azul" (blue zone), for a maximum of 150 minutes. This limitation is active only during the business hours (9 am – 2 pm, and 4 pm – 8 pm), as well as on Saturdays, from 10 am to 2 pm. Remember to pay the ticket in the vending machine located near this type of parking lots. If you get here outside the aforementioned hours, parking your car here is free.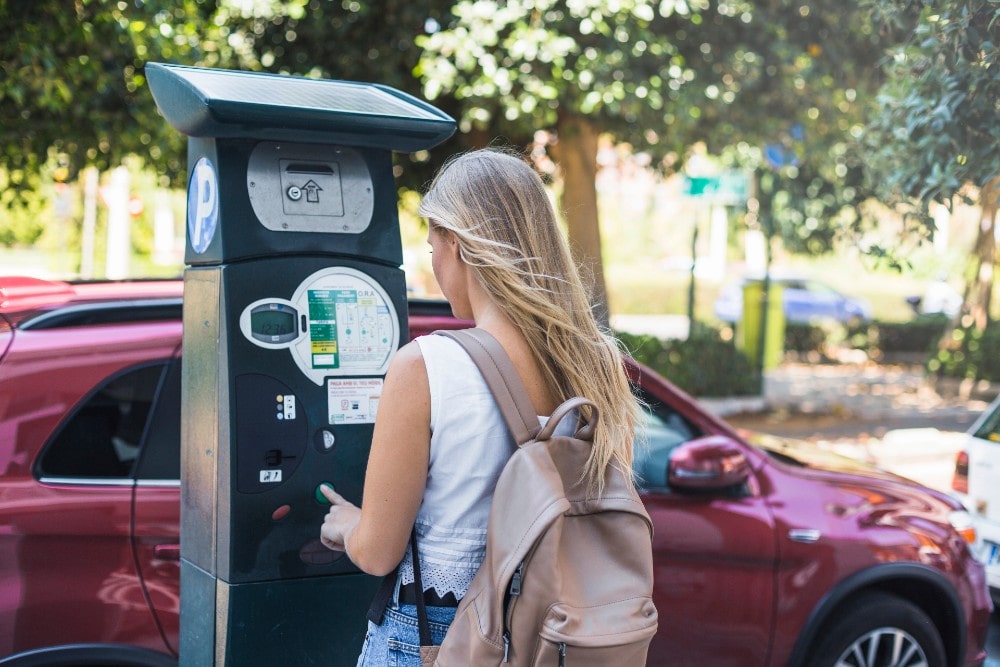 Zonas de alta rotación (S.A.R.E. 30) – High rotation zone
Colour of the lines: blue.
You can park your car for a maximum of 30 minutes, due to the high attendance of vehicles in these areas. They are usually located in the city centre and the hours when you can park are the same as the Zonas de rotación normal. However, always check the signals located near the parking lot you've chosen, especially if you plan to stay away for an extended period of time.
Residents and people with reduced mobility: residents in Malaga and people with reduced mobility might park in the "Zonas azul" for a 98% off the original price (€0.20/day and €1/week).They have to show a card that will be associated with the vehicle.
Owners of electric cars: they can park for free in the Regular Rotation Zone, but NOT in the high rotation zone parking lots. Likewise, they can park for free during a 45-minute window in all parking lots that have charging points (El Palo, Avda. Andalucía and Carlos Haya).
Underground Parking Lots
Malaga is also provided with 12 underground parking lots that compose the Red Municipal de Aparcamientos (Municipal Net of Parking Lots). You will have to pay for a ticket or buy a pass to get inside. The parking lots that are closer to the city centre are:
Central (440 places)
Camas (526 places)
Alcazaba (543 places)
San Juan (704 places)
Tejón (253 places)
Salitre (931 places)
Cervantes (866 places)
Andalucía (929 places)
In the east area, you will find El Palo parking lot, with 291 places. In the western part of the city, there are the Humilladero parking lot (449 places), and La Princesa parking lot (367 places). The offer of subterranean parking lots is completed by the Carlos Haya parking lot, with 461 places and located some 4 km from the city centre.
If you prefer to park your car in one of the underground parking lots,
click this link
to check the real-time free places.
Here, you can find the indicative prices of the underground parking lots in Malaga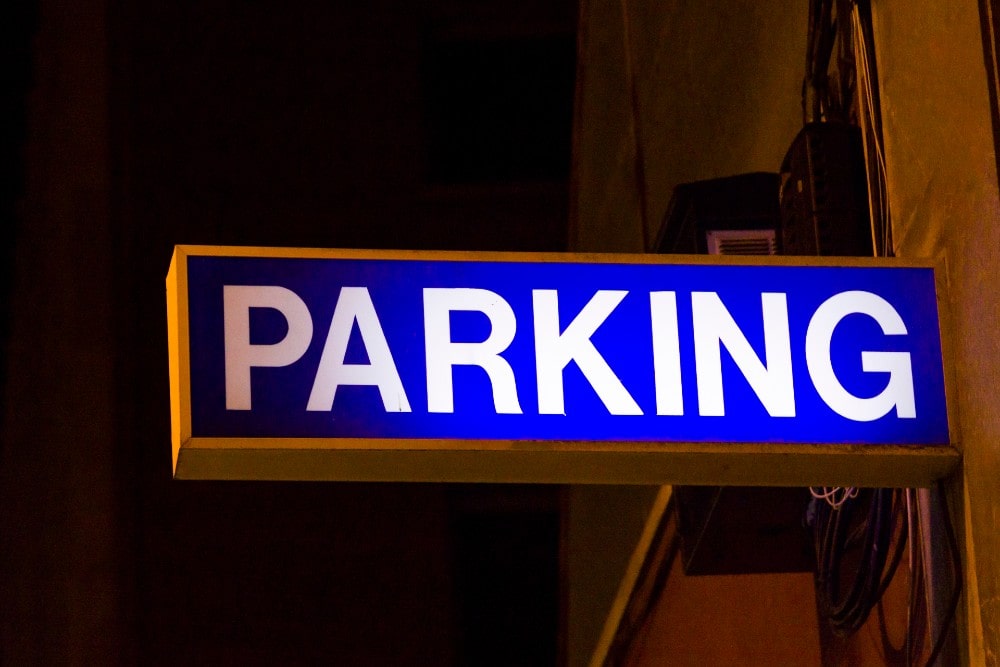 Private paid parking lots
Other paid parking lots that are managed by private companies are:
Port. There, you will find Parking Muelle Uno, thanks to which you can park your car in one of the most demanded areas of Malaga for €2/hour. This parking is also provided with passes that might be useful if you plan to stay in Malaga for a few days.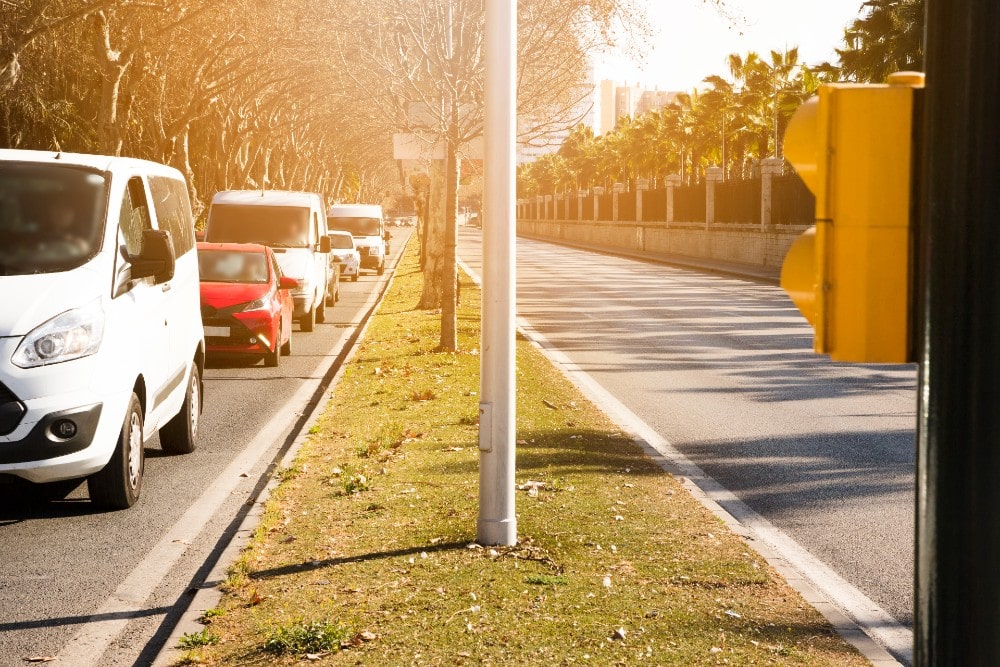 Train station. Located in the Málaga María Zambrano train station, a 10-minute walk from the city centre, this parking lot is provided with multiday and weekend passes. If you need to park your car for a few hours, the price is €1.95/hour.