Christmas is a wonderful and lovely time to spend with your beloved ones. So, why not spend Christmas in Andalucia?
Christmas is almost here, and all we have to do is letting its atmosphere rub off on ourselves. Since Andalusian culture and tradition mix with the possibility to still enjoy the sun of the Andalusian beaches, Christmas time couldn't be but equally marked by extraordinary events. You will fall in love with this marvellous region and start considering it as your next holiday destination in a matter of seconds!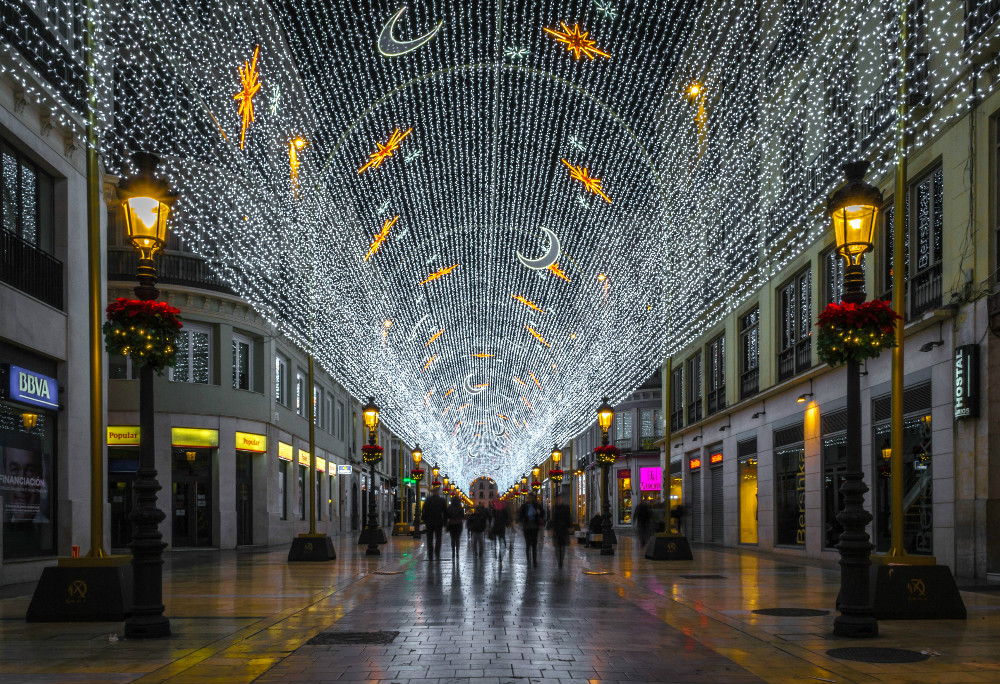 Here goes what you absolutely must know if you want to spend Christmas in Andalucia.
The first thing, thanks to which you become noticing Christmas is getting nearer, are the Christmas lights that, around this date, start to enlighten all the cities in Andalucia.
The most famous are without any doubt those in Malaga, which changes clothes every year, and that will give you the possibility to enjoy its outstanding atmosphere from November 30th, 2019, to January 5th, 2020. Under the colourful lights and the sounds of "All I Want for Christmas is You", "Jingle Bells Rock", "En Navidad", and "Never Back Down" (one show at 6.30 pm, one at 8 pm, and one at 9.30 pm), delicious smells flood into the enlightened streets and among the picturesque Christmas street markets.
In 2019, besides the show in Larios street, Malaga will provide its visitors with a video mapping at the Alcazaba, where a Christmas carol will be displayed. The show will be 6 minutes long and will take place at 6.45 pm, 8 pm and 9.30 pm. The closest tree to Larios street, in the Alameda Principal, will also show a 5-minute screening.
Every kind of Christmas sweet is being cooked in houses and convents, which are now turned into scented bakeries. Some of the typical Christmas sweets are marzipan, candied pine nut, caramel-coated almonds, almond muffins, toasted almonds, toasted pound cakes, and the traditional "Roscón de Reyes". This sweet festive bread in the shape of a ring is decorated with candied fruits and filled with cream, chocolate, or marmalade. All these specialities are usually accompanied by aniseed liqueur, wine and cinnamon.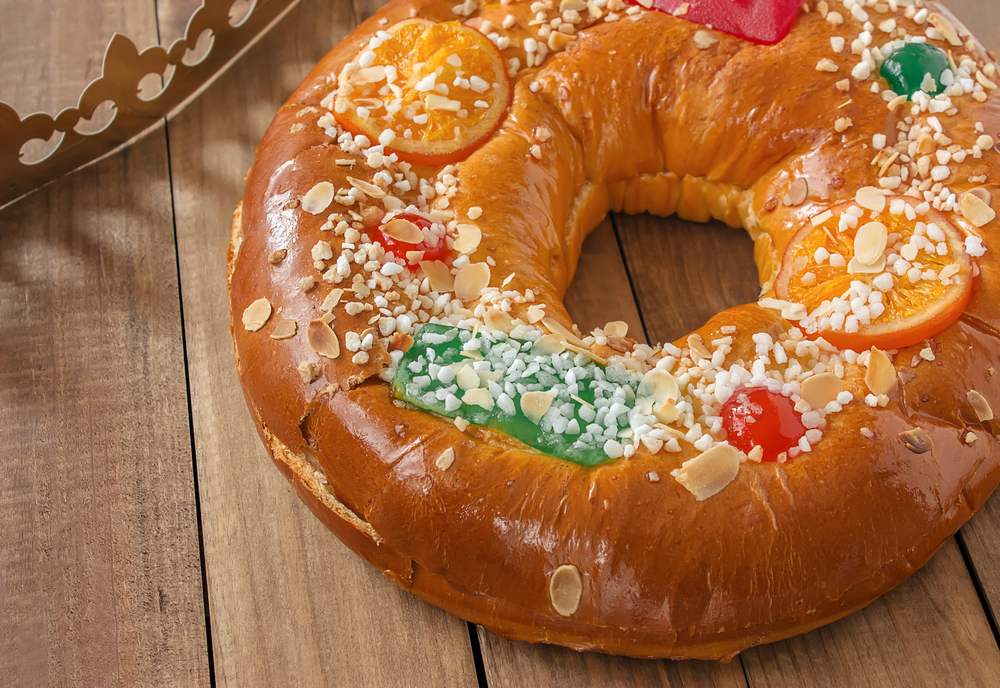 Christmas in Andalucia is heightened by the traditional tour of the Nativity Scenes, among which one of the most famous and spectacular is undoubtedly the marvellous "Chocolate Nativity Scene", an 800-kg chocolate construction in the town of Rute (Cordoba).
While moving from one church to the other, you will be overwhelmed by songs that wish you a merry Christmas. These are the "Villancicos", Christmas carols sung by groups of children and adults in the streets of Andalusian cities and towns. They usually talk about the Nativity Scene and Jesus's family and are accompanied by basic instruments, such as tambourines and mortars.
Other very famous songs are those of the day before Christmas Eve when people reunite with families, neighbours and friends by a fireplace to sing and dance La Zambomba. These spontaneous songs are named after the instrument that accompanies them, the Zambomba indeed, a mud pot covered with animal skin in whose interior there is a long cane, which provides sound when touched. People drink wine and aniseed liqueur and eat typical Christmas sweets while singing and dancing.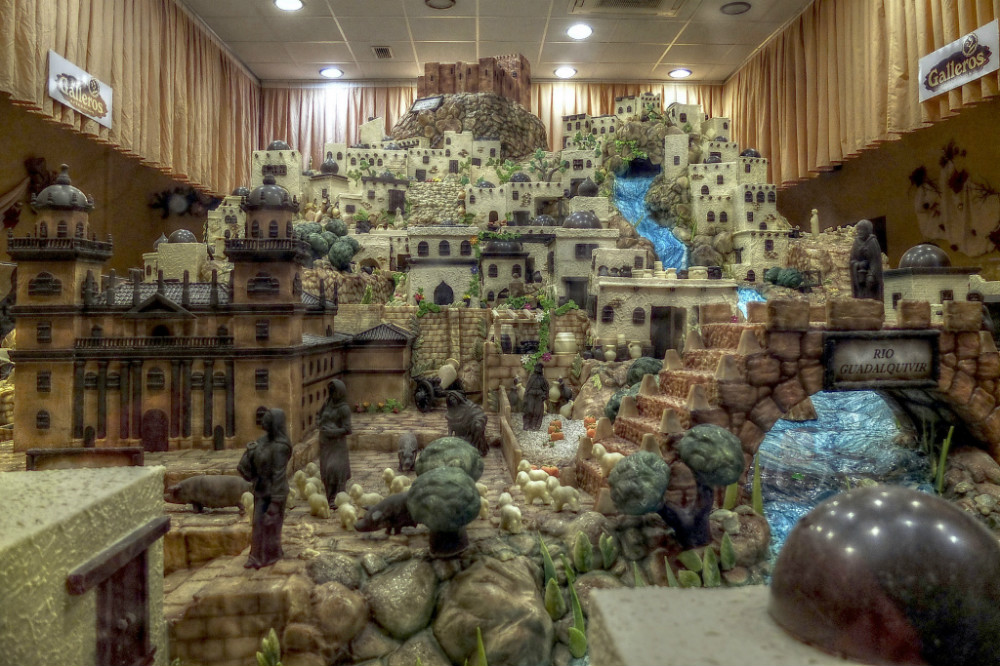 The day that officially marks the start of festivities is December 22, when the Christmas Lottery's raffle takes place. "El Gordo", as they call the first prize, has been representing every Spaniard's not-so-untold dream for ages, since the very first Christmas Lottery came into being in 1763 and never missed a year ever since. On Christmas Eve, people reunite with their families and eat typical meals, where the absolute masters are turkey, shellfish, nougat candy and the "cava", a foamy Catalan white wine used to celebrate.
But there is more to come after December 25. New Year's Eve is the day when Spanish and Andalusian traditions are felt the most. Among the ones that undoubtedly stand out, the Good-Luck Grapes are worth mentioning. This tradition consists of eating twelve grapes one by one, as the clock strikes the year's last twelve seconds. As soon as you finish, you will toast the New Year with the "cava".
The day that ends the celebration is, at the same time, the most awaited by children since it is on January 6 that the little ones receive the presents brought by the Magi. The spectacular Cabalgata de Los Reyes Magos (the Procession of the Magi) takes place on the evening of January 5, when colourful and magical processions fill the streets of every Andalusian city.
The most famous are those of Huelva and Seville. Huelva's Cabalgata de la Higuera de la Sierra is the 2nd oldest procession in Spain, and it has been given the "Fiesta de Interés Turístico Nacional de Andalucía" award (the "Andalusian Celebration of National Touristic Interest"). The parade of Seville has been celebrated every year since 1918.
Places to stay in Andalucia
If you want to spend Christmas in Andalucia, we provide you with the most welcoming and cosiest holiday homes in Andalucia, where you will be able to enjoy the Christmas atmosphere with your beloved ones.
If you have already spent Christmas in Andalucia, you will surely want to come back. If you have not, what are you waiting for?
You will never forget a Christmas in Andalucia is an article that talks about
Activities
in
Andalusia