Do you have any four-legged family member? We provide you with a selection of the best dog-friendly holiday homes in Andalucia.
Every day more and more people choose to spend their holidays with a fundamental component of their families: their devoted four-legged friend. Fortunately, the majority of the owners in Andalucia are enthusiastic about welcoming pets in their holiday homes. This way you can enjoy some relaxing and fun time, without having to renounce to your pet's company. You won't have to leave anybody at home anymore!
Take a look at the best holiday homes that welcome pets, and start packing your bags, for your next holidays with man's best friend are approaching!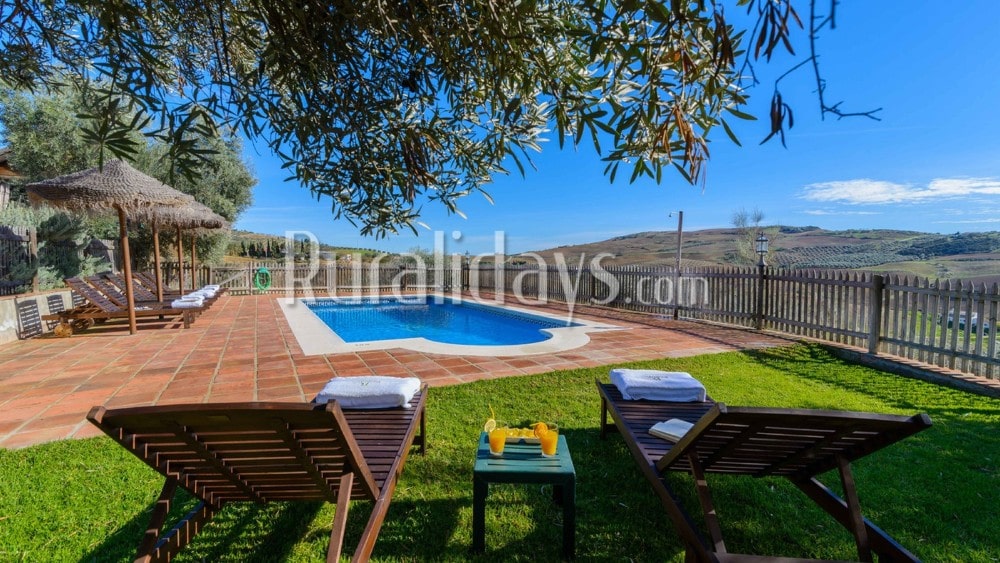 This holiday home is provided with a lovely outdoor area, where your pet can enjoy the width of the outdoor area. At the same time, you will be able to relax in the private swimming pool and enjoy the breathtaking views provided.
This was a perfect holiday, with tranquility, comfort, all the equipment we needed, great views and a kind owner
David, United Kingdom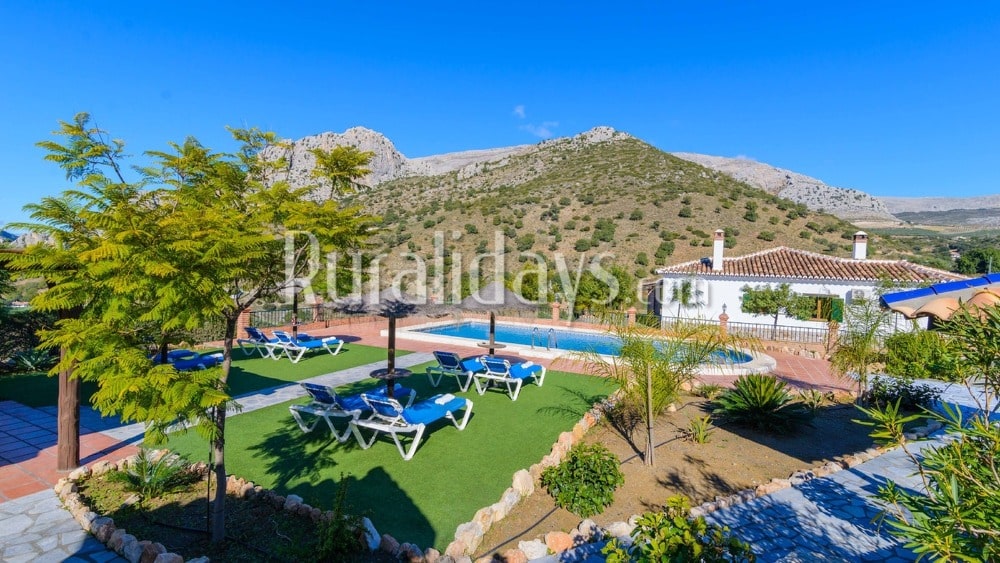 This enormous holiday home is surrounded by a huge garden with private swimming pool, deckchairs, a barbecue area and impressive views over the nearby mountains of the Guadalhorce Valley. Your beloved pet will surely enjoy running in the garden and play with you around the swimming pool.
We were in the house for a week, it's spectacular! The views, the facilities, everything very well kept, we were in glory! The stars last night! We will certainly repeat!
María, Spain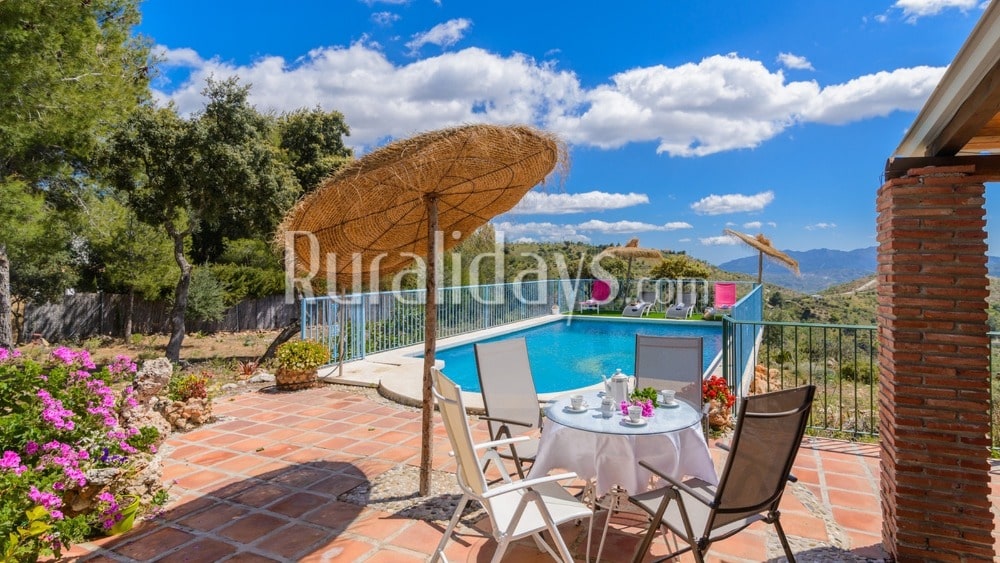 This property is provided with a huge outdoor area, where your pet will have the possibility to run free. Your kids will have the possibility to enjoy themselves exploring the garden, while you take a dip in the marvellous swimming pool and your dog plays in the outdoor area. Start packing your things, for you are going on holidays!
Great instructions were clear. House was excellent. Everything worked. Perfect location.
Manon, United Kingdom
This huge holiday home is provided with everything you and your pet can ask for. The impressively vast garden, with swimming pool, is the perfect environment where to spend an unforgettable time with your family and beloved four-legged friend.
It's a wonder the farm with animals, the environment, gardens with cascading pool, the house is decorated with great care and very clean and especially highlight the excellent care and details such as fruit baskets, food ... you They felt in family
Gabriela, Spain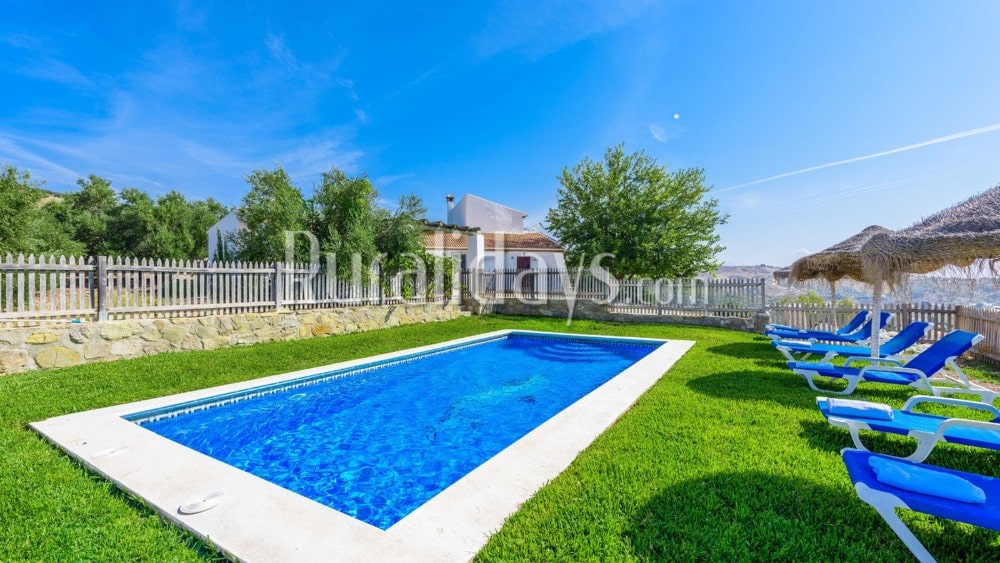 The views and the swimming pool of this holiday home perfectly fit into the vast garden. Thanks to the fence that surrounds the private pool, this holiday home is perfectly safe for both you and your pet, which will be able to run from one point to the other of the garden, without any danger.
A beautiful, rural setting that's ideal for relaxing and 'getting away from it all'. However easy driving distance to a wide range of interesting places to visit such as Malaga, Antequera, El Torcal, and El Caminito del Rey. The house is extremely comfortable and well equipped with everything needed for cooking and family living. The small supermarket just a few minutes away from the villa is a bonus. The pool area is perfectly situated to make the most of the good weather, with plenty of sun loungers and parasols. Jose was welcoming and made himself available if needed him but otherwise left us to our own devices.
Beth, United Kingdom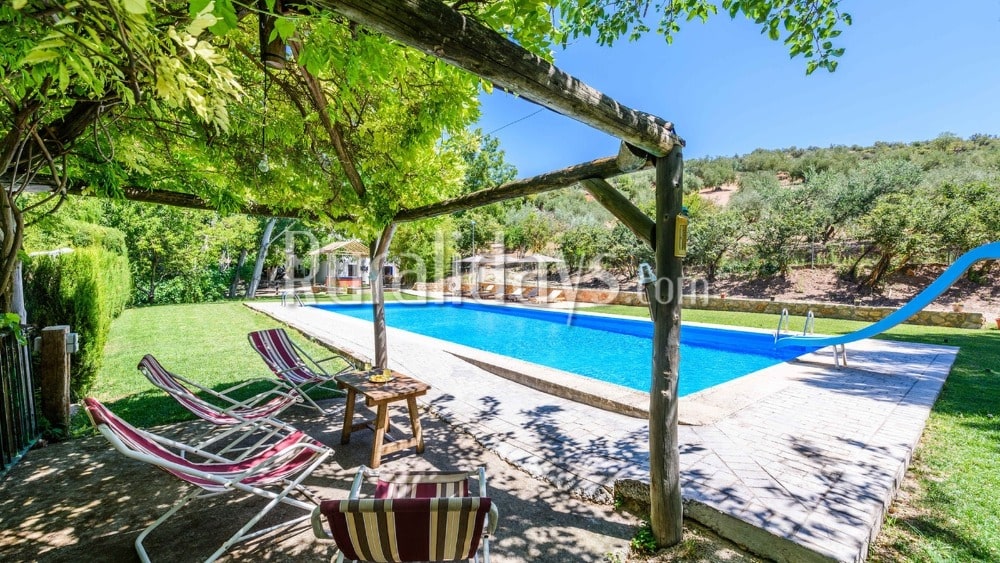 This holiday home is a true heaven for pet owners. The magnificent outdoor area is provided with a swimming pool, a huge garden, an outdoor shower, a parking, and impressive views over the mountains of the Subbética. The fences and hedges all around the garden provide extreme safety, therefore you may definitely be sure that your pet will enjoy the awesome Andalusian weather without putting itself in danger.
Very authentic holiday home with its own spring, sensational boules pitch and beautiful surroundings. The host is extremely friendly and helpful.
Cornelius, Germany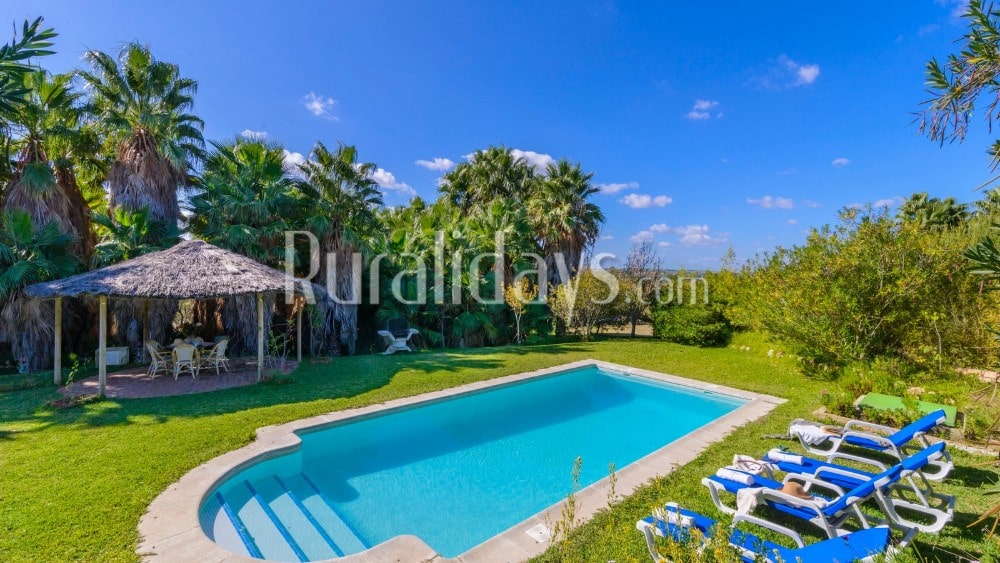 The views from the bedrooms and the terrace of this holiday home are the main things that will attract you. But the actual reason for which you will fall in love with this property is its fabulous outdoor area. The lush garden is provided with a dining table, an outdoor shower, and a covered barbeque area, and it is here where your pet will live loads of new adventures.
Don't worry that your pet may get lost, as the property is completely fenced, thus perfectly safe!
We had a really relaxing holidays. The hosts were always accessible and the house was fully equipped. You can also enjoy the nice views.
Kurt, United Kingdom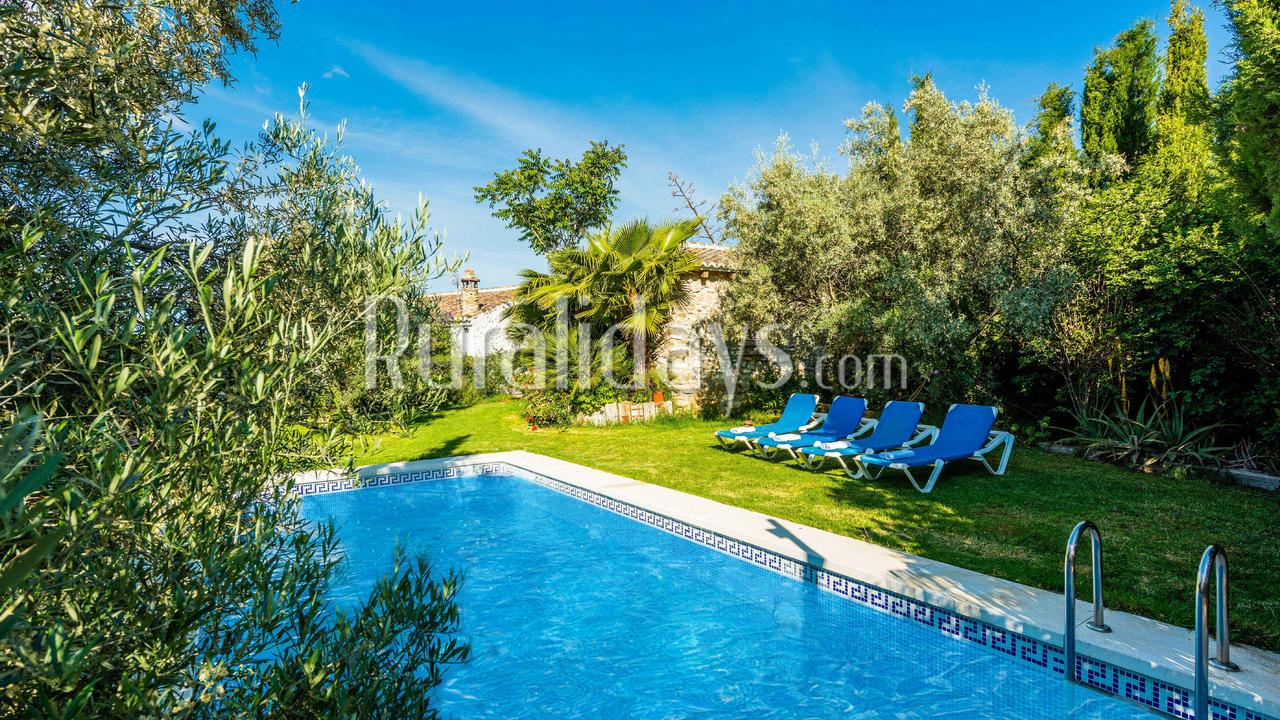 The incredible outdoor area of this holiday home will provide you and your family with unforgettable moments of pleasure and relaxation, which you can share with your beloved four-legged friend. In fact, your pet won't stop running throughout the immense garden, and its happiness is your happiness, isn't?
nice location and surroundings quite and close to torcal area. Tomas has built a very cozy and comfortable house with very nice private garden and dito facilities
Ralph, United Kingdom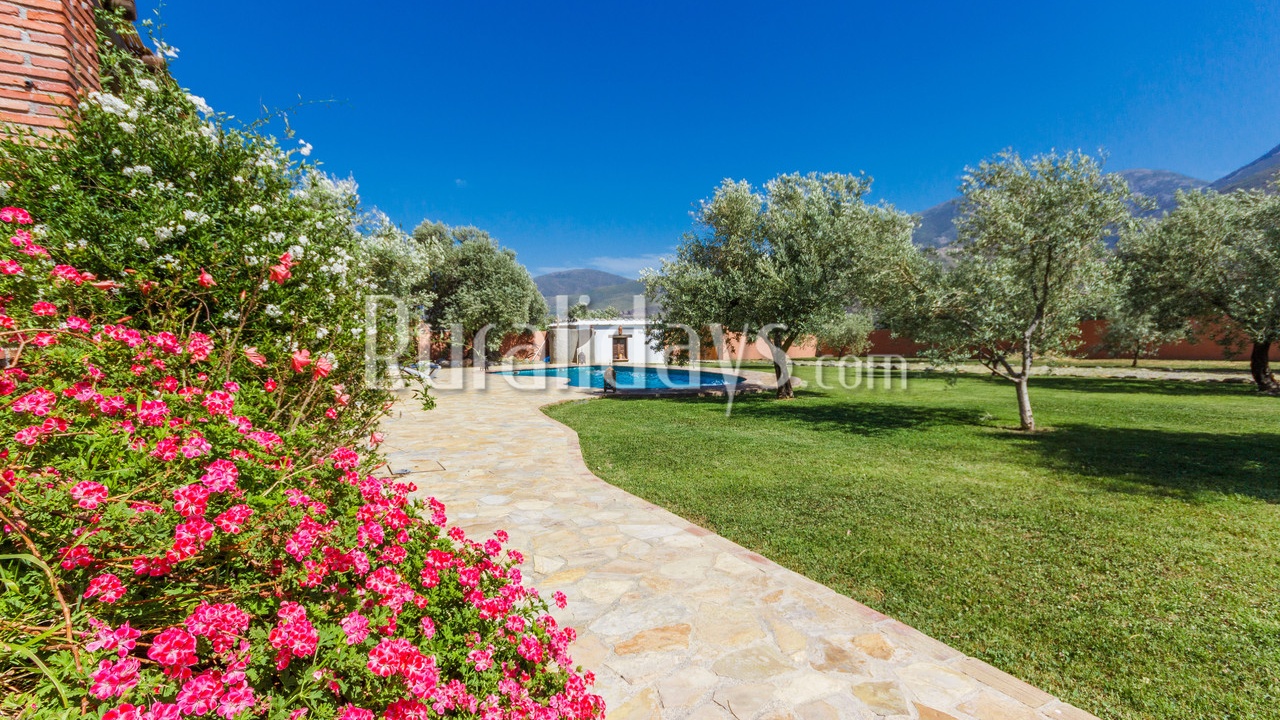 This precious and cosy holiday home is truly charming. In spite of being a little small, the outdoor area is a heaven. If you are planning to spend some days in a paradisiac place, both with your partner and your four-legged friend, this holiday home is definitely what you have been looking for. The magnificent swimming pool and the huge garden are the ideal places to relax and enjoy the warm sunrays typical of Andalucia.
This accommodation offers a little luxury at a very affordable price. The outdoor area is superb; it's like being in the middle of an olive grove with a 360 mountain view. The pool is lovely - no chlorine. The location is fantastic for visiting the nearby white villages of Pampaneira, Bubión (there are several others too) and the small town of Lanjarón which is great for grocery shopping - there's a small indoor market there too.
Sue, United Kingdom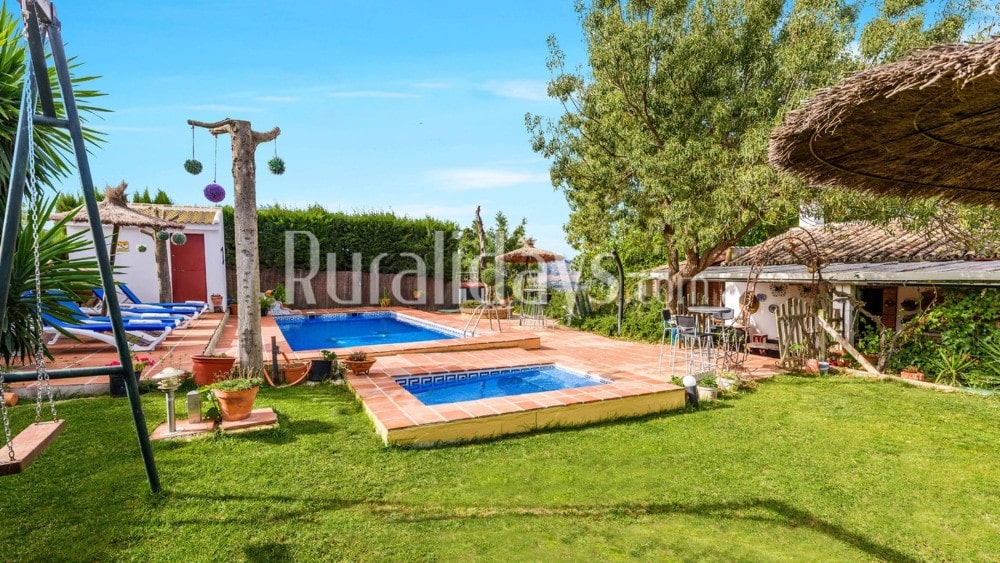 This holiday home's outside area is provided with a precious garden, a marvellous swimming pool and a little terrace where you can enjoy some delicious meals. Your pet will be fascinated by the scented trees and flowers that grow in the garden, for they will provide your four-legged friend with loads of new sensations.
Great location, beautiful house!
Roberto, United Kingdom
Holidays for the whole family are waiting for you and your pet in these holiday homes!
You have just read about ten of the holiday homes where you can go with your pet. If you want to find out more of them, check the best dog-friendly holiday homes in Andalucia.
Find out which one you like the most, and book your next holiday home for you and your pet!
The best dog friendly holiday homes in Andalucia is an article that talks about
Top Villas
in
Cordoba