Can you imagine spending an unforgettable holiday and pull in your horns at the same time? You can do so in any of these budget villas in Granada province.
Your ring-fenced holiday budget is safe! All you have to do is choose the villa that suits you best, pack your things and discover Granada province, as you leave your piggy bank at home.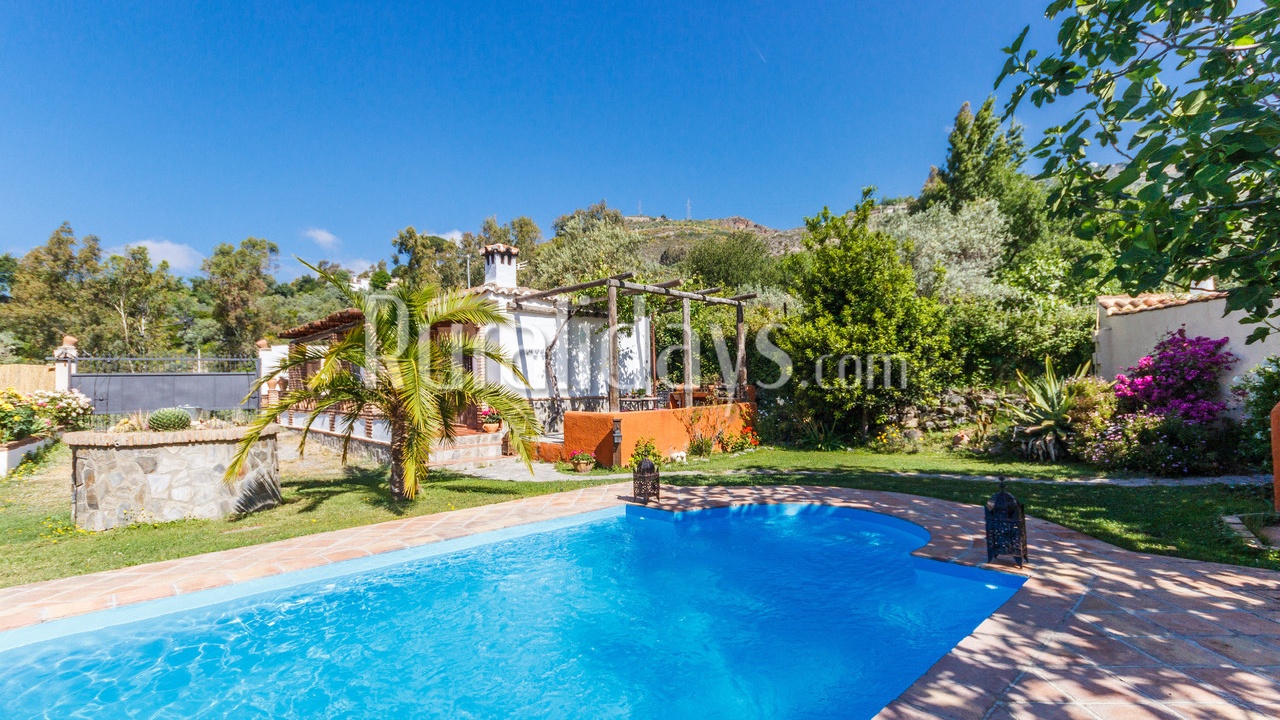 This gorgeous holiday home on the outskirts of Orgiva provides a comfortable hideout to spend a romantic getaway with your loved one without overshooting. A rustic indoor decoration characterises both the living area, with a cosy dining-living room sharing space with an equipped galley corner, and the double bedroom; this ensures you spend the most relaxing holidays here!
However, the real gem of this accommodation is the dreamlike outdoor area, where a porch faces the private pool and the perfectly maintained garden. FYI, the property is completely fenced, for which you can let your pet enjoy the garden in complete safety.
Restful carefree time in paradise. The owner was very charming and would do anything to help with stay, very considerate. There was no need as stay was perfect
Anthony , United Kingdom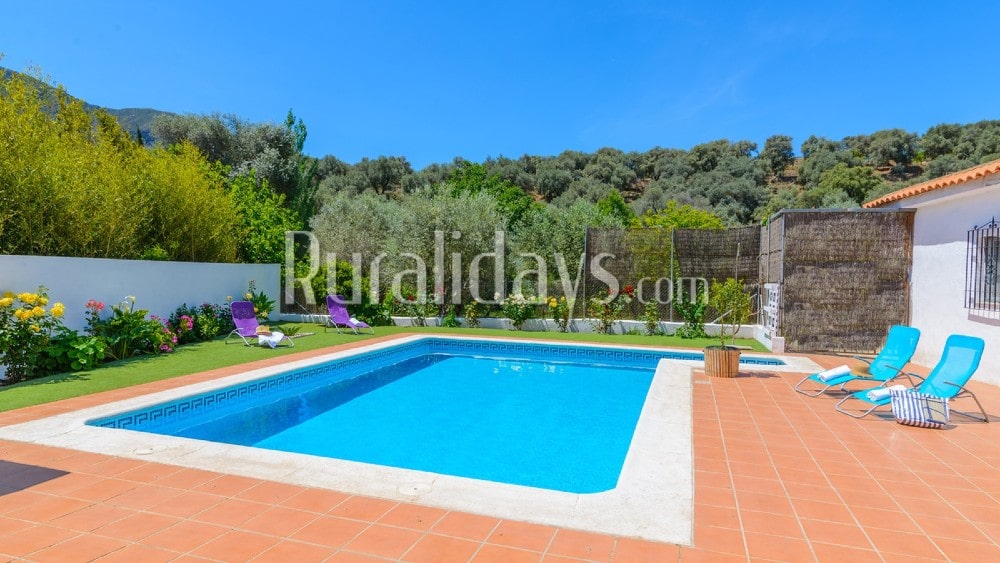 If you're looking for a place where to relax, this is the place you should be. 3 km south of Orgiva, in the middle of the Alpujarra of Granada, this holiday home's going to be the setting of genuinely restful holidays. First of all, it relies on several facilities, such as Wi-Fi internet access.
The Andalusian charm that permeates the ambience conveys an authentic atmosphere, something you would expect to find once you're in southern Spain. A cosy indoor, with a wooden-beam ceiling, a massive stone fireplace and wooden furniture, goes with the relaxing outdoors, where a gorgeous private pool will be the best gift for the whole family.
This was our third time in Orgiva but this was by far the best Villa we have stayed at. The pool was a good size, very clean and a pleasant temperature during our stay. Our 10 year old daughter was in it from morning to night. The terrace and outside seating areas were perfect for dining al fresco, star gazing and soaking up the beautiful views.
Alison, United Kingdom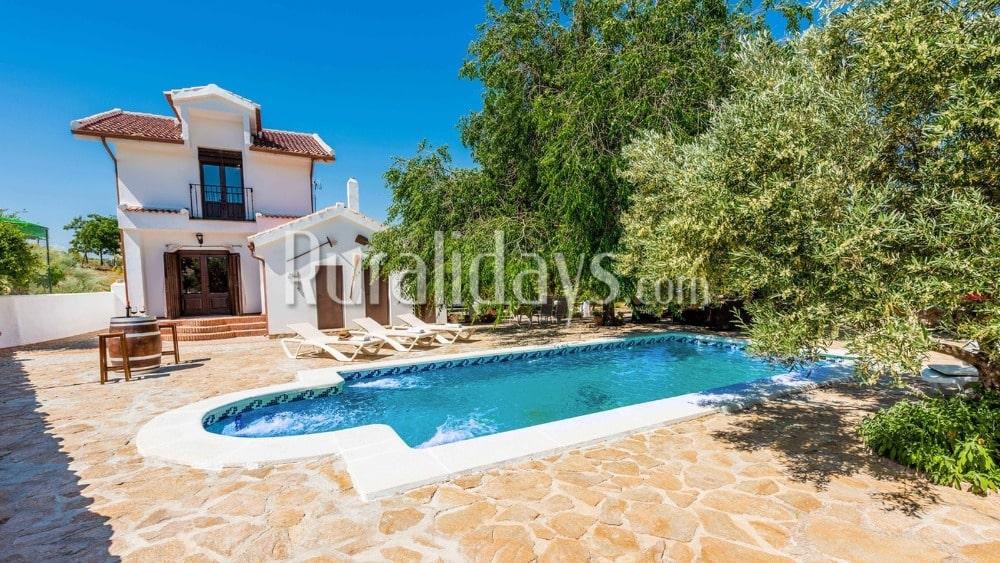 Located in the middle of nature, this villa offers a secluded setting to enjoy your holidays at best. You can spend a relaxing time with your family, as this accommodation has enough space for up to eight people. Gather your beloved ones in front of the fireplace if you choose to spend your winter holidays here, or else make the most of the private pool in summer.
As the villa lies in the middle of olive yards, you can be sure it's not overlooked, which guarantees you the privacy you were looking for. And all of this, you can enjoy without paying through the nose for it!
It was a wonderful experience. The house and pool were amazing. The secluded location is idyllic. Our host Jose Luis was so friendly and welcoming including providing fresh fruit and vegetables, juice and water, and milk when we arrived. He even came to help us with the pizza oven one evening. A truly magical stay!
Kirsty, United Kingdom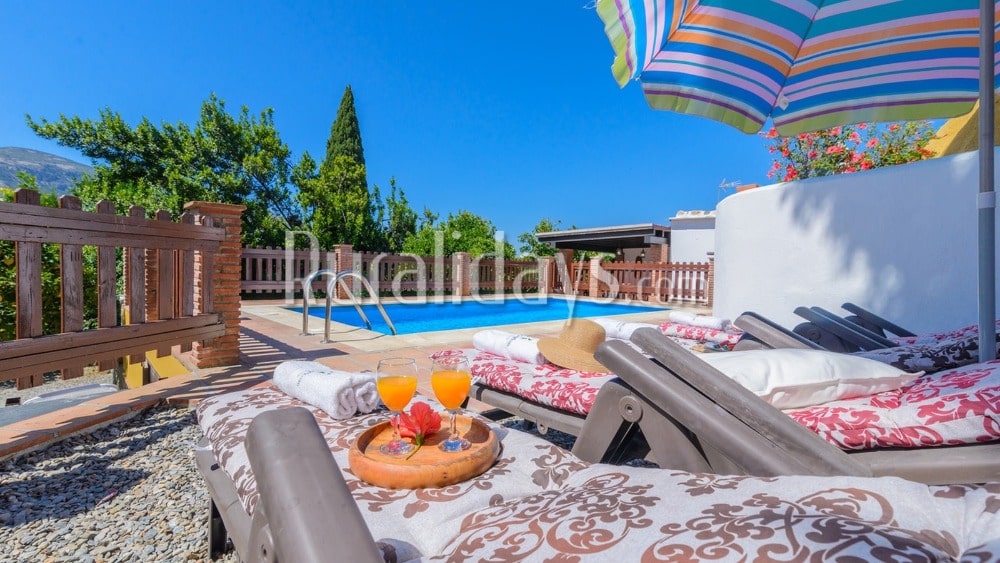 While here, be sure to make the most of the rustic atmosphere this villa is filled with. The living area and the two bedrooms are highly comfortable, which is exactly what you need to enjoy your well-deserved holidays the way you planned. The intimate porch provides an excellent spot to have dinner or breakfast, surrounded by trees, a high fence and a perfectly maintained lawn. The private pool located next to the porch is provided with poolside sun loungers. Moreover, since it's completely fenced, your children's safety is one less thing to worry about.
Zeer rustig gelegen en heel ontspannende vakantie. Te meer omdat onze dochter vier maanden in Orgiva verblijft. Dichtbij Granada en Salobrena (zee) gelegen.
Freek, United Kingdom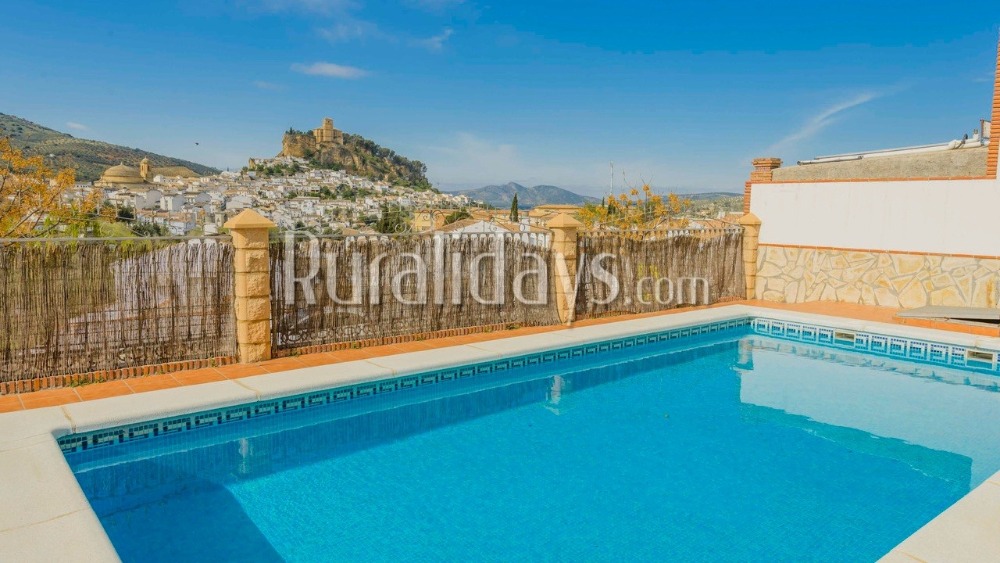 This holiday villa in the province of Granada can accommodate eight people, who will make the most of the comforts it is provided with. Among them, you'll find Wi-Fi internet access and AC in the living area, which, however, reaches the bedrooms, too. The homely living area completes the spotlessly clean indoor. Anyhow, as good as it gets, this villa's best feature is the view you'll have once you reach the private pool. In fact, the splendid castle on the rock of Montefrío stands out on the horizon, providing the most staggering postcard you'll ever enjoy from a porch.
Lovely people, and lovely place! WiFi didn't really work and was only a problem for us as we were travelling around Spain booking as we were going otherwise I wouldn't of cared less.
Mike, United Kingdom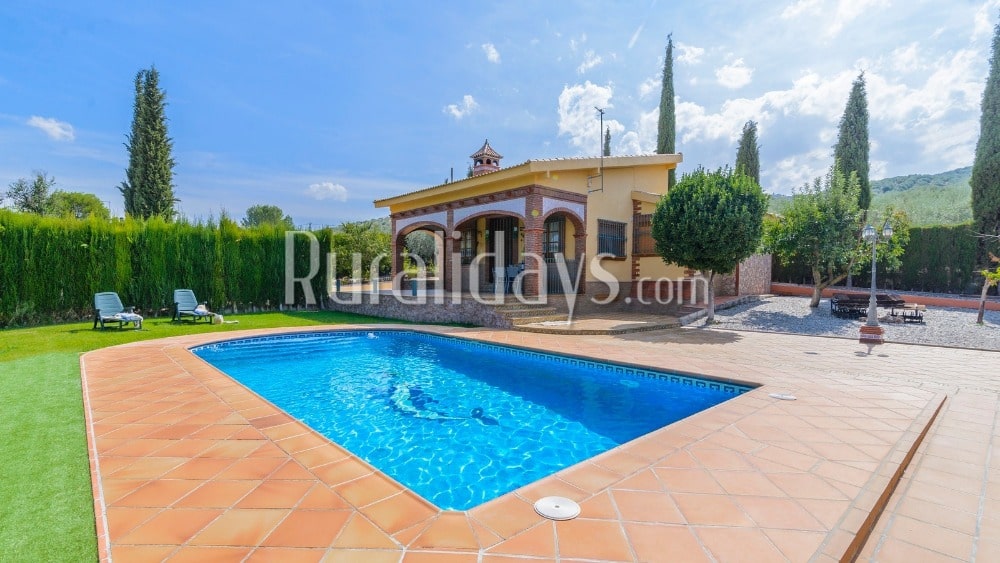 A coquettish and private environment where to spend your holidays, not far from famous cities such as Granada and Malaga and the mountains of the Sierra Nevada, this villa is ideal for a family of five. It will give you the possibility of disconnecting from the hustle and bustle of your daily life both indoor and outdoor.
The high ceiling of the living area provides a relaxing ambience, beautified by the room's rustic decoration. However, the outside area doesn't lag behind. It features a private pool, poolside sun loungers, a covered BBQ and a dining area. Bankroll your holidays in Granada province with less than you expected!
Excellent place and as clean as shown on the pictures. Quiet place and relaxing. Very friendtly hosts and fast answer from Ruralidays.com. Beautifull view over the mountains. Fully equipt kitchen was a greate plus.
Yaseen Ahmad Abdur Rehman, United Kingdom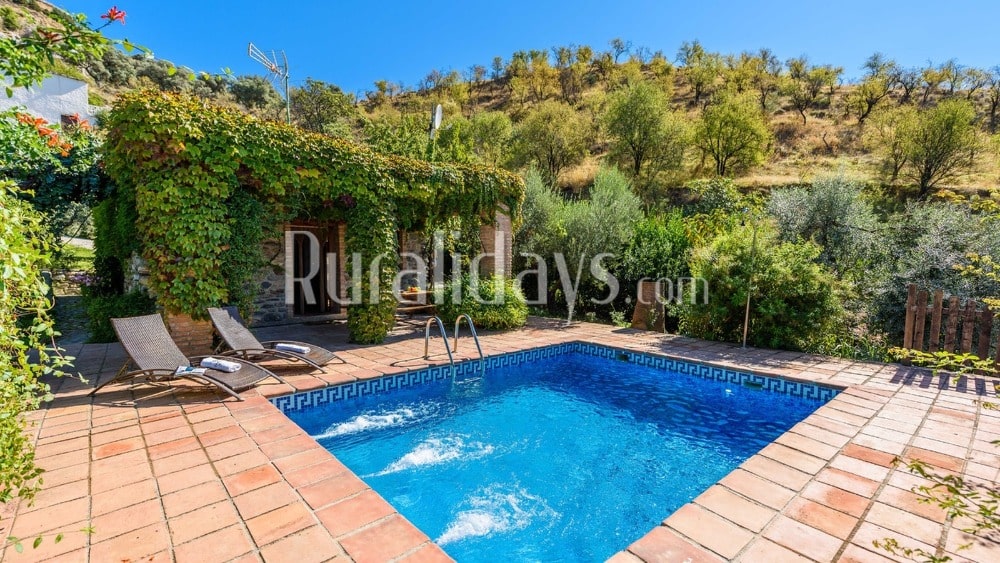 The secluded location of this villa is a dream come true if you're dying to spend some days in complete relaxation. The cosy atmosphere you'll soak up at the villa is provided by the furniture and the decoration used to spruce the ambience up. The porch facing the private pool is the perfect place to enjoy your meals, which you'll have the possibility of cooking on the barbeque provided. To complete the charm of the accommodation, there's a lush vegetation garden enclosing it all.
Very good experience easy to book it is what it says it is. Thank you Jose We really enjoyed your cortijo and would gladly recommend it to anyone wishing to come to Andalucia.
John, United Kingdom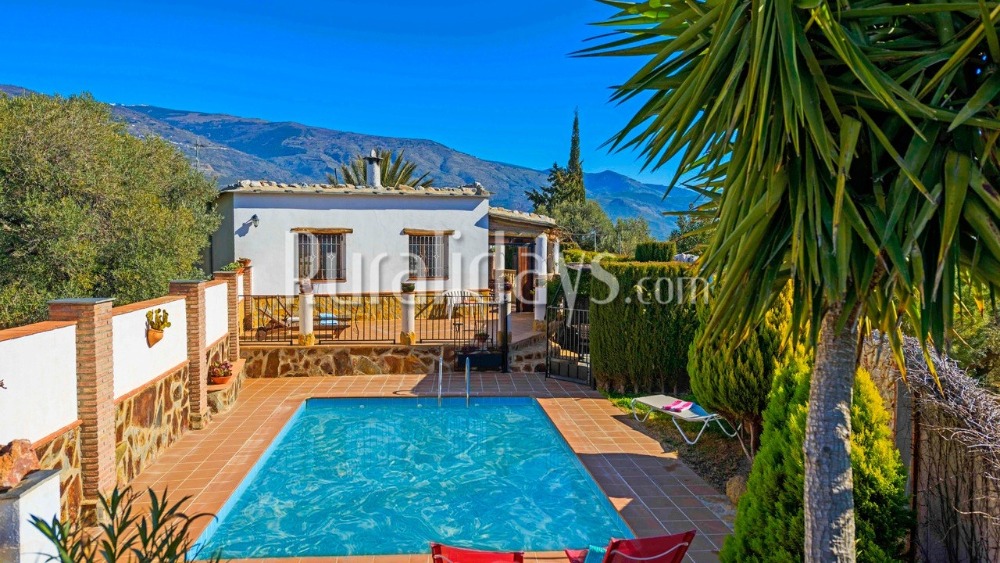 If it's privacy that you're looking for, this villa in the mountains near Orgiva is the best option! Provided with a fenced private pool to ensure the safety you need for your children, and three spacious bedrooms where up to six guests can enjoy relaxing nights of sleep, this villa offers the ideal setting for the most-awaited holidays. It relies on a Wi-Fi connection, a snug living area and a fireplace to warm up the ambience in winter. Lastly, the porch where you can have breakfast is the cherry on the pie!
We have just returned from an 8 night holiday at this houseand wish we could have stayed longer! It is a beautiful house, very clean, comfortable, very well equipped, quiet and so relaxing. It's located right in the middle of the olive groves - we loved the peace and quiet, the various different seating areas in the garden and around the terrace, watching the stars in the totally black night sky, and the walks through the olive groves straight from the gate with great mountain views. We also loved all the little details in the house, everything is there to feel very much at home. However, what makes this place truly special are the owners Asun and Juan, you couldn't wish for nicer hosts! Such a welcoming, warm, extremely generous and kind couple. They live next door and work on the farm every day (we enjoyed our conversations with them about growing olives, tomatoes etc.) but they are very discreet, always there if we needed them but never intrusive. They clearly take great pride in what they do and it shows in the great attention to detail in the house and garden. We can't thank them enough for making our short stay very special! The house is in a very quiet location, but still well situated for exploring the Alpujarras and its famous white villages. Orgiva and its shops, bars and restaurants are only a few minutes by car, Lanjarón only 20 minutes, and the beaches of Salobreña are about half an hour away. The surrounding landscape is beautiful and stunning, and very good for walking. We enjoyed our days out but also looked forward every day to coming back to our little oasis amongst the olive trees. Muchas gracias pour todo y hasta luego!
Brian, United Kingdom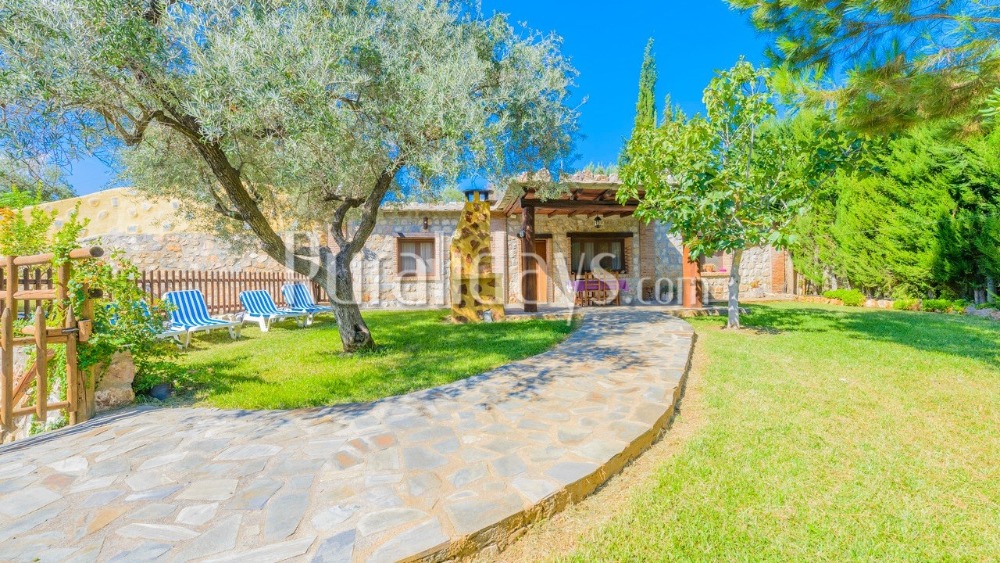 Don't be fooled, this house is everything but modest. As a matter of fact, this villa offers everything you need and much more to make the most of your holidays. Wi-Fi internet access, AC in the living area, and two comfortable bedrooms make for an excellent family getaway destination. The huge brick-built fireplace in the living area warms up the whole ambience, thus including the completely equipped open kitchen.
Outside, you'll find a wide garden that welcomes a fenced private pool and a barbeque. Either you choose to spend some time sunbathing on the sun loungers, cooking on the BBQ, or relaxing in the porch, you'll know that this budget holiday villa is exactly what works for you!
Beautiful environment, the house very beautiful, comfortable and well connected. Attention a luxury.
David , Spain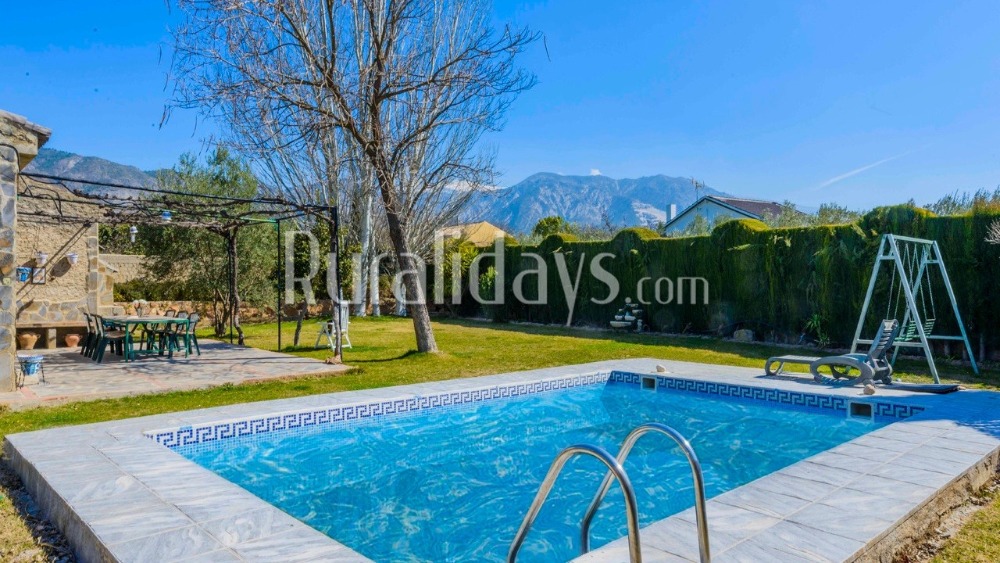 This list's last entry is a villa not far from Granada, in the shadow of the National Park of Sierra Nevada. A family of four can comfortably accommodate here, thanks to the double bed and the bunk bed provided. Nevertheless, it's the garden that will draw your attention: you'll find a perfectly maintained lawn and a gorgeous private pool in a restful countryside setting. The icing on the cake is that this villa is not overlooked, which guarantees you privacy throughout your stay.
a great place! ideal villa for 4 people ... very nice owner ... available in case of questions ... not overlooked ... super quiet close to everything ... we will return top!
Asaad, France
* Translation of the reviews into English is powered by Google Translate.
Places to stay in Granada
Your holidays on a budget are safe now. Anyhow, if you feel like you've gone short of choice, have a look at the best villas in Granada. Rest assured that you're going to find the perfect holiday destination!
Have you ever been to any of these budget villas in Granada province? Do you think we should add any other self-catering accommodation to the list? Tell us in the comments!
Top 10 Best Budget Villas in Granada is an article that talks about
Top Villas
in
Granada