Let's discover ten of the most enjoyable holiday homes with leisure facilities! Forbid the word boredom to be pronounced ever again!
Spring is that time of the year when you fancy rediscovering the pleasure of staying outside, be it with your friends or alone. That is why we thought you'd be happy to read about ten of the best holiday homes with leisure facilities. This way, you can feel the spring atmosphere just by taking a look at the appealing images of these gorgeous estates.
What are you waiting for? Come with us and book one of the following holiday homes with leisure facilities!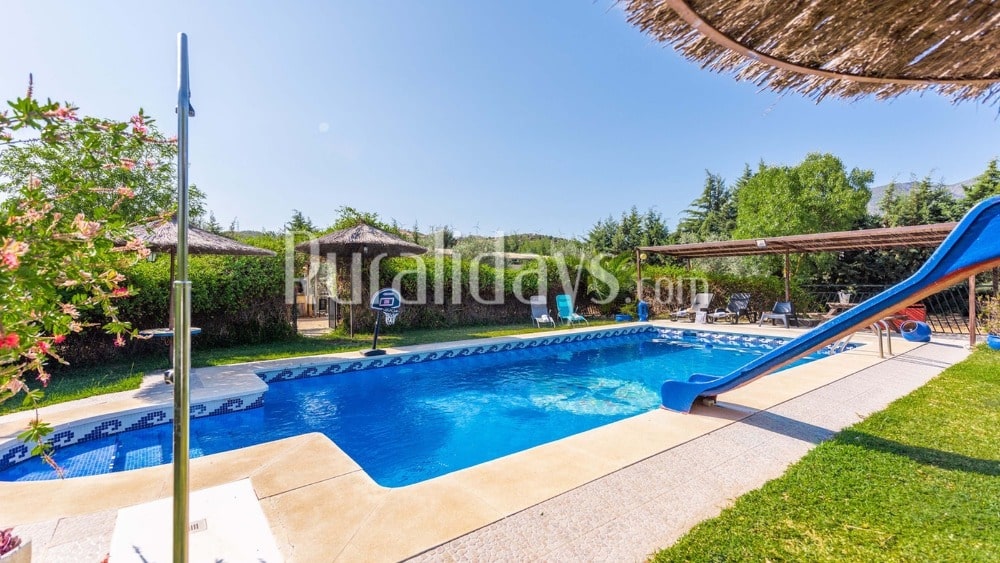 In this magnificent estate, you will have the possibility to enjoy yourself the way you prefer. The only thing that won't happen to you is getting bored because the leisure activities provided in this holiday home are to make you forget how to spell the word "boredom"!
Ping-pong table, areas where to practice football and/or volleyball, a covered dining area and an enormous private swimming pool. What could you possibly ask for in addition to all of this?
Loved the swimming pool with slide + basket ball hoop, plus the BBQ area and all outside areas, the verandah and outside eating areas gives lots of nooks and crannies to read and relax, wifi was good too.
Lesley, United Kingdom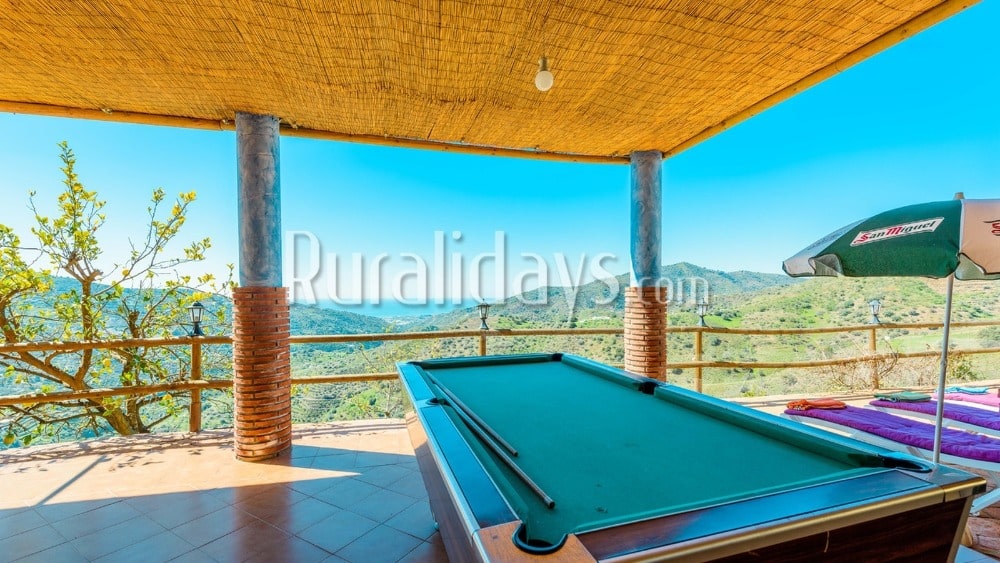 There are very few holiday homes that have all the characteristics of the perfect leisure paradise. Call yourself lucky, for you have just come across one of those!
This villa is provided with a pool table, a ping-pong table and a football table for you to enjoy as you like. Moreover, it can welcome your friends and family members, since it has a capacity for up to 10 people. A true heaven for those who need to disconnect and find their inner child!
Enjoyed a lovely stay here with the whole family. The house is set in the mountains with a sea view, so peaceful and relaxing. The villa is of the beaten track a little and a car is definitely needed - we had fun going to the Spanish supermarket in Algarobbo and stocking up - the food and wine was cheap and very good too!! Will definitely book here again.
Meghan, United Kingdom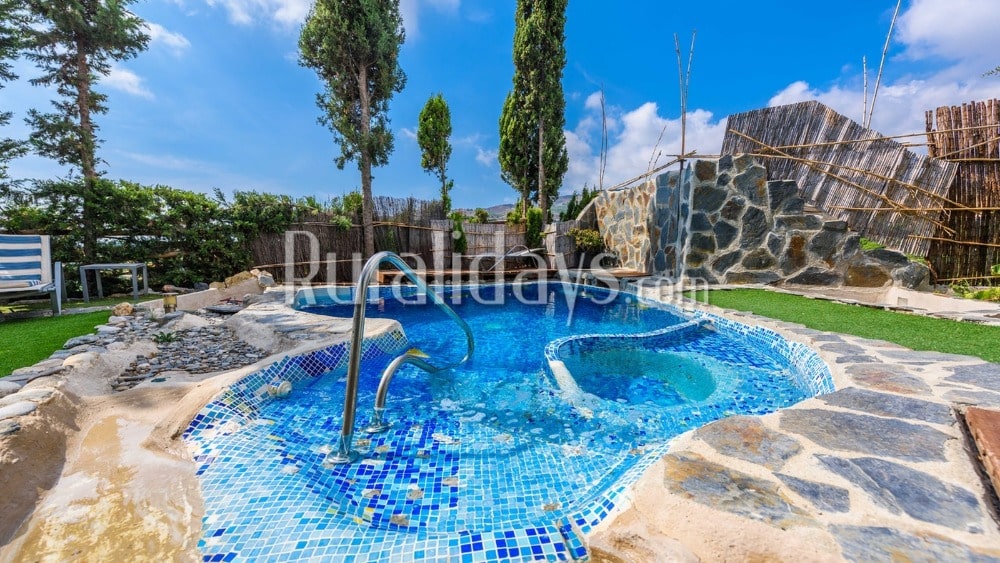 The views provided by the position of this holiday home are the cherry on the pie of its appeal. Here, you can relax on the terrace while enjoying spectacular views of the surrounding mountains of the Tropical Coast, or take a dip in the magnificent private swimming pool.
Despite not being particularly big, this holiday home is provided with every kind of facilities, therefore including a leisure area in the exterior, with deckchairs and a ping-pong table.
The house was on the hills - clean and well equiped. Carmen and her husband were very friendly and helpful. We can certainly recommend the property.
Hann, United Kingdom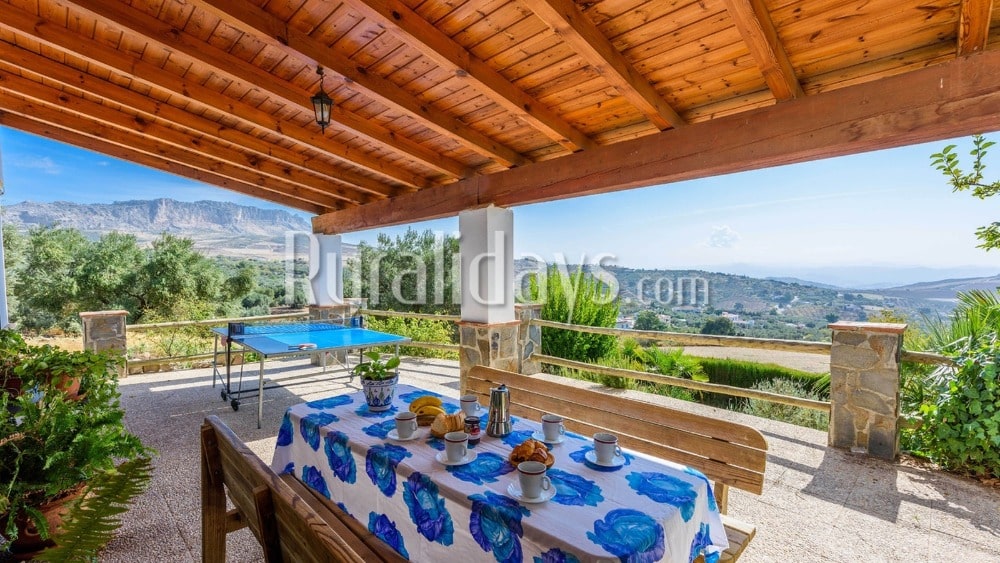 Fun is the main word in this awesome villa in the surroundings of the Torcal de Antequera. In the outside area, you can enjoy yourself in playing ping-pong, basketball or swimming in the private swimming pool surrounded by a magnificent garden.
The views from the covered porch and the covered dining area next to the barbecue add special details to this holiday home, for which you will want to spend here as much time as possible.
A beautiful, rural setting that's ideal for relaxing and 'getting away from it all'. However easy driving distance to a wide range of interesting places to visit such as Malaga, Antequera, El Torcal, and El Caminito del Rey. The house is extremely comfortable and well equipped with everything needed for cooking and family living. The small supermarket just a few minutes away from the villa is a bonus. The pool area is perfectly situated to make the most of the good weather, with plenty of sun loungers and parasols. Jose was welcoming and made himself available if needed him but otherwise left us to our own devices.
Beth, United Kingdom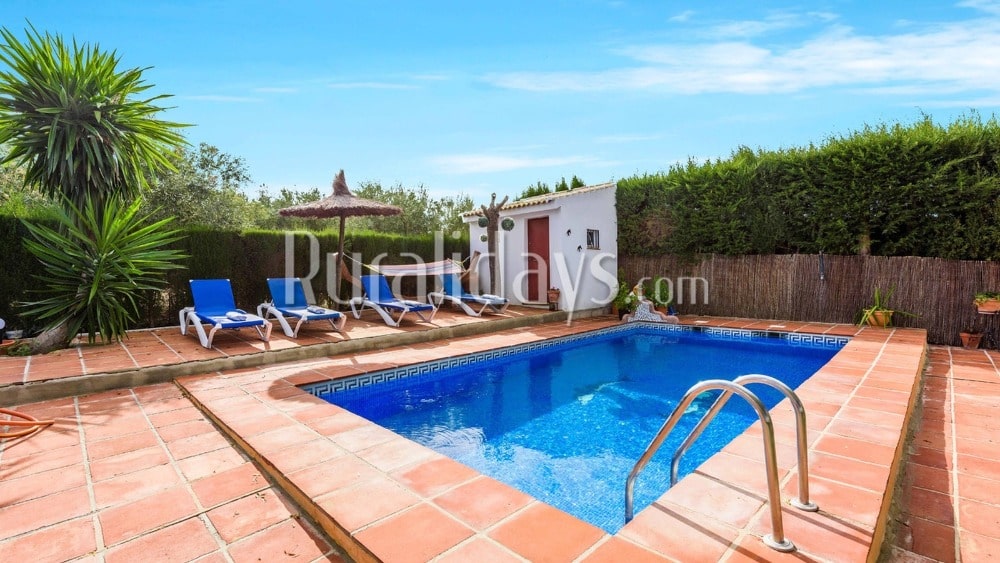 Away from the daily life routine, this holiday home can satisfy your needs of relaxation and fun. It has two swimming pools, one with a sun terrace and the other ideal for your children since its 50-cm depth will provide fun times without dangers.
Two enormous covered porches, where you can enjoy barbecue meals and views over the mountains that surround the estate, a ping-pong table and hammocks among the trees, make this holiday home an unmissable spot to spend your holidays in.
Great location, beautiful house!
Roberto, United Kingdom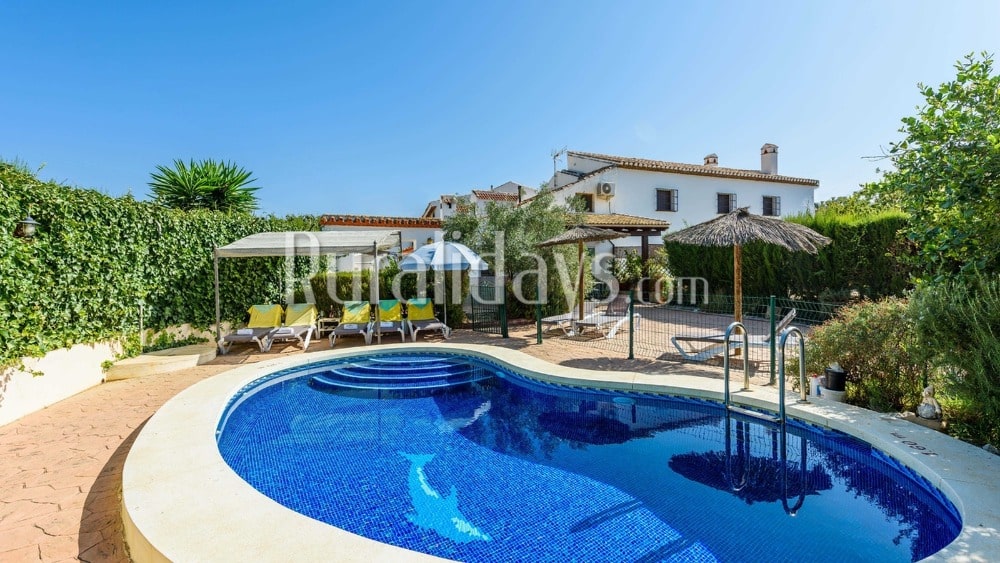 In this holiday home, you will have the possibility to enjoy different activities that will make you forget about boredom. Discover the private swimming pool protected by a fence, the outdoor patio with a ping-pong table, a barbeque area and its splendid garden.
Moreover, the two floors of this holiday home are provided with every kind of facilities you'll need during your stay, so that relaxation will be the mantra of your holidays.
Villa very nice, the owner is very welcoming. The scenery is beautiful, and the pool very popular with children and adults. Short beautiful holidays! !!! Thank you for your kindness, Francisca, we had a pleasant holiday in your villa
Laurence, France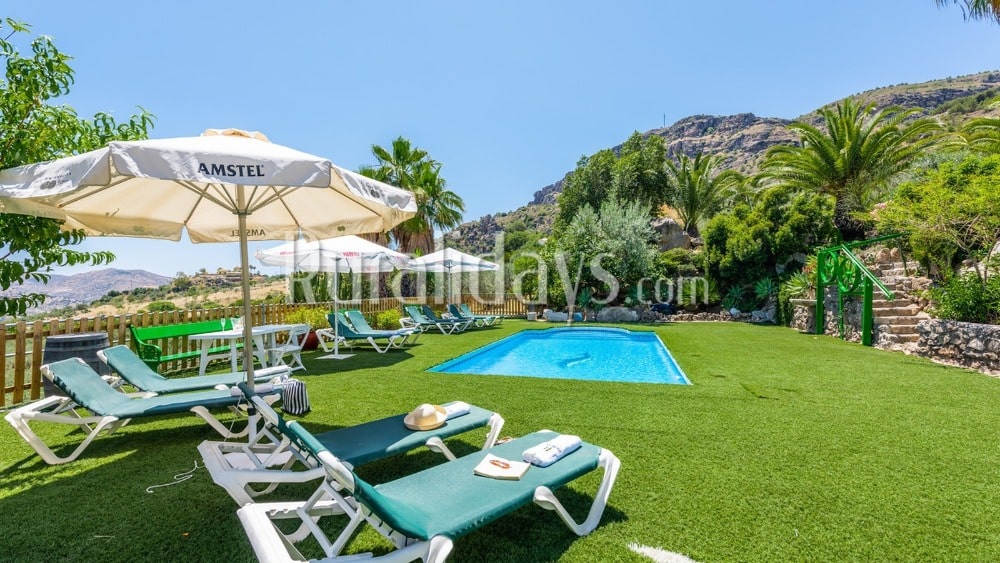 Get ready to spend the holidays of your life in one of the most appealing holiday homes with leisure facilities you'll ever visit! The estate lies in a 35.000-m2 farm, which will provide you with the tranquillity and the privacy you need to relax and have fun with your family and friends.
The leisure facilities of this holiday home include a fenced private swimming pool with views over the mountains, a ping-pong table, a basketball court, as well as a children park. The covered barbecue area and the outdoor dining area will make you go for this holiday home without thinking anymore.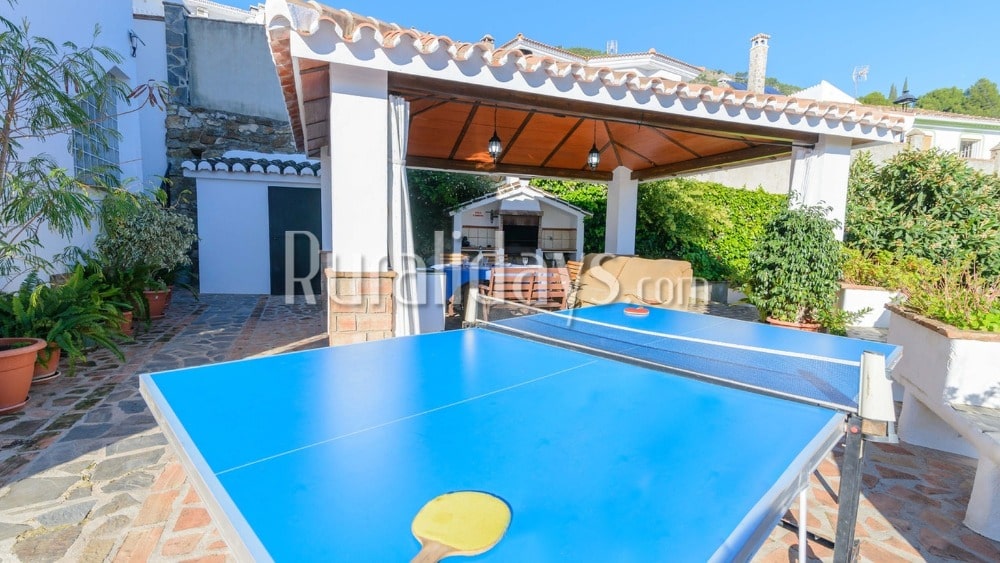 Beautifully inserted in the Sierra de las Nieves environment, this precious Andalusian-style holiday home is provided with an enormous garden, a private swimming pool with magnificent views, and a leisure area with a ping-pong table and deckchairs in the exterior.
The barbecue area and the covered dining area add special charm to this estate, making it one of the best holiday homes with leisure facilities in the province of Malaga.
Siamo due fa miglie totale 8 persone abbiamo trovato persone gentili e molto educate sia i propietari che gli abitanti di casarabonela
Stefano, United Kingdom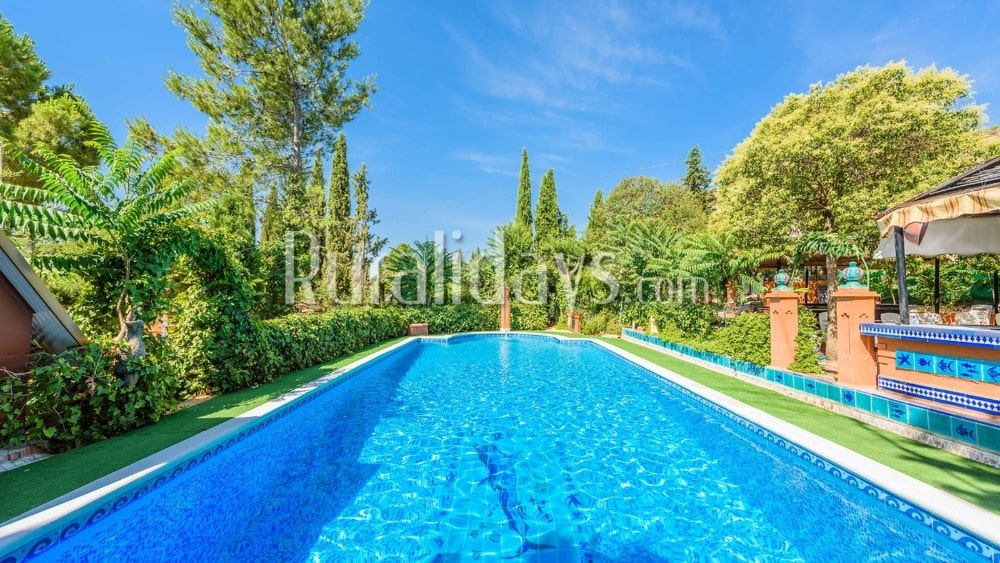 The fantastic outdoor area of this villa provides you and your family with countless activities to do. You can choose to play ping-pong or pool while letting your kids have fun in the children park provided. Or else, enjoy a football or basketball match. The choice is yours!
Just know that up to 12 people can stay at this villa and you can even bring your four-legged friend with you. These will be some unforgettable holidays, we are sure about that!
Beautiful house area ideally located
Ismael, France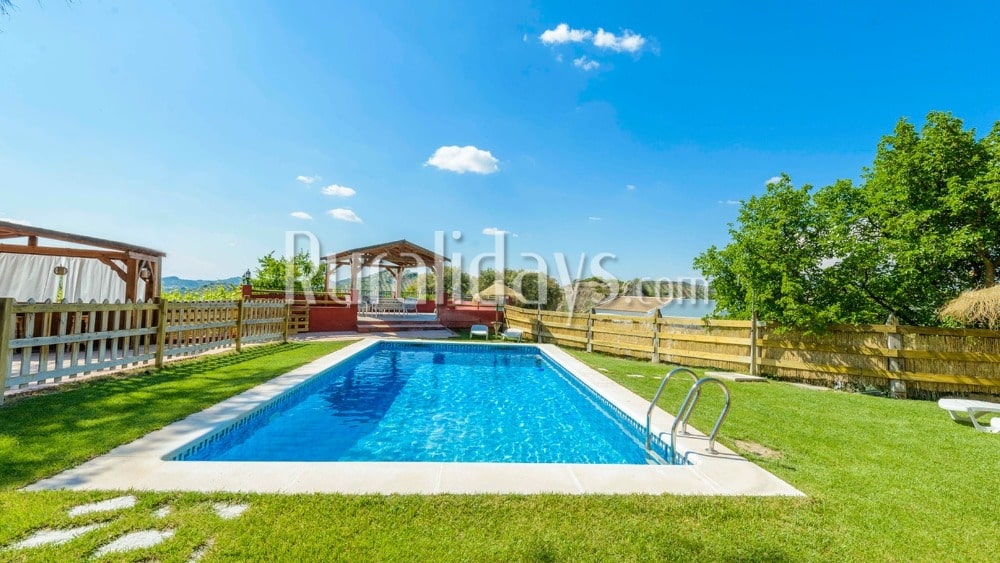 In this holiday home, your kids and you will enjoy every moment of your stay, thanks to the innumerable leisure facilities provided here. Among them, you will find a children park, an enormous swimming pool, and a huge garden where to play hide-and-seek!
Very nice villa Spectacular view Very calm Conform to the description Plus, the very kindness of the owner.
Vincent, France
You have just read about ten of the best holiday homes where to spend time having fun with your beloved ones.
If you want to know more, or discover some other estates, we provide you with a selection of the best holiday homes with leisure facilities in Andalucia.
Holiday homes with leisure facilities is an article that talks about
Top Villas
in
Cordoba