One of the best villas in Frigiliana is all you'll ever need to spend the holidays of your life.
Frigiliana is one of the prettiest, whitest, most fabulous little towns in Andalucia. The province of Malaga is filled with white villages, which you can't miss out on if you love getting lost in nature and, at the same time, enjoying all the comforts you are used to at home.
Hence, take a look at the best villas in Frigiliana ever; your dream starts now!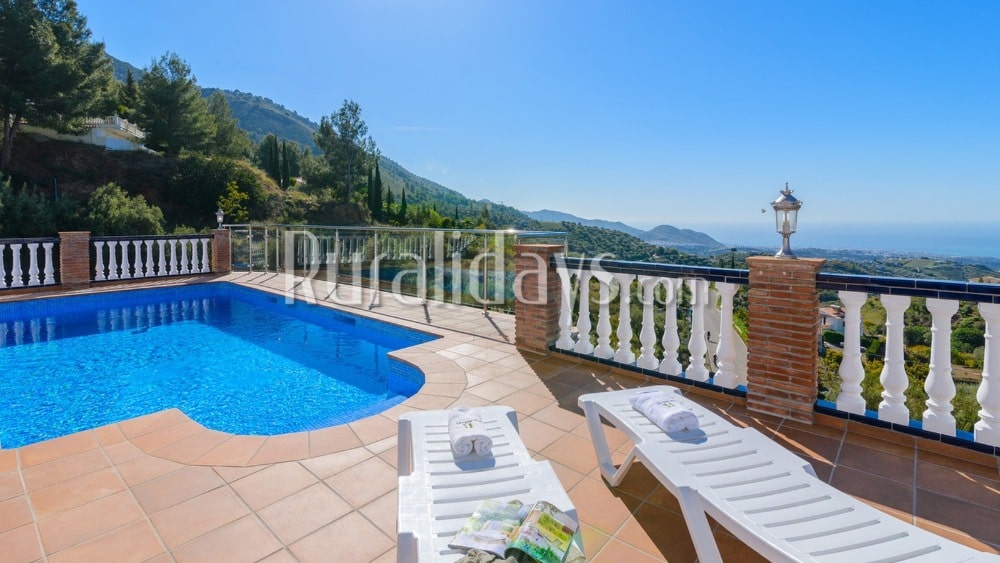 This magnificent villa north of Frigiliana will make you wonder why you didn't choose to come to this corner of Andalucia sooner. The spectacular infinity pool provides a Caribbean-like atmosphere to the whole accommodation. In fact, while swimming you can revel in the stunning views of the Mediterranean Sea on the horizon, and dream about a getaway to the nearby hills.
Featuring enough room for six people, you will have the opportunity to engage in different activities with your beloved ones; be it a delicious meal cooked on the barbeque or a regenerating siesta in the shadow, this villa offers it all.
The house is spectacular, the pool is super well maintained, the views are unbeatable !!
Elizabeth, Spain
Providing its guests with outstanding views of Frigiliana and the nearby hills, this accommodation is the perfect destination for a family getaway. Up to four people can enjoy the quietness of the surrounding, take a dip in the private pool and sunbathe in the well-maintained garden. You will forget all the worries once you get here; a relaxing paradise is waiting for you in Frigiliana.
Fabulous property in the countryside of Frigiliana. Perfect for 4 people, extremely well equipped, very very clean both inside and outside. Outdoor living space amazing and varied with breathtaking views, which you never get tired of. 30 minute walk to Frigiliana village, which we did each day. Car would make it a bit easier, but taxis back plentiful and cheap. This is a lovely vfm property that we would recommend and certainly consider staying at it again.
Debbie, United Kingdom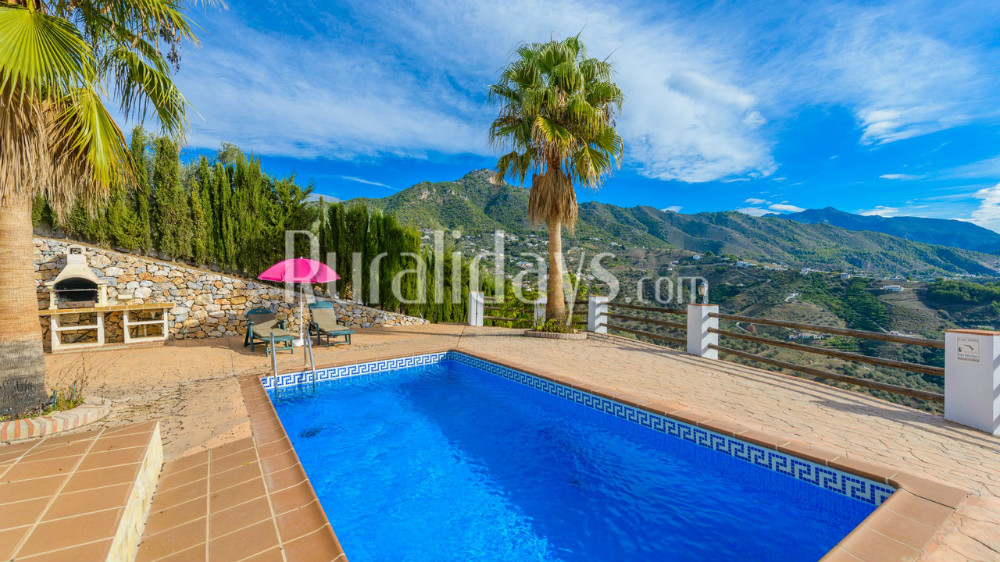 Everything you would expect to find in a rural accommodation, you will find at this villa in Frigiliana. It got everything to make your stay as green as ever: spectacular views of the surrounding hills, the town of Frigiliana, and the Mediterranean Sea; a private pool where to swim as much as you want; a furnished outdoor area, with barbecue and a dining table; the cosiest indoor you'll ever enjoy, with wooden-beam ceilings and rustic decoration.
All of this is endorsed by a fairytale location.
A beautiful place in the hills over a very nice small town. Nature around and very silent. Every 30mins one car. And one or to times a day a herd of goats. Included a nice view to sea and mountains.
Sebastian, United Kingdom
What's the most attractive feature of a villa that has it all? It's almost impossible to choose one single motivation for which you should be booking this villa right now.
Maybe its whitewashed walls with the blue spots of windows and doors, which reminds of the Moorish or Greek villas; or maybe it's the private pool that appeals you the most, with the surrounding plants and overlooking the nearby hills; or the rooftop terrace, where to sunbathe and have breakfast with a view. Whichever the reason that makes you make up your mind, this villa will satisfy all your expectations, so that you can spend a holiday like a king.
The cottage and pool are lovely, with a great view from the terrace. The accommodation is generally well provisioned and everything was clean. There are a few simple things that could be improved upon though, such as some new towels as those provided were old and threadbare. We also had to ask for pool towels which weren't provided. The sunbeds aren't particularly comfortable and two of them had torn fabric. It was disappointing to find no 'Welcome pack' of basic provisions on arrival, not even a bottle of water, which meant we had to go off in search of a supermarket after a long day's travelling. A few things that can't be so easily remedied are the closeness of the two adjacent villas, one of them being part of the same building. The patio and pool areas are close to each other, with one of them being on slightly higher ground so it could overlook the pool. Any peace and quiet very much depends on how considerate the neighbours are. The other thing is the narrow, winding, road up to the villa, with unfenced drops to one side which can give some heart-stopping moments when meeting cars coming in the opposite direction! We enjoyed our stay but a few simple improvements could make it even better.
David, United Kingdom
Rumour has it that this secluded villa is the ideal place to disconnect from the daily routine and forget the hustle and bustle of the city. Here, you will find peace and an authentic place where to recharge batteries, surrounded by a lush garden. Sunbathe on the deck chairs provided, revel in tasty meals on the porch and get relaxing nights of sleep in the rustic furniture bedrooms.
Outstanding location and lovely house. Not really geared for winter stays though and house was a little damp and cold on arrival It took two days to warm the house properly with the wood stove but after that it was fine and the owner was really helpful Otherwise the experience was really nice and an incredibly beautiful mini environment right next to the town . We had a great stay and would come back again
Ken, United Kingdom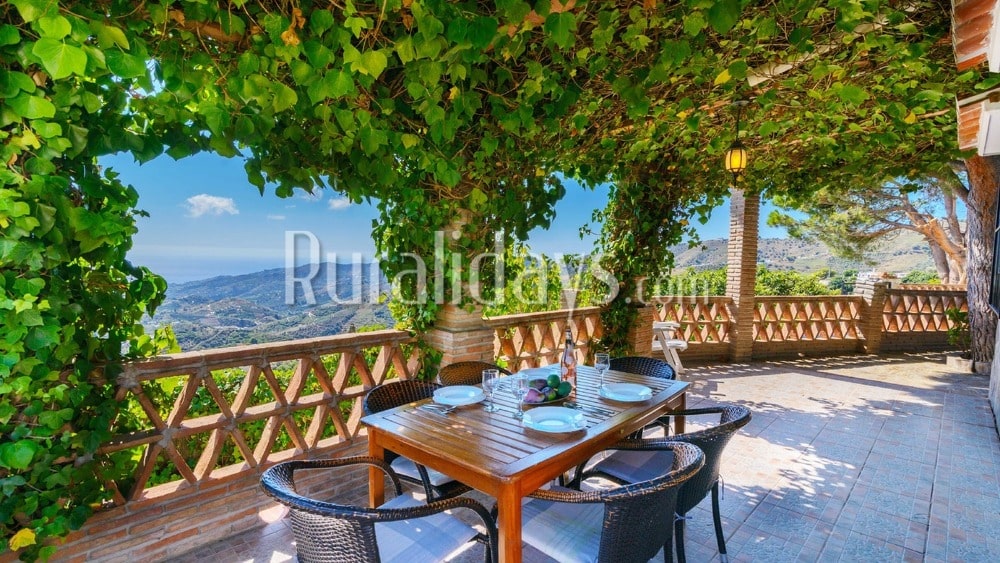 Imagine yourself waking up to some of the most stunning views you have ever seen. Or take a dip in the private pool on the terrace, with the same view as the background. Can you see yourself having breakfast under the shadow of centenary trees while revelling in the fresh breeze of the hills of Frigiliana? Whichever the answer, click on the button below and start living the holidays of your dreams.
The villa is in a superb location, very private and with amazing views all around. The pool was a good size and lovely and warm. It's just the drive there that we found a bit challenging, although we did get used to it after a while! Could do with a few more kitchen utensils but on the whole we had a lovely stay.
Nicholas, United Kingdom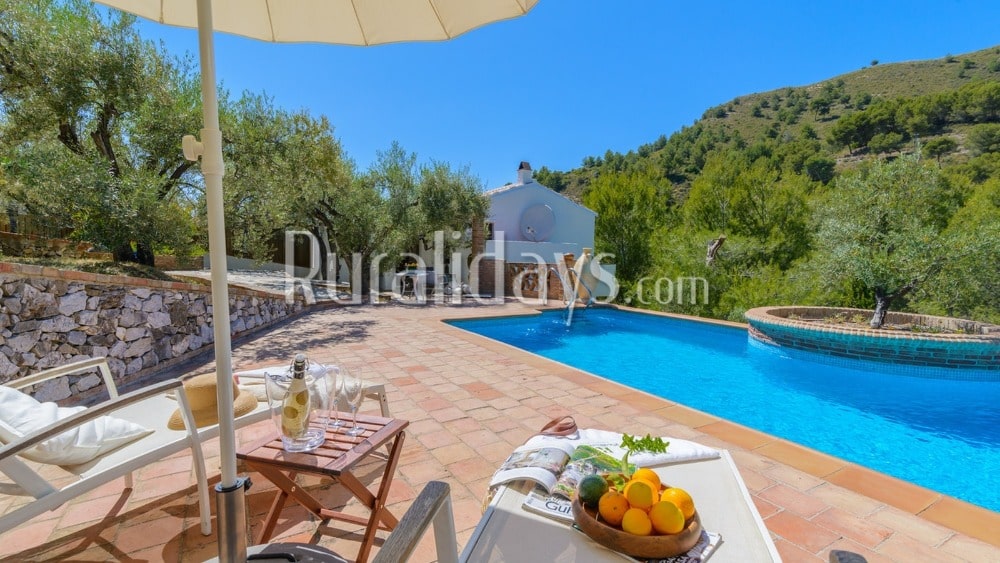 Surrounded by nature in the hills of Frigiliana, at the door of the Natural Park of Sierras de Tejeda, Almijara and Alhama, this villa's architecture becomes one with the surrounding. The facilities you wouldn't give up on will make your holidays the most comfortable ever, while the lush vegetation surrounding the property is sure to let you recharge batteries. Four people can soak up the fresh atmosphere, relax in the cosy interior and share unforgettable moments on the outside, either in the private pool or around a table filled with dishes.
We loved everything about the villa and would highly recommend. This is a very special, unique place that Puri and Damian have put so much love, care and attention to detail into. They have crested a peaceful, magical and beautiful place: perfect to unwind and relax.
Elizabeth, United Kingdom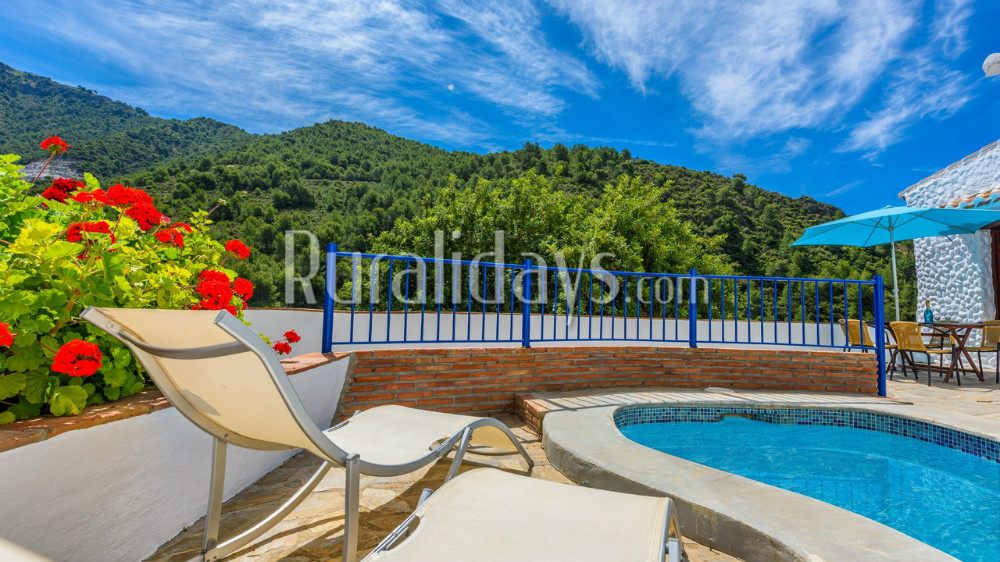 A picturesque charm is what this villa in Frigiliana will offer you if you choose to spend your holidays here. Located inside the Natural Park of Sierras de Tejeda, Almijara and Alhama, the natural surrounding it is provided with, is definitely one of a kind. You will hear birds singing and slowly waking you up to the start of a bright new day. Cool bedrooms will prevent you from suffering the heat of Andalucia in summer, as well as the fantastic private pool, where you will spend the majority of your time. Take the opportunity to eat under the stars when the night falls, in the loving company of your family and friends.
The nature is realy breathtaking and calmnes. You need transport ! The owner is very kind and frendly.
Abderazzak, United Kingdom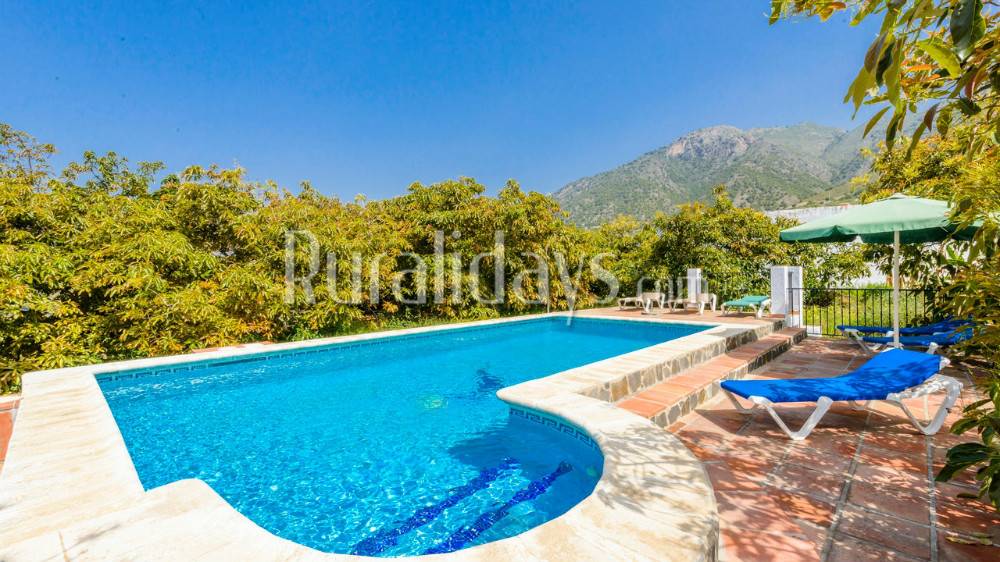 The roomy interior of this villa matches with the spacious outdoor area, where a porch and a barbeque are located, in addition to a private pool in the middle of nature. Just like the majority of the best villas in Frigiliana, this accommodation is also provided with splendid views. You can enjoy them while eating on the porch, which expands into an enormous terrace flanking the property. You won't need anything else to enjoy your holidays at best.
Just returned from a brilliant week at this lovely villa. Everything about it was excellent - spotlessly clean, comfortable and well equipped. The pool was a great size to swim in, and it was lovely to lie under the avocado trees. We really enjoyed the huge terrace, and had all our meals there. We were worried the villa would be a bit isolated, but in reality the location is wonderful - surrounded by nature (there was even a swallow's nest!), quiet enough that it's not overlooked, but only a short drive to Frigiliana, which we visited a few times to wander its picturesque white windy streets, and onwards to Nerja, with its lovely beaches (try Paella on Burriana Beach!).
Scott, United Kingdom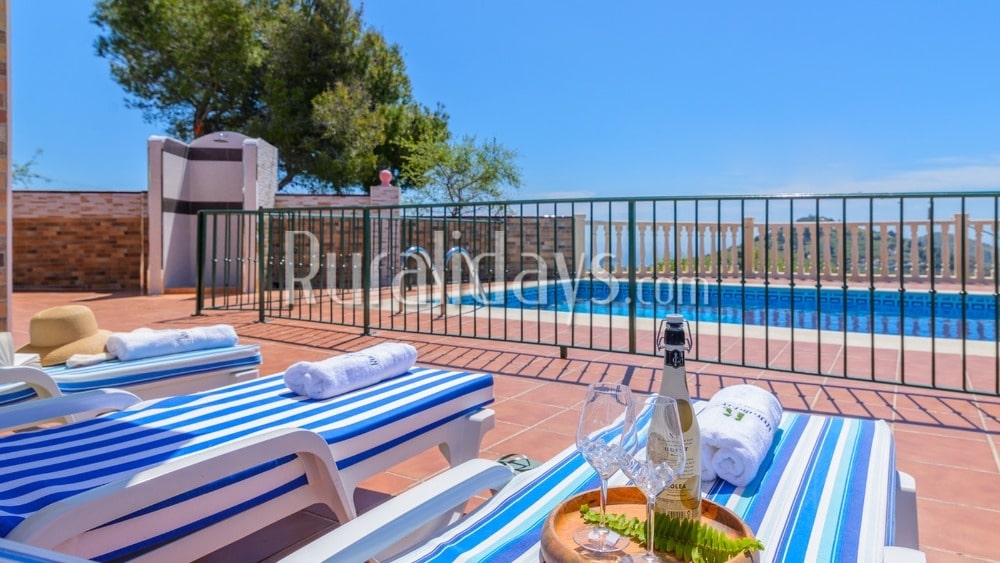 The last of the best villas in Frigiliana, but by no means the least, is this holiday home between the white town of Frigiliana and Competa. Your sight will get lost on the horizon, trying to spot the Mediterranean Sea, Frigiliana and the nearby town of Nerja. From the fenced private pool, before taking a dip into its cool waters, turn your head around to soak up the relaxing atmosphere you can enjoy in this area of Andalucia. The spacious and clean indoor will make it hard to choose if spending the most of your time here, or on the outside. We bet you can't choose just one thing to do, can you?
We stayed here for two weeks in September 2021. This villa was amazing. So thoroughly clean and the hosts came in halfway through the holiday to change the bedding and clean everything, including the pool. It was up in the mountains with fantastic views. However, you wouldn't be able to manage without a car (and a 4 x 4 would be advised, although not absolutely necessary). Frigiliana was a lovely little town with lots of great eating places which were very reasonably priced. Nerja is worth a visit (about 20-25 mins away by car) but is more commercialised and touristy (if that's a word!). Overall we had a brilliant holiday. The hosts were really friendly and although they couldn't speak English and we couldn't speak Spanish, Google translate did an excellent job! We would definitely recommend both the villa and the hosts.
Jill, United Kingdom
Places to stay in Frigiliana
If this selection of the best villas in Frigiliana hasn't completely satisfied you, you may want to have a look at many more holiday villas and holiday homes around Frigiliana. You will definitely find one that suits you and your beloved ones best.
The best villas in Frigiliana have to be discovered in person. What are you waiting for?
Which is the holiday villa that has attracted you the most? Have you ever been to these villas or in any other accommodation in Frigiliana? Tell us in the comments!
Top 10 best villas in Frigiliana is an article that talks about
Top Villas
in
Malaga