A trip to Malaga province is when you get to live a fantastic experience at the best holiday homes in Malaga. Don't let this chance slip through your fingers!
Malaga is the capital city of the Costa del Sol, an unmissable stop by if you are planning a getaway to southern Spain. The secrets and hideouts you will discover in Andalucia, and especially in Malaga province, will leave you mesmerised, longing for a soon-to-be return.
To enjoy the experience at best, we suggest you take a look at the comfiest and most amazing holiday homes in Malaga and its province. You will then find the ideal holiday destination, to enjoy with your beloved ones in a triumph of unexpected sensations.
Are you ready to take this trip?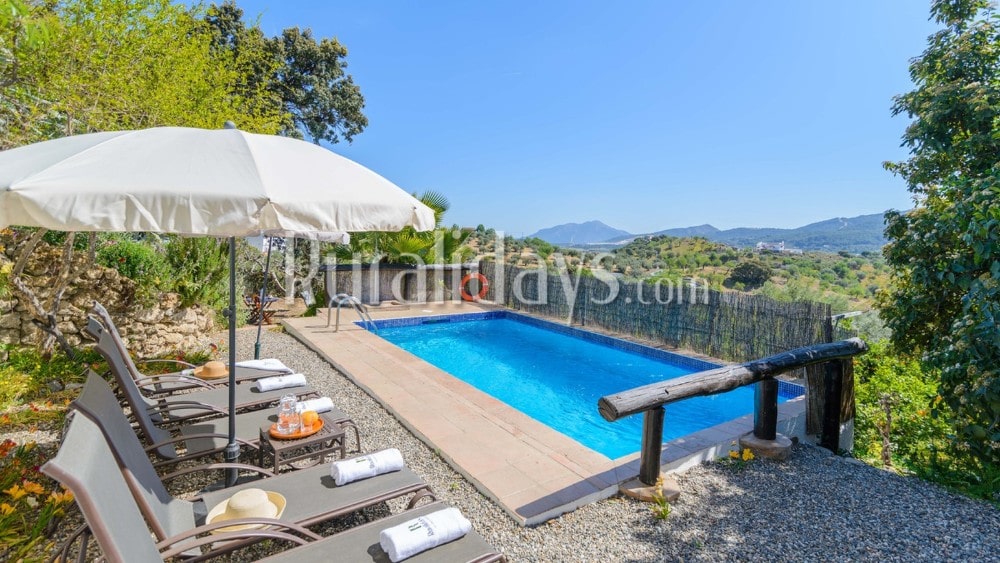 As soon as you get to this accommodation, you will know why it is among the best holiday homes in Malaga. Lush vegetation, which surrounds a fantastic private pool, will welcome you. Here, know that you will spend countless moments of fun. On the other hand, if you are looking for relaxation, under the covered porch you will have the possibility to delight in the sunrise that will slowly warm up the atmosphere of the Andalusian summer while savouring a tasty breakfast.
Don't be afraid that the interior won't live up to the expectations marked by the outdoor area. In fact, you will have the chance to relax in spacious bedrooms, with mesmerising views of the mountains. You definitely don't want to miss out on this holiday home, do you?
We had a lovely week relaxing by the pool. The bedrooms are comfortable with a/c provided. The house is very well maintained with mod cons such as dishwasher, new washing machine etc. The property is surrounded by olive, almond and orange trees, making it a very pretty setting. A pleasant place to relax with a very hospitable host.
Henry, United Kingdom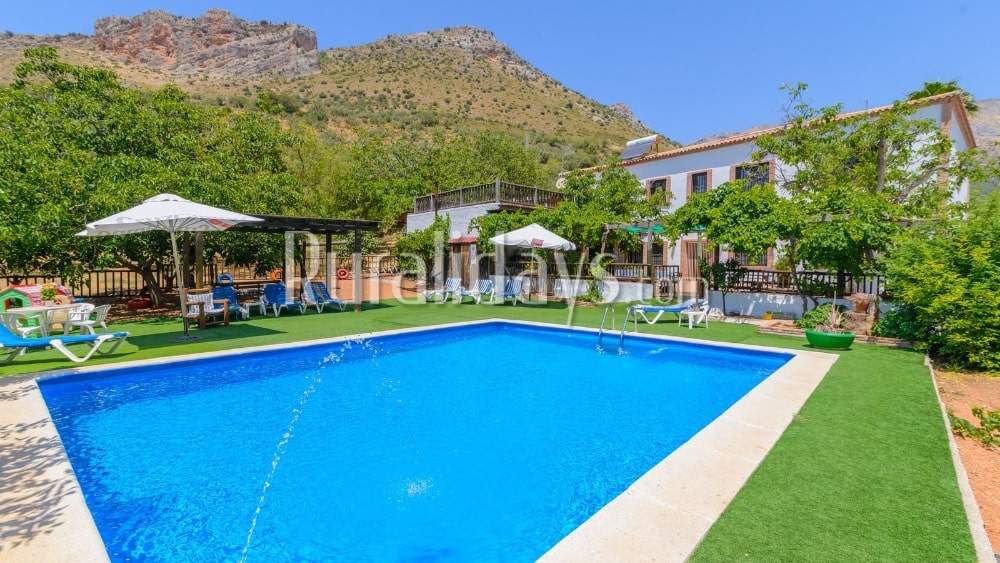 A group of 13 people can enjoy its well-earned holidays at this fantastic villa. It is provided with everything you will need during your stay to feel at home but in a unique environment. In the outdoor area, you will find an enchanting swimming pool, as well as a pergola under which you can shelter from the sun rays of Andalucia.
The spacious interior welcomes five bedrooms and six bathrooms, one of which also has an awesome Jacuzzi, which will guarantee countless moments of relaxation. And if it weren't enough, know that you are also granted the possibility to taste the Andalusian authenticity, wait for the baker to stop by. He will provide you with the best bread you have ever known. A five-sense experience is waiting for you in Malaga province.
Wery professionel service with a great level of communication.
Michael , United Kingdom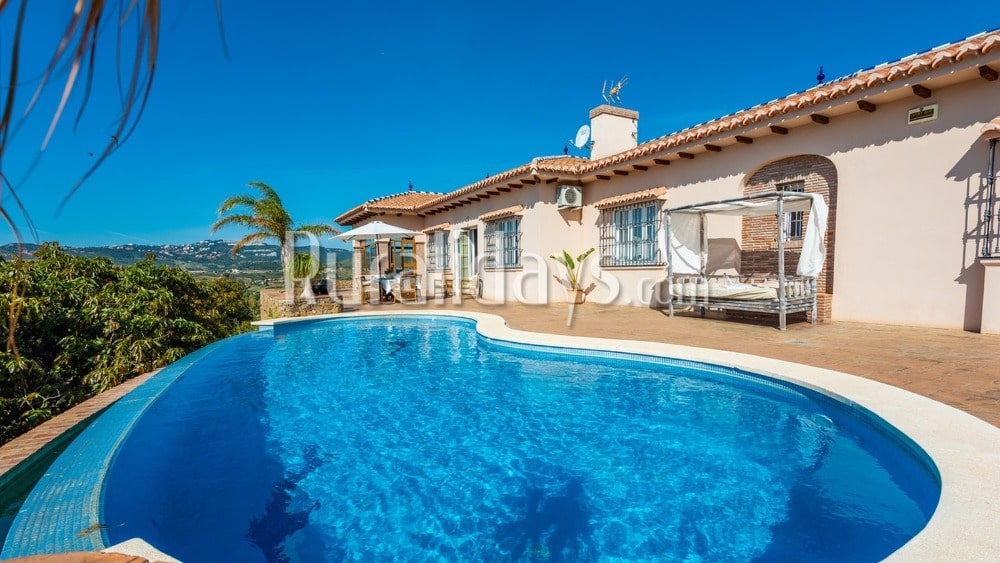 This luxury villa lies in one of the prettiest towns in the province of Malaga, the white village of Mijas. The imposing views over the village and the hills surrounding it are the cherries on the pie. However, don't be misled, since this villa will provide you with so much more. Spacious rooms, equipped with every comfort, match with the private pool in the outdoor area, as well as with the elegant chill-out area that will allow you to enjoy an unforgettable relaxation.
Long story short, every corner of this villa is worth spending a moment at.
The property is as advertised, the location was excellent and easy to find. Everything in the pictures is true and the area and views are amazing. The location is excellent and by car is very close to various towns and beach/shopping/golfing locations. We had a excellent experience staying at this property. The owners were very friendly, helpful, easy to get on with and very attentive. The facilities within the property are excellent and in good working order. 10 out of 10.
Padraig, United Kingdom
When all you feel like doing is relaxing in a secluded place, with stupendous views over Sierra de las Nieves and the Valle del Guadalhorce, surrounded by nothing more and nothing less than nature, you will definitely need to take a look at this holiday home in Mijas. Its heated private pool invites you to take a dip and enjoy a regenerating swim. The spacious but cosy interior grants the guests of this holiday home a welcoming atmosphere, which you will look forward to rejoicing in.
Very nice holiday home in a beautiful location, it was exactly what we were after for a relaxing holiday. Plenty of space and a well equipped kitchen. 15min drive to the local town with a nice clean beach. Weather was beautiful and warm all week (last week of October).
Phil, United Kingdom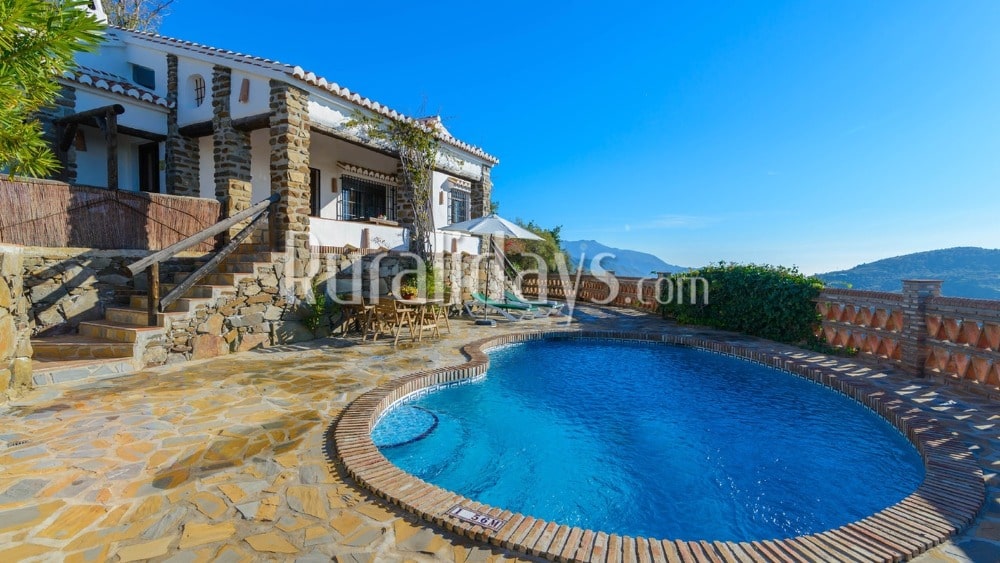 Among the best holiday homes in Malaga, this one could not miss. The stone structure matches with the views of the surrounding mountains and the Mediterranean Sea, providing an authentic atmosphere no one would want to leave. The private pool allows you to enjoy a dip while revelling in the views. The cosy interior conveys the very same atmosphere that you have enjoyed outside, providing your holidays with a magic experience.
Great Villa, incredible view!
Paul, United Kingdom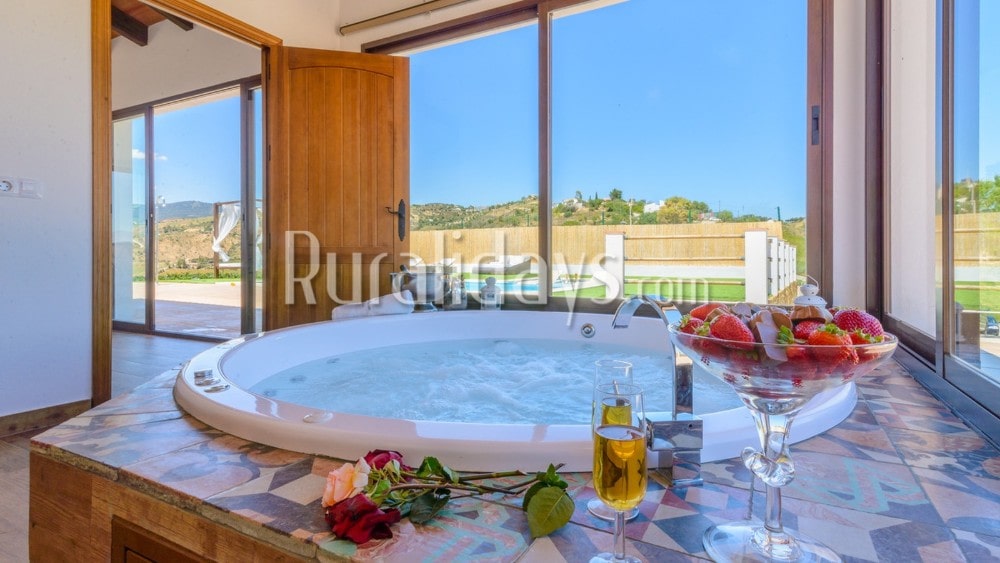 A fantastic view has to be supported by an equally mesmerising indoor. This is what this holiday home offers to you. The views of the outdoor are breathtaking since they let you enjoy the best of the Andalusian landscapes. At the same time, the indoor lacks of nothing to say the least. In fact, it is provided with three wide bedrooms, huge windows and even a private sauna with Jacuzzi, to feel like a king during each and every day of your stay.
We had a wonderful 4 weeks at this lovely villa. We were greeted by the owner Juan. There was a welcome pack which was very much appreciated. The location is quiet and perfect for a relaxing holiday. The views are exceptional and sunrise and sunset are stunning. The villa inside is very clean and comfortable and furnished to a high standard. The kitchen is well equipped with everything you need to cook a meal. There is plenty of outside space to unwind and a BBQ just outside the kitchen. The owner Juan is the perfect host and is always on hand without being intrusive. Juan and his mum and dad are so lovely and very helpful and proud of their villa. There is a well stocked Dia supermarket just 10 minutes drive away and a cafe/ bar in the town square where we would sit and enjoy a coffee watching the locals. We would highly recommend this villa and we will certainly be returning!
Albert, United Kingdom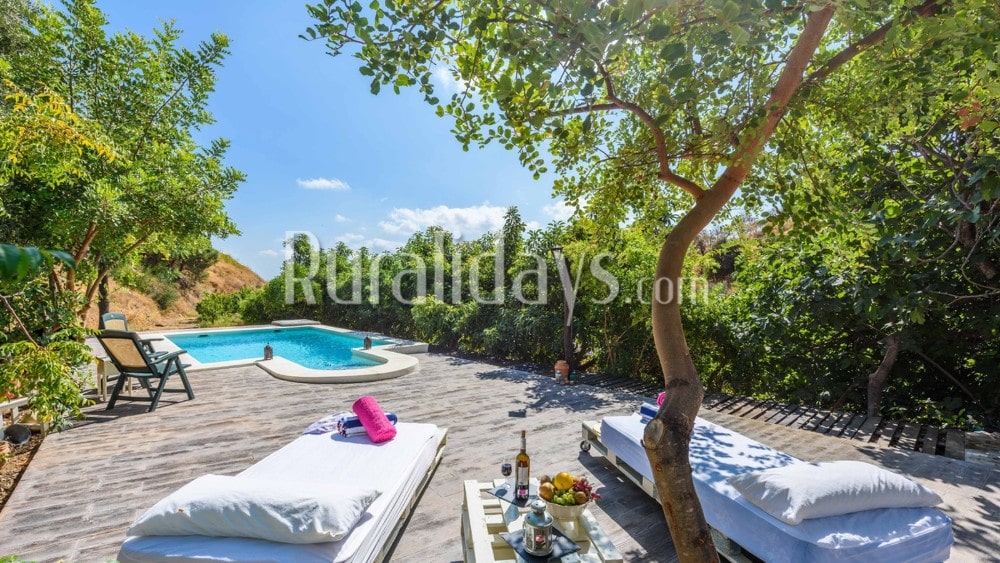 This holiday home's most noteworthy feature is undoubtedly the decoration. The exterior seems to continue into the decoration of the indoor, both defined by stones, wooden beams, and a general rustic atmosphere that will make you go for this holiday home without thinking about it twice.
The relaxing vibes that you will have the chance to experience here are conveyed by the lush vegetation that surrounds the porch and the patio, together with the countryside kind of tools that are disseminated practically everywhere. The true rural Andalusian atmosphere is to be enjoyed at this holiday home in the province of Malaga.
We looked long and hard at all the holiday options on Ruralidays but after careful consideration choose this home. We most definitely made the correct choice. Everything this property promised was delivered in abundance. The owner, Sebastian, was so kind and caring. He made sure we were comfortable without being intrusive and we both looked forward too the daily gifts he left for us. The home and it's surroundings are so pretty and peaceful, so if you want a relaxing holiday then this is the place for you. We will be returning. Thank you!
GREG, United Kingdom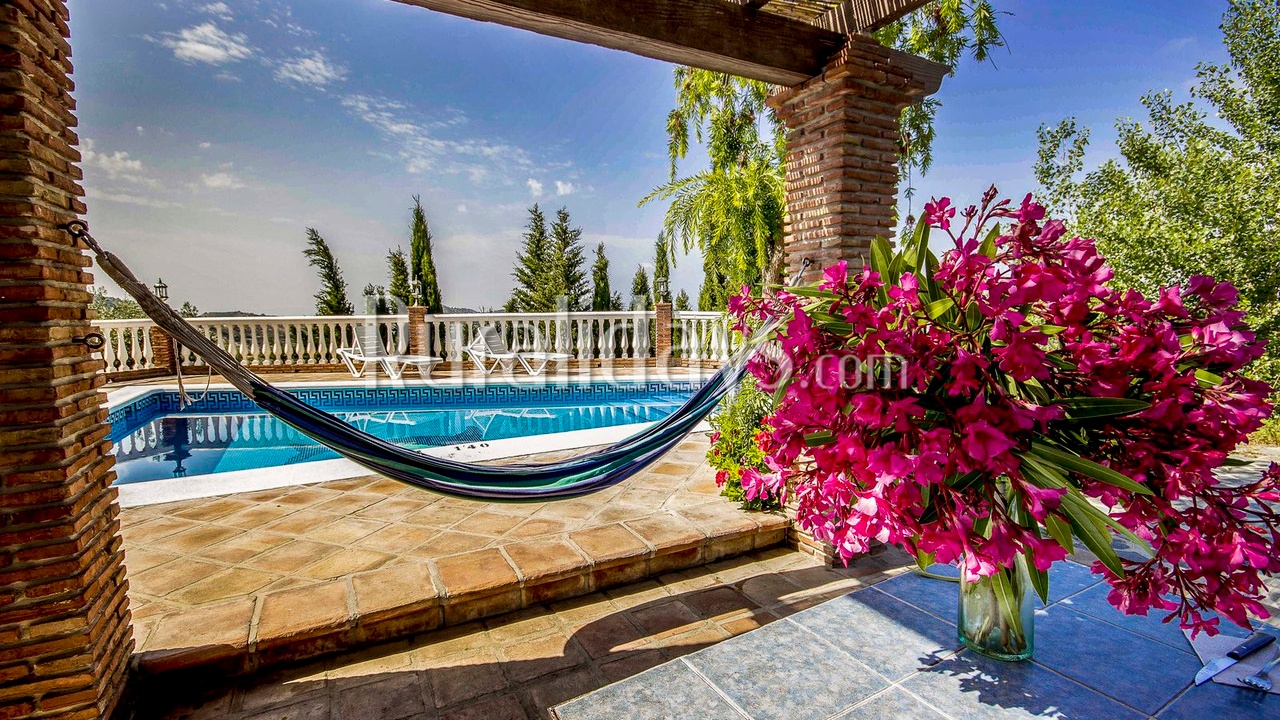 There is nothing you can possibly ask for that this holiday home doesn't already offer. Views of the surrounding valley, roomy interior with as many facilities as you wish, a porch where you can enjoy some delicious meals cooked on the barbecue, a private pool for the enjoyment of the whole family, and last but not least, a dreamlike outdoor Jacuzzi. Magic is far from leaving this holiday home, and you won't want to, either.
We were extremely unlucky, with 13° and rain in late April so my review should be seen in that light. The location of the house is absolutely beautiful with an amazing view and completely complete peaceful. There is a 15 to 20 minute drive into the smallest village, which is normally not a problem but with that drive it actually was a barrier to leaving the house. Normally I don't think I would want to leave the house because it is an amazing house and amazing location, but we were unlucky with the weather so we couldn't really use the pool and felt stuck in the house. When it is that cold in April the house is cold and it is difficult to heat up the pool. Everybody did an amazing job in helping us heating the pool and the house and I only have positive words for the people who owns the house and the people managing it. Niki you were fantastic. My review would probably have been different if we had 25° and sun which is the norm. But we didn't and I hope I have made the nuanced review that help other people to know the pros and cons.
Mikkel Arnoldi, United Kingdom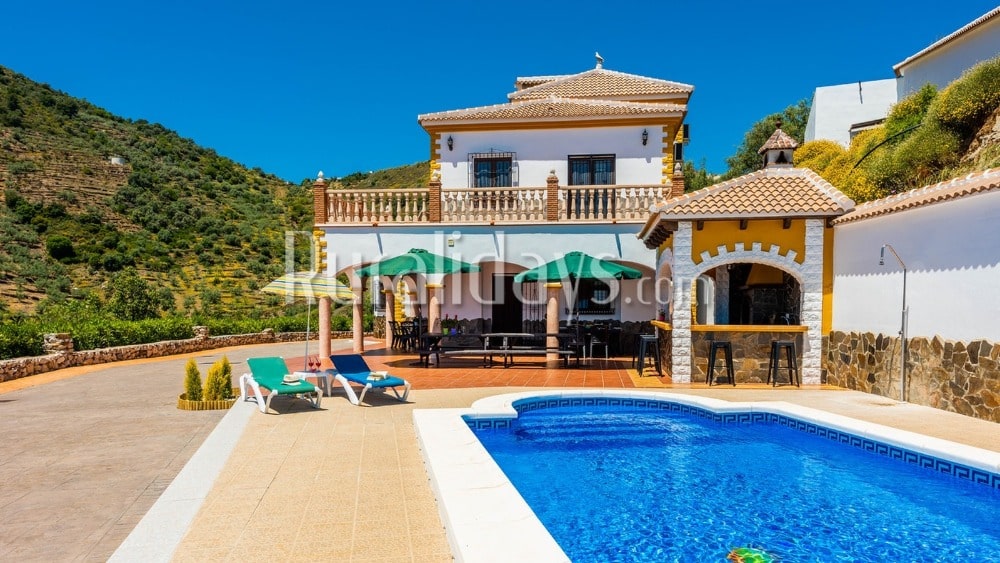 14 people can share this holiday home with one pet, so that everyone can enjoy some well-earned holidays. What you can't miss out on are the spectacular views of the surrounding mountains, the welcoming bedrooms that will bring you into the deepest sleep, and the covered porch, where you can revel in some delicious meals. You can do all of this and much more in this fantastic villa in the province of Malaga.
This is a great Villa and extremely well equipped. It is a little remote but the views and facilities are superb. The owners were very helpful and responsive to any, even small, issues that we experienced.
James, United Kingdom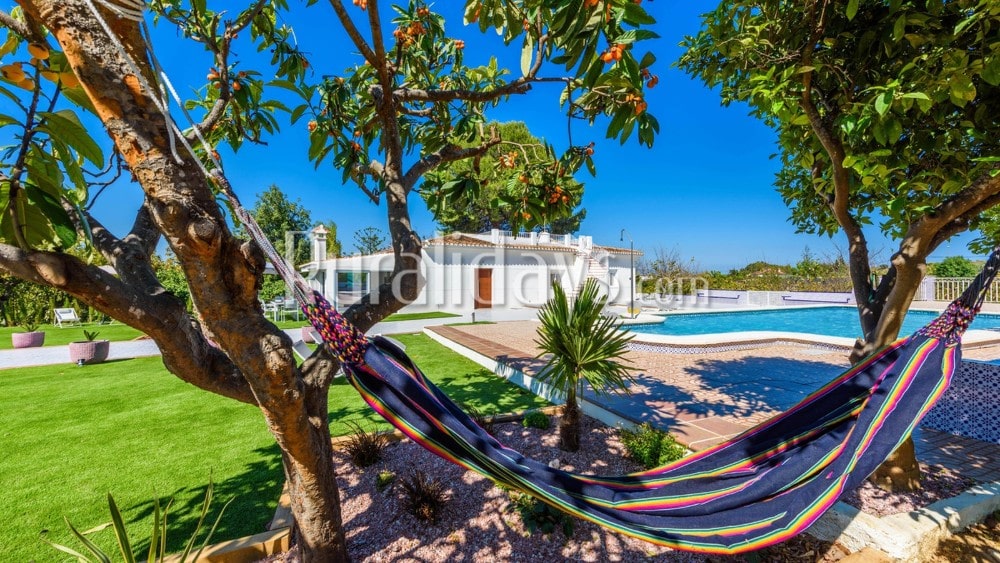 The Guadalhorce Valley welcomes this magnificent accommodation, located near the town of Alhaurín de la Torre. The private swimming pool, the main feature of the huge garden, is surrounded by sun loungers, where you can comfortably sunbathe as well as enjoy the Andalusian breeze. You can also choose to revel in some delicious specialities in the outdoor dining area. Indoor, the light and space are the primary masters, those that define and characterise every room. Take a look at this villa just 15 km far from Malaga city centre; it won't deceive you!
We enjoyded a wonderfull time at the house. The facilities and location are very good. The house, pool and garden were very clean. The contact with te owner was very nice. Felix is very helpfull and stays in good contact. A place to return to for another holiday.
Marco, United Kingdom
Places to stay in Malaga
If you are not satisfied yet, let us show you some more holiday homes in Malaga and the province. You will discover that a picture is worth a thousand words, and you will fall in love with these villas as soon as you seek through the many photos provided. Wait no more! Or else, check this selection of the best holiday homes in Costa del Sol.
These were the best holiday homes in Malaga, where relaxation and peace will be the order of the day.
Have you ever been to any of these holiday homes? Do you think any other ought to be on this list? Tell us in the comments below!
Top 10 holiday homes in Malaga is an article that talks about
Top Villas
in
Malaga