If you plan on visiting Seville by car, knowing where to park your vehicle is fundamental. Thanks to Ruralidays, you will know where to park in Seville.
Free parking in Seville, despite all the difficulties, is possible, but only if you know where and how to get to the parking lots. Keep reading to know where to park, without finding a fine, and where to leave your car parked in the free and paid parking lots.
Free parking in Seville
First of all, you need to know that, to park your car for free in Seville, you need to avoid the Old Town; there are no free-parking areas, and get into the Old Town with your vehicle might be an Odyssey. Having said this, here, you can find a selection of free-parking areas of Seville, near the city centre:
San Vicente district. This district goes from the renowned Torneo street to the Alameda de Hércules. It's one of the closest-to-centre neighbourhoods, where you can find free parking and it's very well connected with it via public transport. Just keep in mind that, as it features several campuses and offices, it's usually crowded, especially in the rush hours. A bit of patience is the best ally.
San Julián district. This neighbourhood is located between the San Vicente district and the Macarena district. Here, you can park for free, after wandering through narrow and small streets. Between the walls of La Macarena and towards the Avenida María Auxiliadora and Muñoz León street, you can easily find more extensive areas where parking is more accessible.
El Fontanal. You can find free parking in this area of the Andalusian capital city, near the Santa Justa Train Station. If you park here, you can quickly reach the city centre, either on foot or by bus.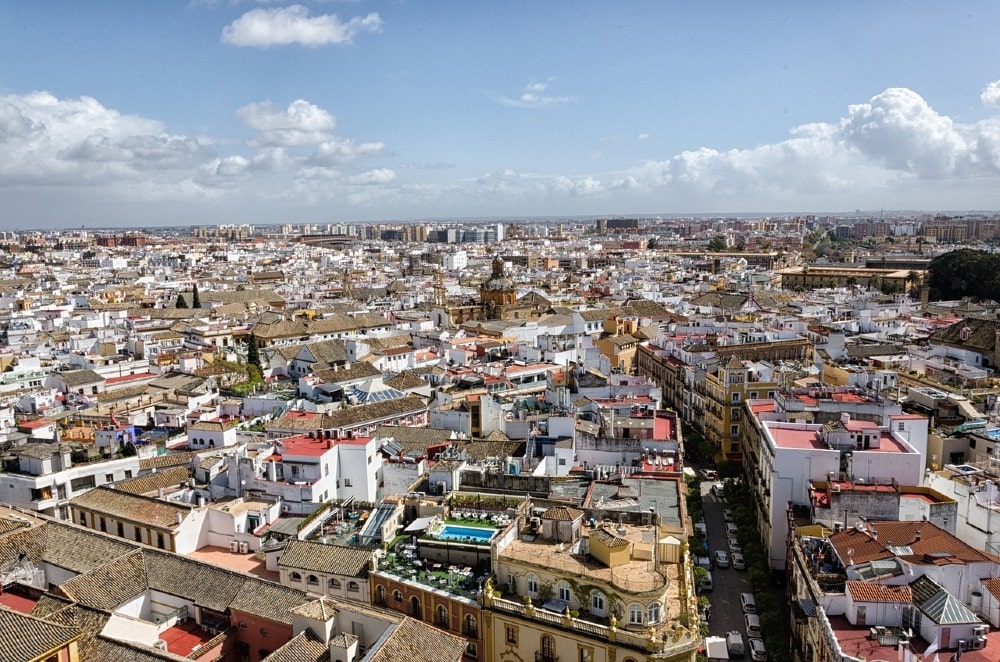 The area of the María Luisa Park. Right behind the Park and Plaza de España, there is a free parking lot. Specifically, it's easier to find parking in the Porvenir street or Cardenal Bueno Monreal street. Besides, the closeness to the city centre allows you to reach the Cathedral after a 10-minute walk.
La Macarena. This collection of narrow streets provides some free-parking areas that combine with paid-parking areas. It's possible to park your car for free, even though, if you don't have a good sense of orientation, we suggest you don't get into the district. A good option is to look for parking in the most external part of the neighbourhood, outside the walls. The broadest streets go from the Avenida de Miraflores to the Avenida de la Cruz Roja.
Free parking around Seville city centre
Farther from the city centre, there are several free parking areas. Although this implies walking a bit more to get to the city centre, you might want to look for parking here, as you will have higher chances of leaving the car parked for free in the Andalusian capital city.
La Isla de La Cartuja. Located on the other side of the river, the Isla de la Cartuja is one of the areas with the highest number of free parking in Seville, especially in the Avenida Carlos III. And this might be an inconvenience, as this is a very crowded spot, being a centre of headquarters and several offices. However, if you travel to Seville during the weekend, this is the best place to leave your car, as the offices and businesses remain closed.
Triana. In the Triana district, you can park along the Ronda de Tejares, and get to the city centre on foot (some 2.5 km).
Los Remedios. Near Triana, there is Los Remedios district, where you can find free parking, above all in the Avenida Presidente Adolfo Suárez. The nearby Puente de Los Remedios leads you directly to the María Luisa Park and the splendid Plaza de España. In this neighbourhood, you can also leave your car parked in the Parque de Los Príncipes.
Fairground. There usually is free parking where the April Fair takes place. If you travel outside the designated dates, there are good chances of finding free-parking areas in the fairground. The city centre is 1.5 km far.
Paid Parking Zone in Seville
If you prefer to park in the city, and you don't mind paying, Seville is provided with several paid parking zones, both underground and on the surface. The underground parking lots are usually more expensive, and the price difference among them is remarkable: the closer to the city centre, the more expensive the parking lots are. On the contrary, the "Zona Azul" relies on a fixed price, although you can leave your car parked here only for a limited amount of time.
The GES parking lots
The old "Zona Azul de Sevilla" (Seville's Blue Area), which was known as "ORA", is now known as GES (Gestión de Estacionamiento de Superficie, which roughly translates as Management of Surface Parking Lots) and manages the high-rotation area (Zona Azul), the low-rotation area (Zona Verde), and the very-high-rotation zone (Zona Mar). These areas occupy the most significant part of Seville's city centre.
The name "Zona Azul" is commonly used to define the paid-parking areas. However, the lines that limit the parking lots can be either blue, for the Zona Mar and Zona Azul, or green, for the Zona Verde. In these three areas, to leave your car parked implies to pay, and they differ only for the applied tariffs.
Zona Mar: minimum parking of 35 minutes for €0.60 and a maximum of 60 minutes for €1.25.
Zona Azul: minimum parking of 35 minutes for €0.40, 60 minutes for €0.75 and a maximum of 120 minutes for €1.70.
Zona Verde: minimum parking of 60 minutes for €0.65, 120 minutes for €1.25 and a maximum of 180 minutes for €2.
In the three of them, you can park your car, from working Monday to Friday, from 9 am to 2 pm and from 5 pm to 8 pm, and on Saturdays, from 10 am to 2 pm. Keep in mind that, from July 1st to August 31st, the three areas apply paid-parking fees from 9 am to 2 pm, from working Monday to Friday.
During the rest of hours and days, including December 24th, 25th, 31st and January 1st, 5th and 6th, it's possible to park for free in the GES parking areas.
Underground parking lots
The last option for parking in Seville is to choose one of the underground parking lots in the city.
Parking Saba Plaza de la Concordia. You can access this parking from Tornero street, and it's located a 7-minute walk from the Giralda. Leaving your car parked here costs €2.80/hour, and you can buy multi-day, single-day and night tickets.
Aparcamiento de la Magdalena. This 380-place parking lot is located in San Pablo street, in El Corte Inglés building. It's open 7 am to 12 am on working days, and 8 am-10 pm on Sundays and bank holidays. To leave your car parked here the whole day costs €23.94.
Aparcamientos Plaza Nueva. You can access from Albareda street, near the Giralda. It's open 24/7, and it costs €5.6/2 hours. The small places and the high-traffic area where this parking lot is located may make it a bit harder to park here than in other areas of Seville.
Aparcamiento Paseo de Colón. One of the best-reviewed parking lots in Seville, this parking is located near the Bullring La Maestranza, in an area rich in bars and restaurants, and within walking distance from the Cathedral.
Aparcamiento Imagen. This 160-place parking lies in Santa Ángela de la Cruz street, a one-minute walk from the Metropol Parasol. The first hour costs €2. You can even check the availability before getting to there.
Parking Escuelas Pías. Very centric parking, near the Metropol Parasol and the city's Old Town.
Parking Saba Plaza de Armas. Located near the bus station, this underground parking lot lets you leave your car from €2.15/hour.
Parking Saba Estación Tren Sevilla. This parking is perfectly located for those who need to travel from/to the Santa Justa train station. You can leave the car here for €2/hour, and you will also be able to buy multi-day and weekend tickets.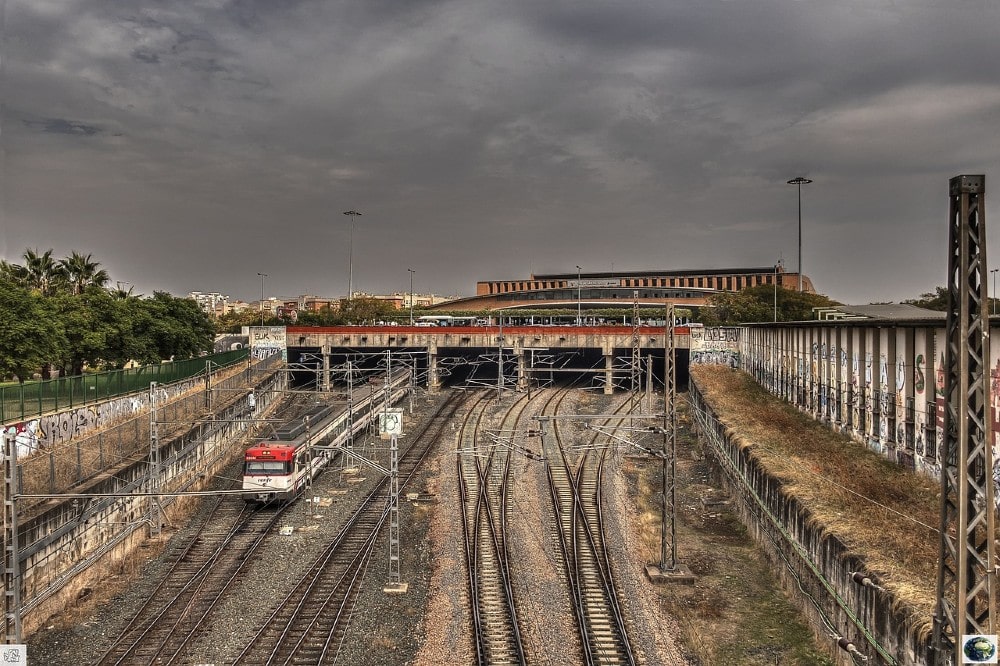 Viapol Center. This shopping centre's parking lot is a good option to leave your car, thanks to its location (20-minute walk to the Plaza de España), and its prices on a budget, cheaper than the rest of parking lots.
Tips on using the car in Seville
To get into the city's Old Town may take you to very narrow streets and even areas that are closed to traffic. Therefore, we suggest you park in the areas near the city centre, even though you will have to pay.
Besides, you can download an app to pay the "Zona Azul" (Apparkya) and an app that shows you the level of occupancy in the public parking lots and the traffic status in the city (Movilidad Tráfico Sevilla).
Beware of the so-called "gorrillas", parking lot attendants that normally ask for money (usually €0.50 and €1) to "guard" your car parked in the streets of the city. Keep in mind that you are not obligated to pay them, as there is no guarantee that they will watch your car.
Disclaimer: the tariffs and hours have been revised at the moment of publication of the post. We suggest you check the prices and hours on Aussa Sevilla web page, before travelling.