Looking forward to going on holidays, but you want to save some money at the same time? Here goes a list of the best budget villas in Nerja!
If you've been saving money and now you're dying to book your next holiday rental, you should take a look at the best budget villas in Nerja. Known as one of the Costa del Sol's most authentic white villages, Nerja offers countless opportunities to enjoy yourself. Among them, gorgeous holiday villas provide you with the best places to recharge your batteries. And if you can do so without paying through the nose for it, why not seize this opportunity with both hands?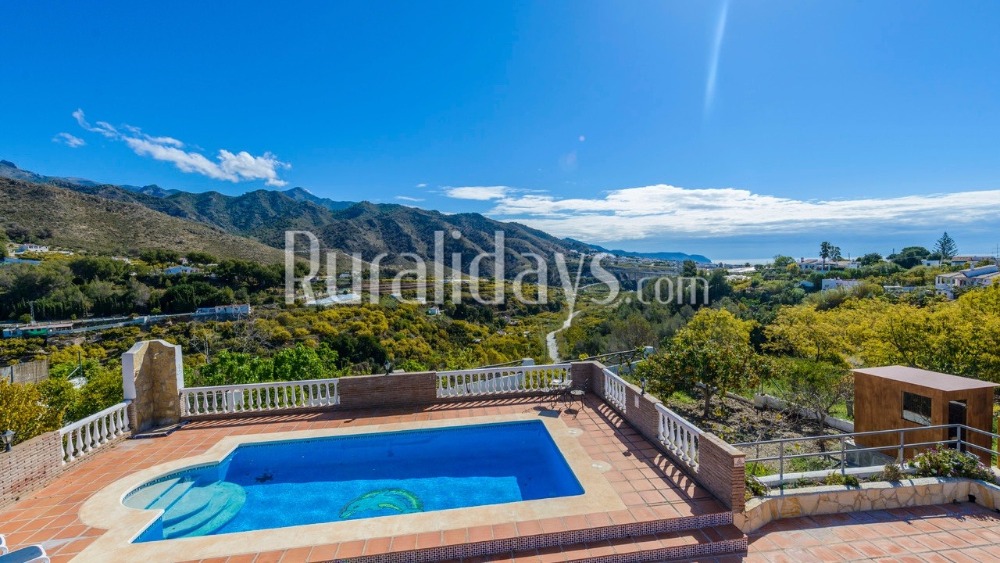 You may remember this villa from the article about "The best villas in Nerja". And what a surprise when you've found out that it is also one of the budget villas in town. You'll get the best of both worlds here! This villa with all the comforts you'll ever ask for will let you enjoy some of the most relaxing holidays you've ever had. A spacious terrace with a private pool, three wide bedrooms, and clear views of the hills that surround Nerja (you can even spot the Mediterranean Sea during sunny days), are only some of the features that will make you fall in love with this accommodation. Take a chance on it, and book your holidays right away!
Spacious villa, great outdoor space, pool and amazing views.
Paul, United Kingdom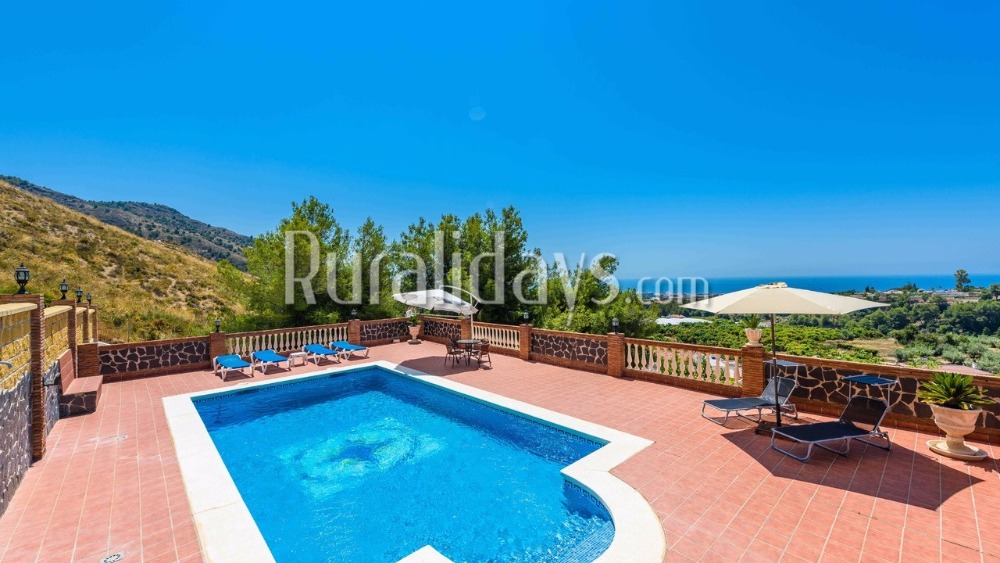 Speaking of views, this villa is second to none. And that's because, to get to the private pool, you will have to go down a few steps; in front of you, as far as the eye can see, the Mediterranean Sea stands out, in contrast with the green hills and Nerja's whitewashed houses. You'll have the same views from the porch, whose atmosphere will make every dish even tastier. An indoor typical of the most authentic villas in Nerja is another of this accommodation's noteworthy features.
We had a fabulous time at villa, everything we needed was at hand, house was spotless, pool and all outdoor areas were immaculate, I had a very relaxing time here and would definitely return, only thing is it is really out of the way of everything if you like going for a few drinks, but it suited us perfectly
Helen, United Kingdom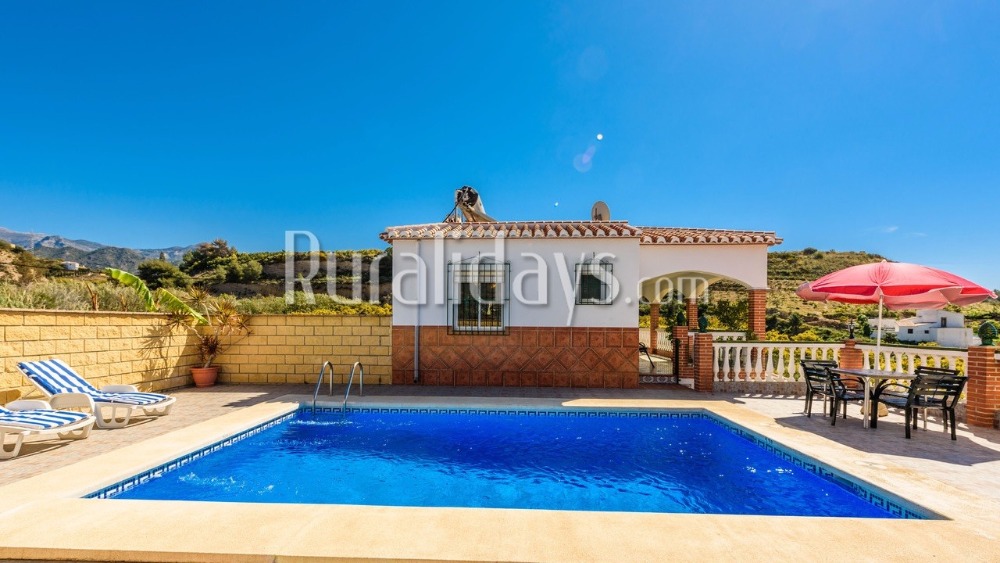 You've probably already got used to the fact that the villas in Nerja feature some staggering views, usually of the Mediterranean Sea and the hills. This cosy accommodation for six people is no exception the rule. You can soak up the atmosphere while having breakfast on the porch, from where you'll enjoy the harmony of the colours that mix before your eyes. Likewise, the snug indoor area relies on comfortable beds and sofas to let you sleep like a baby.
Everything to our taste, the swimming pool, the barbecue, the swing for the girls and the well preserved that this everything
Javier, Spain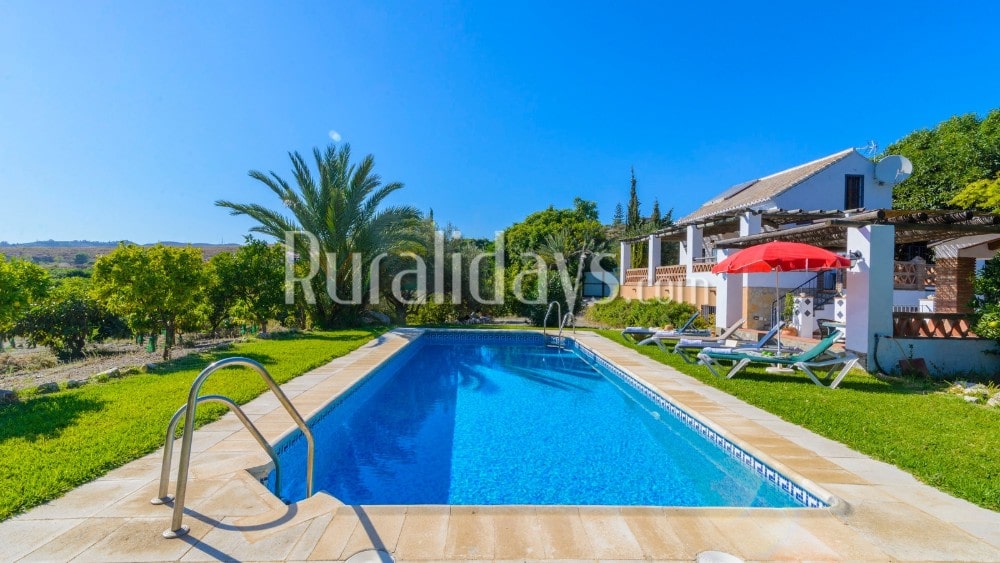 The lush garden that surrounds this villa will make you wonder whether you've ended up in a fairy-tale. The vivid green of the lawn and plants beautifully contrast with the pool's light blue. Indoor, cosy bedrooms and the warm ambience of the living area feel like home away from home. The best decision you can make is book already this gorgeous accommodation, less than 5 km from the beach.
I write this review whilst still staying at this marvelous villa. An exceptionally large villa, surrounded by beautiful trees that Frank takes care of so well. The pool is huge compared to most villas that have pools and everything you can imagine is provided, towels, linen which Frank comes and changes after a week. How nice! There is plenty of sun and shade and large table outside and in. Wi-if works a dream which is great if you had children who like their tablets/phones. Frank gave us some great ideas for places to go to - we are going out for a beer with him tomorrow! Such a lovely man and will go to great lengths to make your stay a perfect one! We cannot wait to come back next year. Frank and his villa deserves nothing but 5 stars, yes the road down to the villa might be a bit of a bumpy ride - my elderly father in law was able to walk up and down it even when we had a car.
Pam, United Kingdom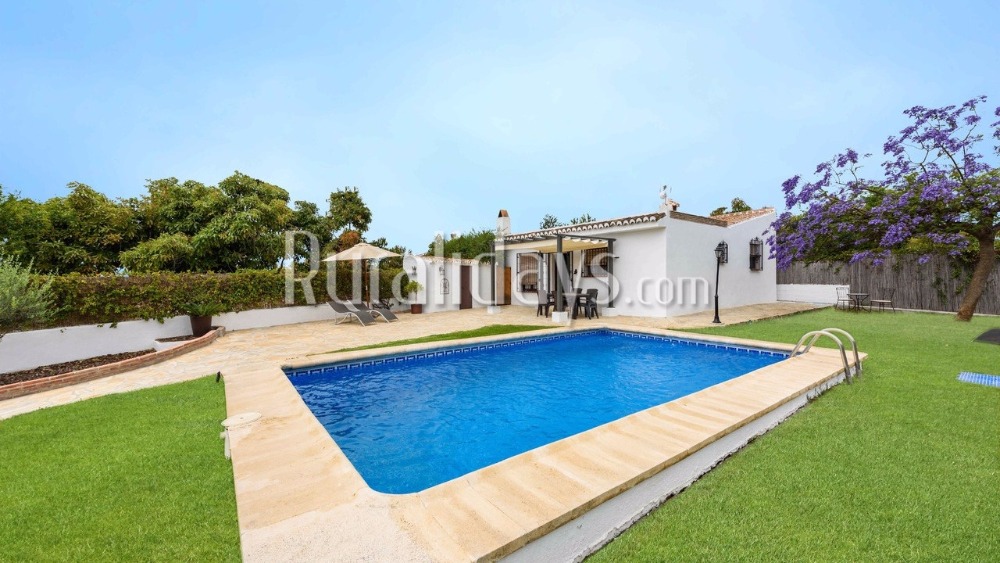 Thanks to its location on a hilltop, this villa enjoys breathtaking views of the surrounding mountains, the town of Nerja and even the sea. You can rejoice in the views while tasting mouth-watering meals on the porch. The perfectly maintained garden welcomes a private pool and a barbeque, whereas the indoor is furnished to let you relax and enjoy nights of deep sleep.
Perfect location. House was very clean. There is no air conditioning in the house. Pool was very nice. The owner is very helpful and she let us into the house at 2 pm normally its 4 pm. A lot of privacy. Thank you for the good service.
Mohamed, United Kingdom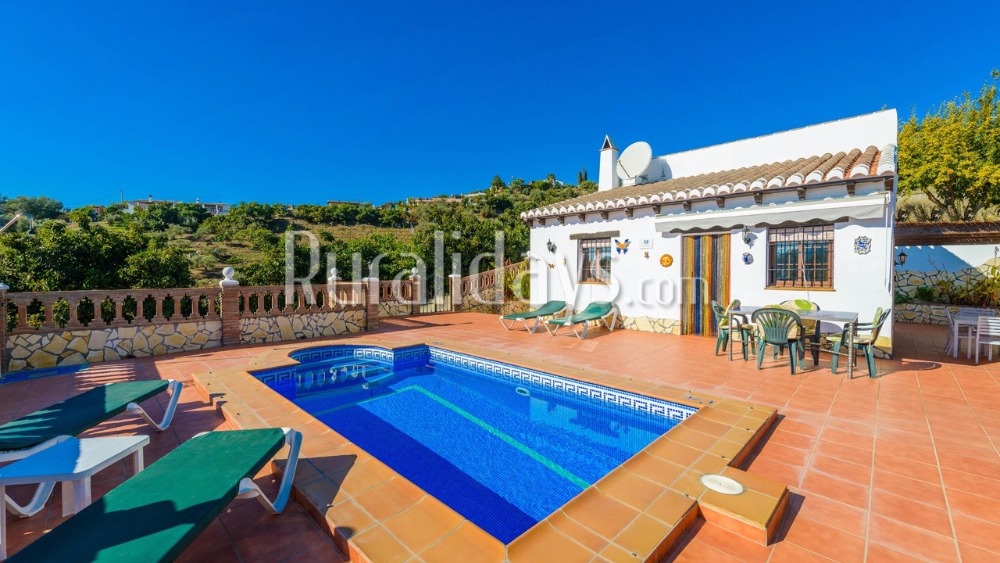 If you feel like you're running out of energies, this villa will help you regain your strengths. Located between Nerja and the white town of Frigiliana, this coquettish two-storey holiday home can accommodate up to four people. A wide terrace offers stunning views (how not!) and sun loungers where to sunbathe during the warm summer afternoons. A porch located on the side of the house provides a shelter when the sun rays become too hot. As you can see, this villa has it all. Would you like to give it a try?
We have been phenomenal in the house, a very pleasant environment. It has all the comforts and is a place to enjoy nature and family.
Águeda , Spain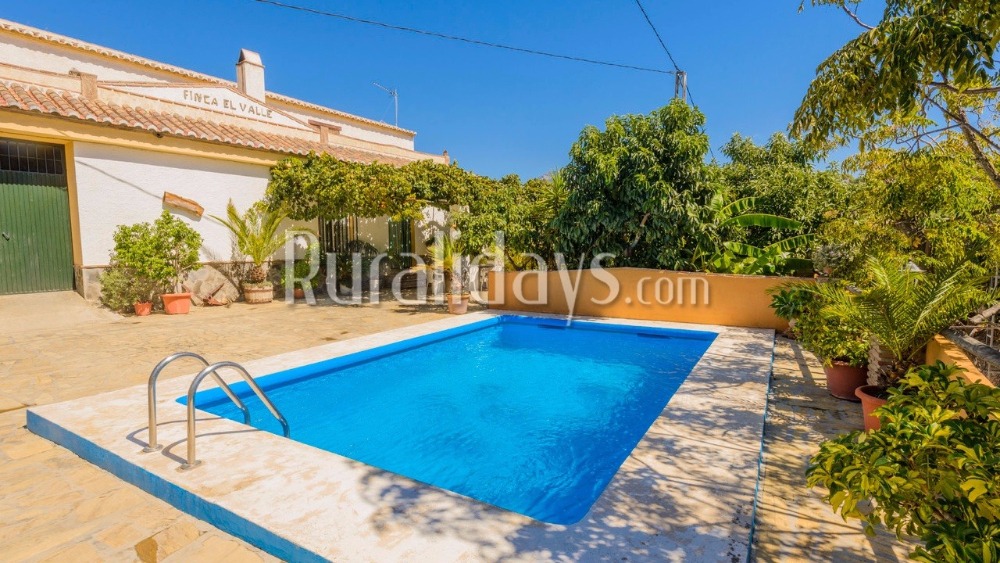 As soon as you get to this villa, a relaxing atmosphere will fill you up. The lush vegetation that surrounds the outdoor area, in addition to the open space of the indoor, ensures you make the most of your holidays in Nerja. You can choose to have your meals on the porch, whose vine helps convey a dreamlike atmosphere, or take a dip in the private pool: spending your holidays on the outside is a fantastic idea, you know?
Beautiful setting, wonderful views, a terrace in front of the pool to enjoy the scenery in a crowded environment of tranquility and beauty. Very close to the famous beaches of Nerja, a charming town, essential to visit the Caves of Nerja and Balcon de Europa. A very positive experience. 100% recommended.
Luis, Spain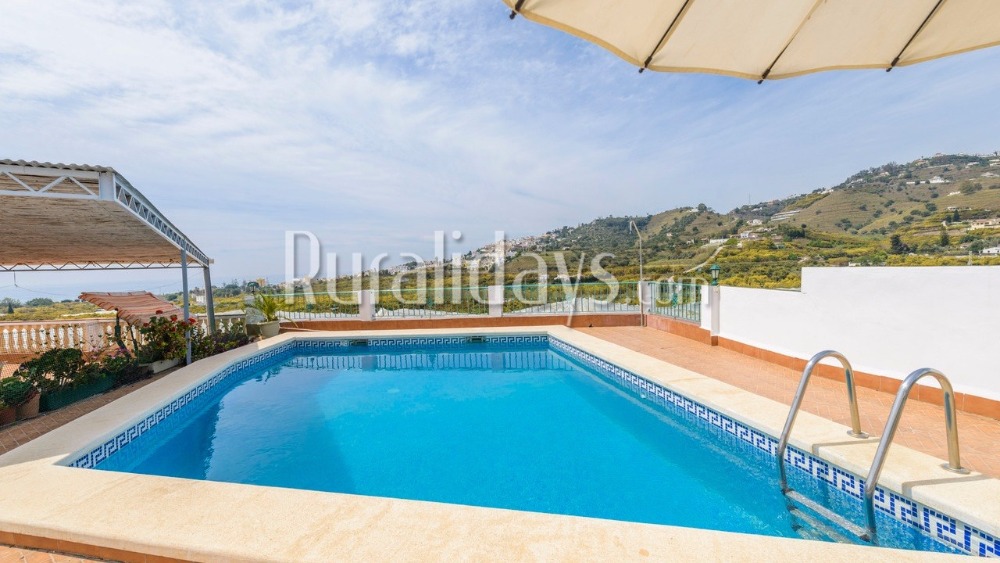 Last, but not least, this accommodation has enough space for up to nine people to spend their well-deserved holidays here. It overlooks the staggering landscapes of the hills near Nerja and Torrox, which smoothly mingle with the Mediterranean Sea on the horizon. You can rejoice in this spectacular image while sunbathing on the poolside sun loungers, or as you relax on the porch swing. Whichever the activity you choose, this villa won't fail you!
Very nice house, quite area, pool and many places for relaxing. Lola, the owner was very helpful, we arrived around midnight, but no problem. Place for parking of two cars. I would recommend this house for all travellers. A little bit complicated way from Nerja to the house, but the second day it was already ok 🙂 We were very satisfied. Lola thanks for our nice stay.
Robert, United Kingdom
* Translation of the reviews into English is powered by Google Translate.
Best places to stay in Nerja
If you long for more villas, either in Nerja or on the Costa del Sol, you can check out some other articles regarding some of the best villas in the area. And in case, you are not satisfied yet, visit our website, where lots of holiday rentals in Nerja are displayed!
Now that you know that you can go on holiday and save some money at the same time, there's nothing left to stop you!
What do you think about this list of the best budget villas in Nerja? Do you think any other should be written about? Tell us in the comments below!
Top 8 Budget villas in Nerja is an article that talks about
Top Villas
in
Malaga