We are helping you choose what to see in Seville in two days! Find out the most important monuments to visit during your two-day stay in Seville.
The capital city of Andalucia is known for Flamenco, art and culture, all flowing through its streets! It has so much to offer that visitors should spend more than a day to make sure to see everything.
Therefore, we are giving you this two-day trip guide of Seville. But don't worry, despite being the biggest city of Andalucia, the sites worth seeing in Seville lay so close to each other, that you can discover the city on foot in just two days.
What to see in Seville in two days: day one
As soon as you arrive in Seville, make sure to start your visit by stopping by the picturesque Iglesia de San Lorenzo, in the northern area of the city. This way, you won't miss an exceptional little church, and you will have the possibility to walk the city and don't miss anything. Once you have taken enough photos, move towards West, along calle Juan Rabadán, until you spot the river Guadalquivir on the horizon. Turn left and take a walk along calle Rey Juan Carlos, a beautiful promenade on the river bank!
If you fancy discovering some artistic patrimony of Andalucia, cross the Puente de la Cartuja bridge, and you will find yourself in the marvellous Jardín Americano, where you can visit the Andalusian Institution of Historic Patrimony, as well as the Cartuja Monastery. Otherwise, keep walking along calle Rey Juan Carlos until it crosses with calle Jandalo. Now you can proceed on this street, for it will take you right into calle Alfonso XII, where you can relax in one of its numerous restaurants.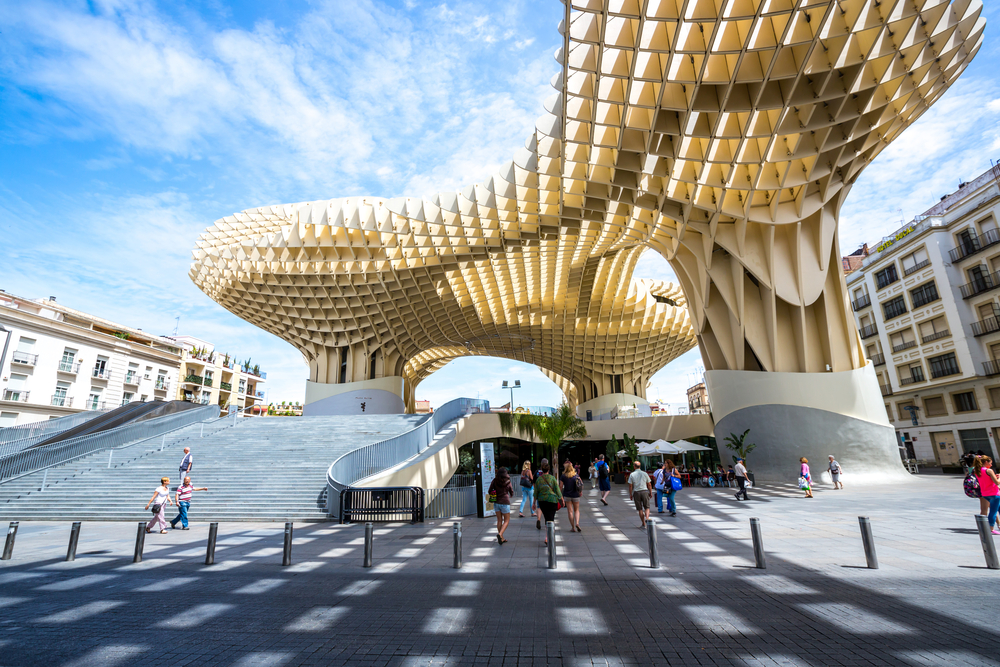 While walking along it, you will come across the Museum of Fine Arts, and most important, the magnificent Metropol Parasol. Las Setas de la Encarnación, as it is also known, was built by the German architect Jurgen Mayer H. on the remains of an 1842 market hall. Inaugurated in 2011, it claims to be the largest wooden building in the world. Its peculiar shape and outside appearance welcome small colourful market stands all year long. We suggest you visit this symbol of Seville, for the views from the top are truly unbeatable.
Afterwards, go back to calle Sierpes, where you can enjoy some shopping in one of its numerous boutiques. But be aware, no matter what the latest fashion is on the main street, you will find out that Flamenco dresses are the everlasting trend in Seville.
As the sun starts setting, head towards calle San Pablo, which will then converge into calle Reyes Católicos until you reach the majestic Puente de Isabel II. The views from this bridge are particularly breathtaking as the night approaches, for all the buildings on the river bank are illuminated.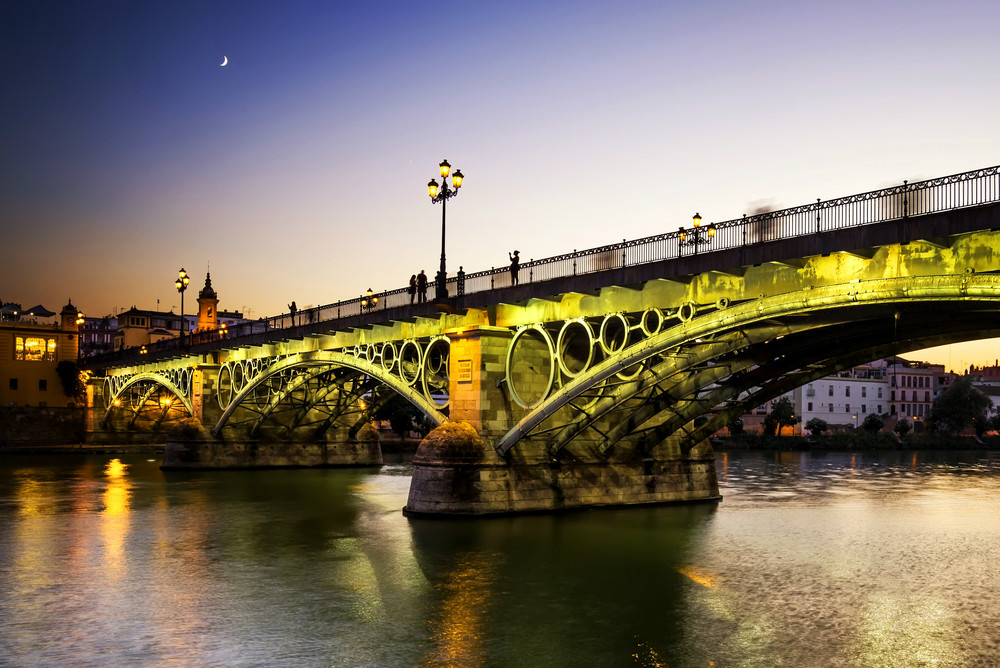 As you cross the bridge, don't forget to take pictures of the magnificent panorama of this area of Seville. The bridge takes you directly to the Triana neighbourhood, one of the Flamenco traditions' birthplaces, where you will be able to enjoy a delicious dinner in one of its countless restaurants and cafés, even on the river bank, if you fancy. No better way to end your first day in Seville!
What to see in Seville in two days: day two
Our trip about what to see in Seville in two days continues with a second day full of many important activities to do!
Start the day by visiting the majestic Maestranza,the biggest bullring of Andalucia, situated in the paseo de Cristobal Colón. As you walk towards the east, you will come across the marvellous 15th-century Cathedral, built on the remains of a mosque, whose patio and bell tower you can still see nowadays. The bell tower, also known as La Giralda, was built back in the 12th century. While in the Cathedral, don't forget to stop by the monumental tomb of Christopher Columbus, which is said to conserve some remains of the great explorer.
After discovering the awe-inspiring spots of the Cathedral, including the Patio de los Naranjos, head towards the India Archive. This building conserves a collection of documents, maps and items related to Spain's American empire, from 1492 through to the 19th century.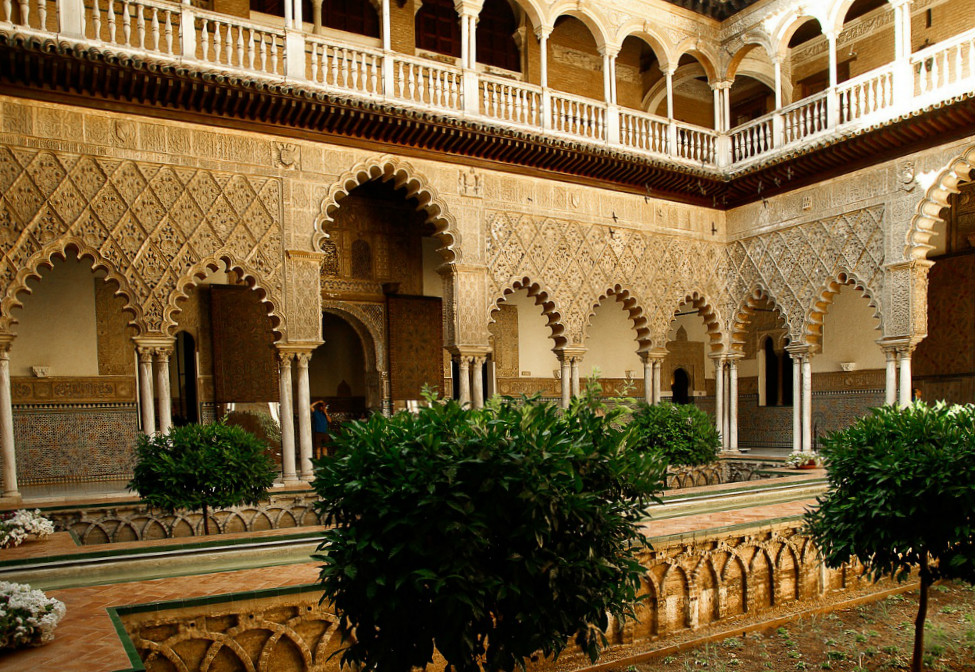 As soon as you've finished visiting all these breathtaking monuments, you may feel a little tired. Call yourself lucky, for you are now in the Barrio de Santa Cruz, the medieval Jewish quarter of Seville. Nowadays, its narrow, white streets are full of cosy cafés and little boutiques, making its unique squares the perfect spots to take a break from a busy sightseeing day.
After the break, take a walk alongside the river Guadalquivir, until you spot the 13th century Torre del Oro. This tower was used as a gold keeper during the times of colonisation, and it is said to have had a dome covered in golden tiles, hence its unique name.
Pass the tower by, and direct towards the East of the city. Now prepare yourself to get overwhelmed by the Real Alcázar de Sevilla, a breathtaking palace declared World Heritage Site in 1987. It was used as a fort back in 913, and it has been renovated and renewed by every ruler of Seville for centuries. These changes have left a trace on the Real Alcázar. In fact, nowadays, the building presents an exquisite combination of striking elements both of Moorish and Christian arts. While in the Alcázar Gardens, make sure to stop by the monument to Christopher Columbus.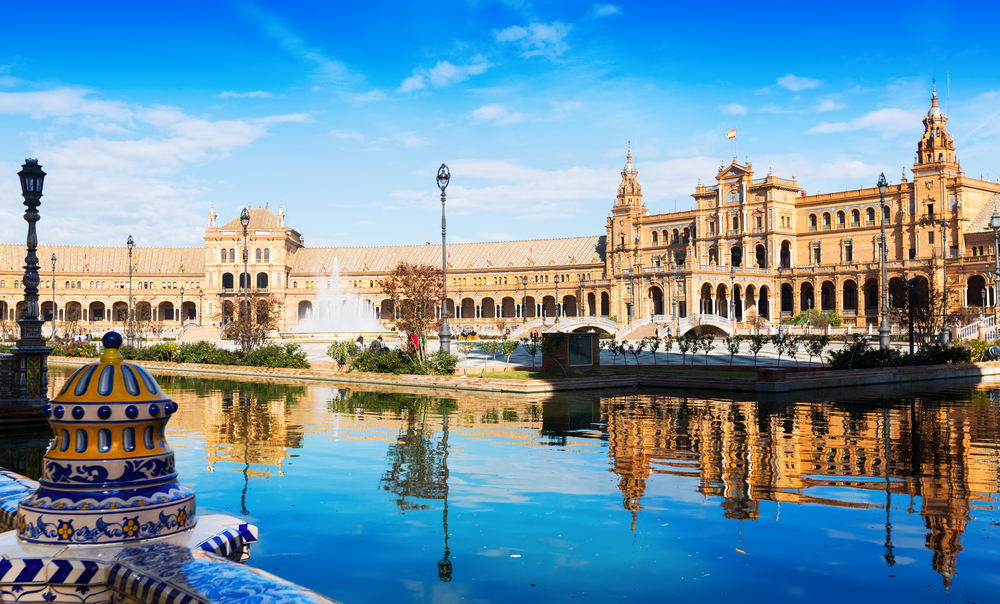 The last stage of your two day trip to Seville, can't be but the magnificent Plaza de España, in the huge Maria Luisa Park. The colourful tiles that decorate the square represent the most important events of every Spanish province, as the square was built to show the magnificence of Spain during the 1929 Exposición Iberoamericana. The park also welcomes the Archaeological Museum and the Museo de Artes y Costumbres Populares, two mandatory stops if you are in Seville with your children.
Places to stay in Seville
Make sure to find a comfortable place to stay to truly recharge batteries and be ready to visit Seville in two days. If you are looking for a place to stay, check the best holiday homes in Seville and its province.
You have just read about what to see in Seville in two days. Start packing your things, for we are sure you are now looking forward to your next stop in the Andalusian capital city!
Have you already been to Seville? Do you want to add some other information to this guide about what to see in Seville in two days? Leave a comment; we are happy to listen to you!
What to see in Seville in two days is an article that talks about
City Guide
in
Seville