Leave your piggy bank in peace and enjoy a dreamlike holiday at these budget villas in Costa de la Luz.
Going on holidays doesn't necessarily mean you have to ask for a mortgage. In fact, even on the splendid Costa de la Luz, you will find accommodations where to spend some relaxing holidays at a very appealing price. All the comforts you need, together with the closeness to some of the most breathtaking beaches of Cadiz and Huelva, overlooking the Atlantic Ocean, is all you should know before going for one of them.
Below, you will find a selection of the top ten budget villas in Costa de la Luz. Their good value for money will make you want to book them as soon as possible.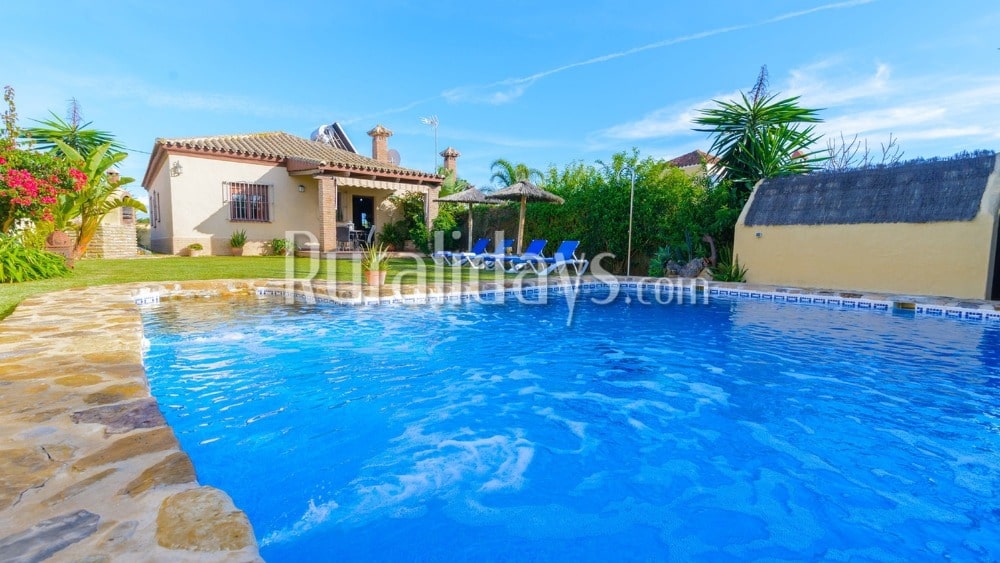 Conil de la Frontera welcomes some amazing villas, provided with all the comforts you may ask for. In particular, this extremely welcoming holiday home is provided with three bedrooms. You will have the opportunity to enjoy your holidays with your beloved pet, and let it have fun in the completely fenced garden. A stone pool border decorates the picturesque shape of the private pool.
The spacious interior is characterised by an open-space concept and you will fall in love with the porch, which allows you to revel in delicious specialities and shelter from the Andalusian sun rays. Click on the button below in order to see more photos of this villa in Conil.
Above all, Pepi and Pepe are awesome! Reliability friendliness personified! The house and the garden are well maintained! Thanks again to both of you.
Thomas, Germany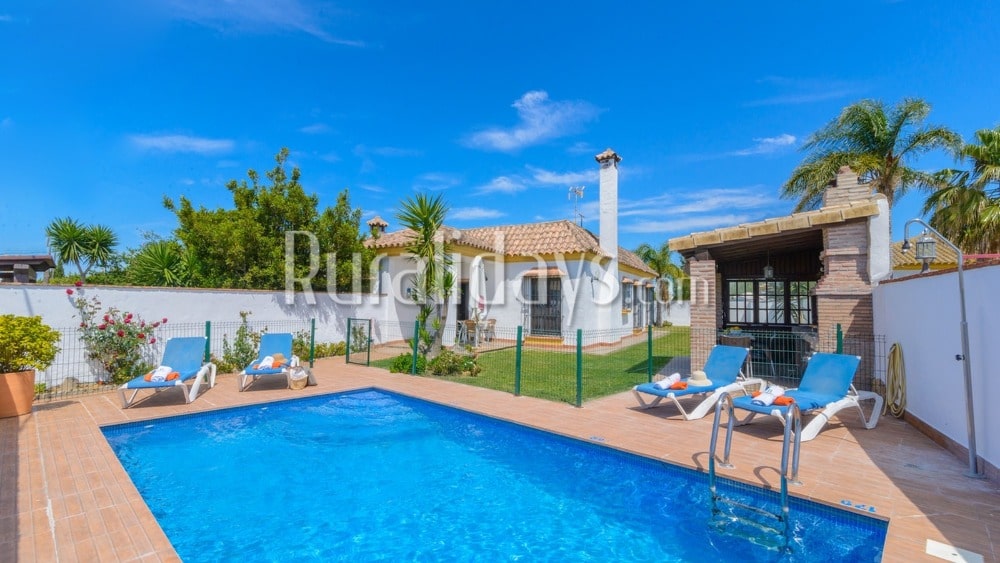 This holiday home is equipped with everything for you to enjoy your holidays at best. It relies on a fenced private pool with deckchairs, a well-maintained garden and a covered outdoor dining area with barbecue. The interior doesn't lag behind: two double bedrooms and a roomy living area provide you with the perfect place to rest and recharge batteries.
Excellent all clean, very good supermarket area close to bars restaurants all close, ideal to disconnect from covid and work
Raul, Spain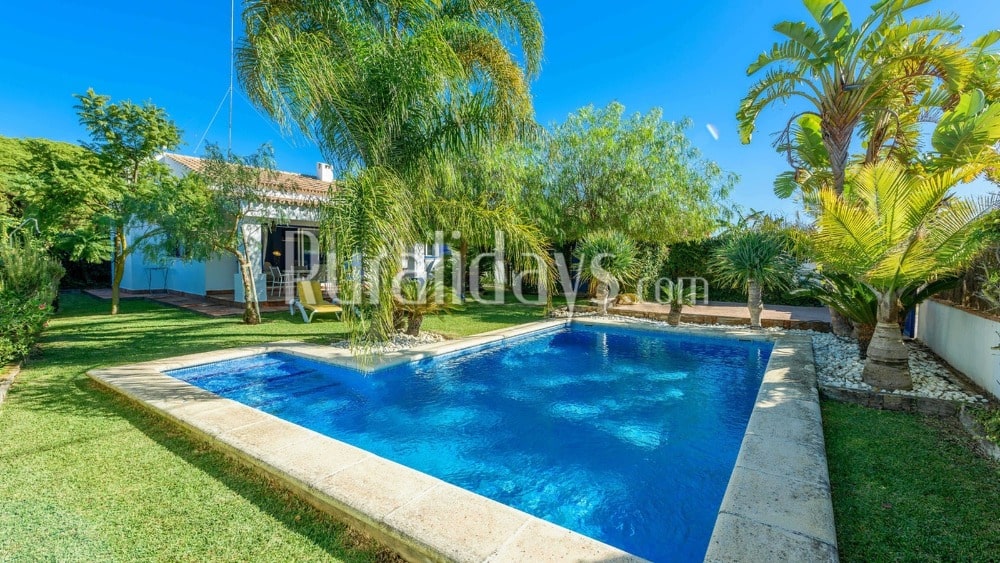 Being located this close to the magnificent beaches of Conil de la Frontera, this holiday rental is the ideal place for those who can't wait to breathe in the salty atmosphere of the Ocean. And above all, it has a great value for money, which allows you to enjoy all the comforts and save money at the same time.
The villa sleeps six. The whole family will enjoy the fantastic hideouts of the lush garden, as well as the modern and cosy spaces of the indoor area.
Nice house with swimming pool. Modern decorated. Well-equipped kitchen with ample crockery and cooking utensils. Fridge with freezer! Washing machine and dishwasher. Getting used to the somewhat remote location without street lighting. But it does not outweigh the quality of the house and the good service !!
Christian, Netherlands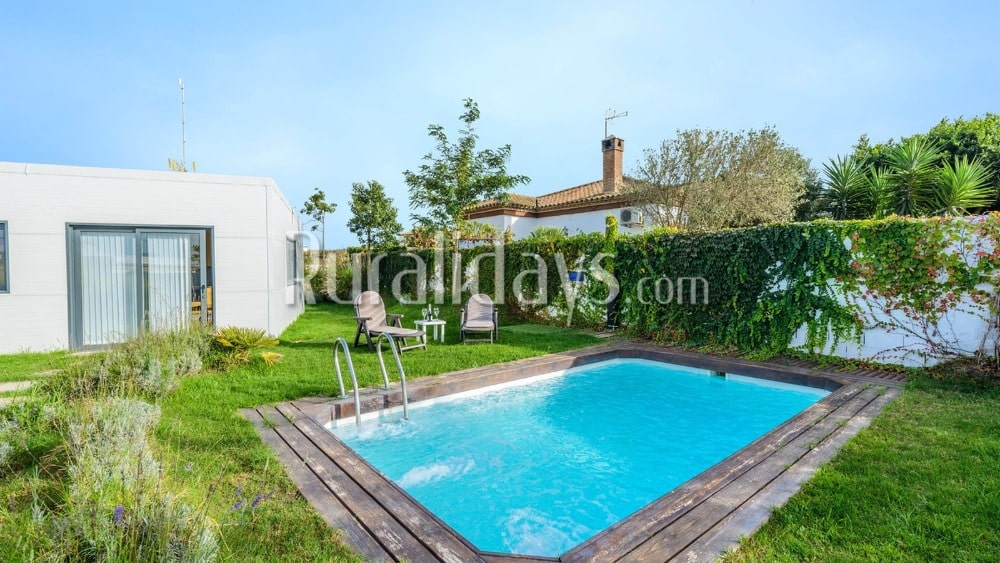 Modern furniture characterises the spacious, open living concept of this holiday villa in Conil de la Frontera. The whitewashed walls and the wide windows provide an atmosphere of relaxation and wellness, which you may expect to find in a villa so close to the beach. The outdoor area is provided with everything, thus including a private pool and a spacious garden.
Lastly, the rental price of the villa is one to die for! Just check it out by clicking on the following button.
I have nothing but good words for this accommodation. We went for a week and has been a luxury stay. The chalet is beautiful, even better than the photos show, comfortable and very quiet, in a formidable position close to the beach that you can walk. It has a very large garden and you can put the car inside. And about the owners, a real pleasure, we provided everything needed for a perfect stay. We hope to repeat soon! Thank you!
Jorge, Spain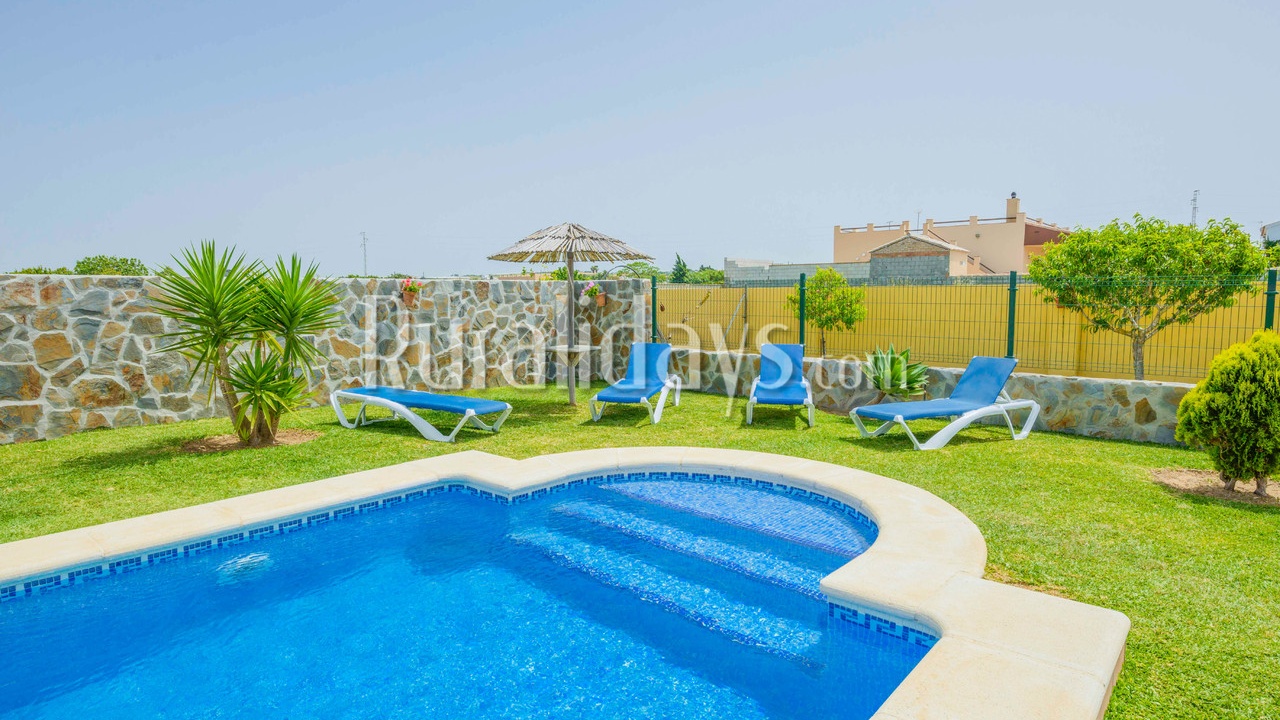 Among the best budget villas in Costa de la Luz, you can't miss out on this one. The spacious outdoor area welcomes a private pool, a garden, sun loungers, parasols, an outdoor dining area sheltered by a pergola and a barbecue. The inside is as cosy as you can imagine. The stone fireplace will warm you up during wintertime and the welcoming bedrooms will let you experience the most relaxing sleep ever.
Very nice place, comfortable with wonderful pool and especially the treatment of owners, are a delight. Ideal place to forget everything for a few days.
Gloria, Spain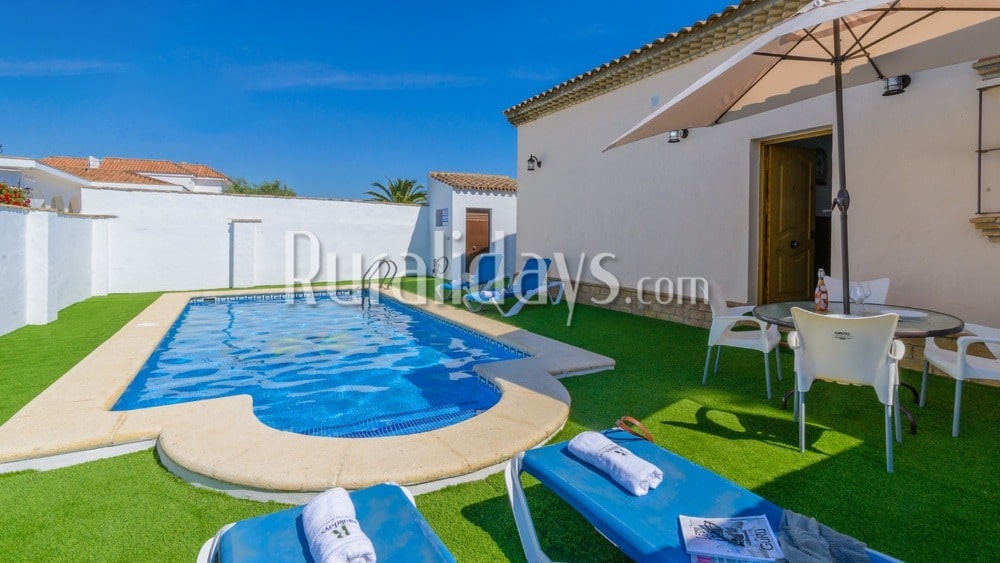 This completely-equipped villa is located near the beach, thus allowing you to enjoy the Andalusian sun rays and the cool waters of the Atlantic Ocean. Its price is extremely appealing, and the comforts provided are one of a kind. You will have the possibility to enjoy the private pool and the outdoor area as you please while sharing unforgettable moments with your beloved four-legged friend.
Nothing else we can say about this villa, you just have to experience it for yourself.
Dobra cena, spokój i dogodna lokalizacja.
Marek, United Kingdom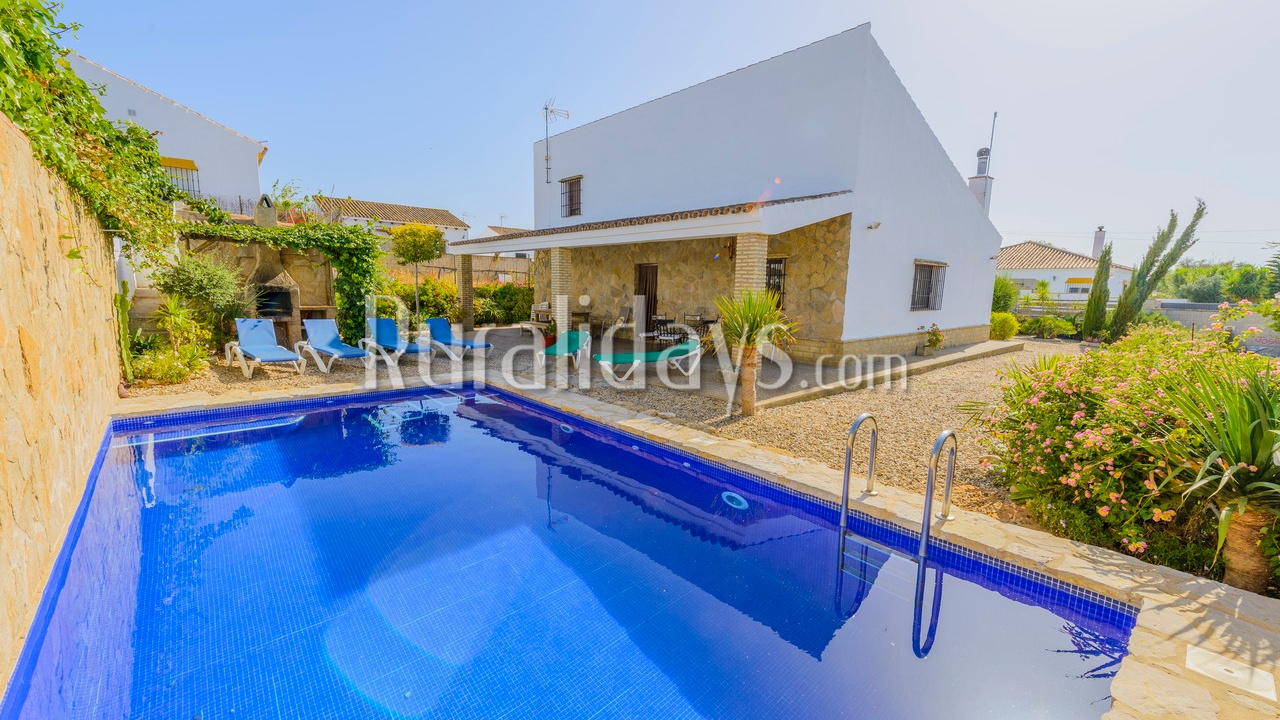 The magnificent private pool of this villa is one of its most noteworthy features. The nine guests of this accommodation can enjoy the pool and sunbathe on the sun loungers. It is located near the magnificent beaches of Conil de la Frontera so that you will have a place to rest after spending the whole day sunbathing.
The good value for money of this holiday rental makes it a great holiday destination for the whole family, your pet included.
Super beautiful city around
Remi, France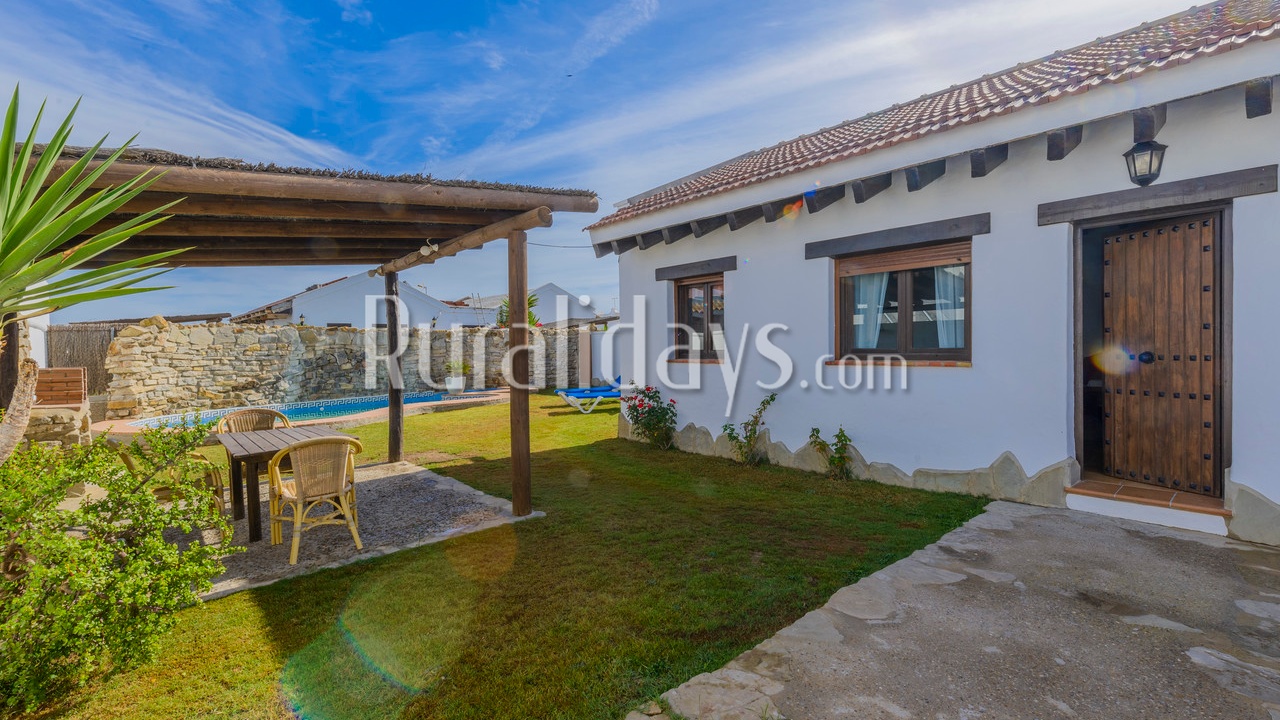 What to expect from a villa less than one kilometre far from the beach? Exactly what this holiday rental offers. A fenced garden that welcomes a private pool, spacious indoors with modern furniture and an outdoor dining area with barbecue will make you and three more people fall in love with this accommodation in a matter of seconds. You will wish your stay were infinite, in order to enjoy this villa at best.
A very nice house in a quiet residential area. In ten minutes we were on the beach. There was nothing wrong with us. There was nothing wrong with it. From here we have traveled to Seville, Gibraltar, Tarifa, Cadiz and Vejer. Dreamlike cities in a beautiful landscape.
Jochen, Germany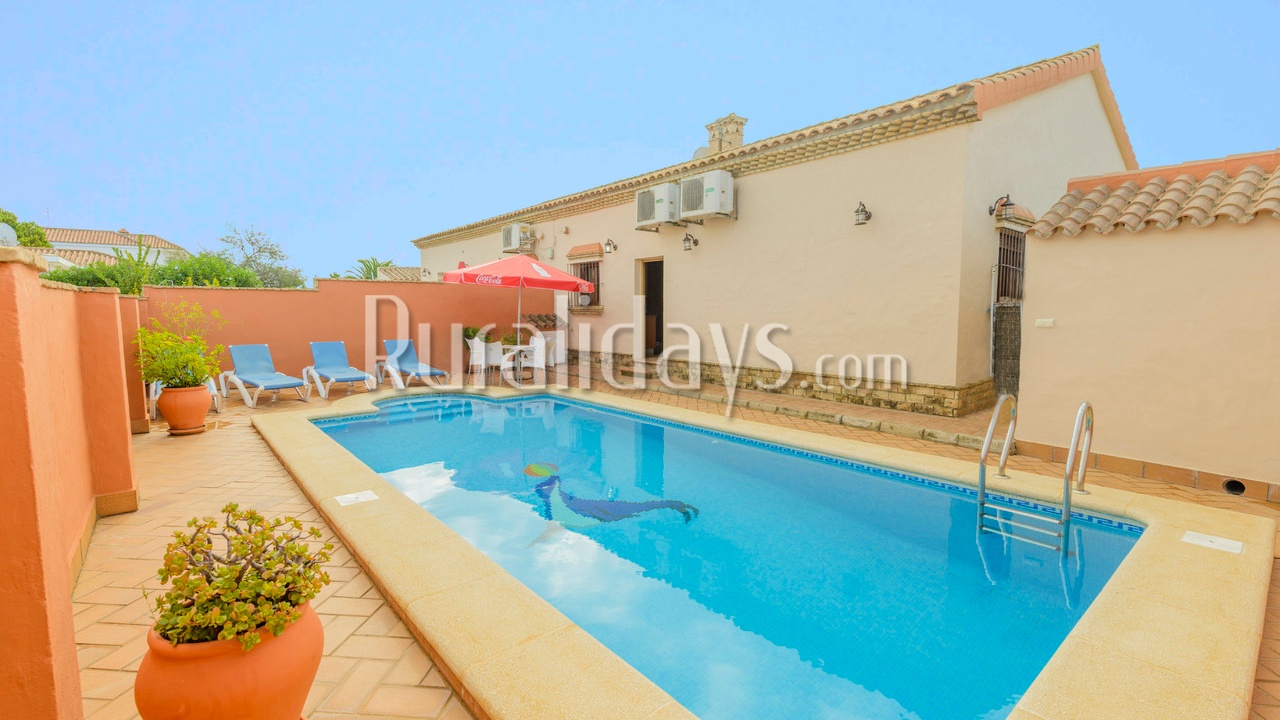 The privacy you experience here is incredibly satisfying. You can swim in the private pool or enjoy a delicious meal on the porch far from strangers' eyes. The indoor is incredibly spacious, characterised by wooden beams and stone arches. In the bedrooms, you and your family are sure to take the deepest and more relaxing sleep, just what you need to recharge batteries after enjoying the many activities of the Costa de la Luz.
Very cozy place with a pristine pool and without noise or disturbance, a very friendly host, close to places to walk with very beautiful coves.
Pilar, Spain
Places to stay in Costa de la Luz
Fancy more holiday rentals in Cadiz and Huelva provinces? Budget villas, self-catering accommodations close to the sea are waiting for you in Costa de la Luz. Enjoy your stay and leave your piggy bank in peace, you won't regret it!
The most amazing budget villas in Costa de la Luz: enjoy the Coast at an exceptional price!
Have you found your ideal self-catering villa? Which is the town of Costa de la Luz that attracts you the most? Tell us in the comments!
Top 9 budget villas in Costa de la Luz is an article that talks about
Top Villas
in
Cadiz