What do you need to spend the most unforgettable holidays of your life? One of the best villas in Ronda, we guess!
Get ready to discover the most picturesque and cosiest accommodations to relish your holidays in complete privacy and far from the hustle and bustle of the routine. The best villas in Ronda provide all of this, and much more because the city is one to die for. Don't miss out on the town's worldwide famous landmarks and let your eyes wander towards the horizon. Overwhelming views will make you fall in love with the accommodations displayed here.
Let's get the tour around the best villas in Ronda started!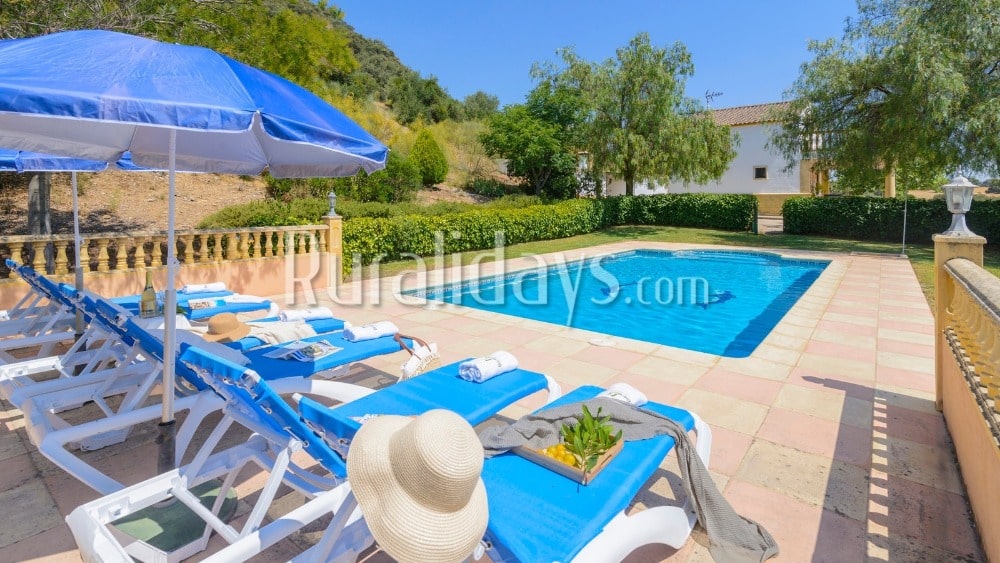 From the private pool of this villa, you can enjoy the relaxing dwelling of the hills in the Serranía de Ronda. However, it is from the first-floor terrace that you will lose sight of the horizon, and a sense of quietness and relaxation will inundate you. The olive yards surrounding the property are those typical of rural Andalucia, an authentic environment for the perfect getaway with your beloved ones.
the scenery surrounding the property is breath-taking! The grounds of the property were beautiful and well kept! We had an amazing break!
Jacob, United Kingdom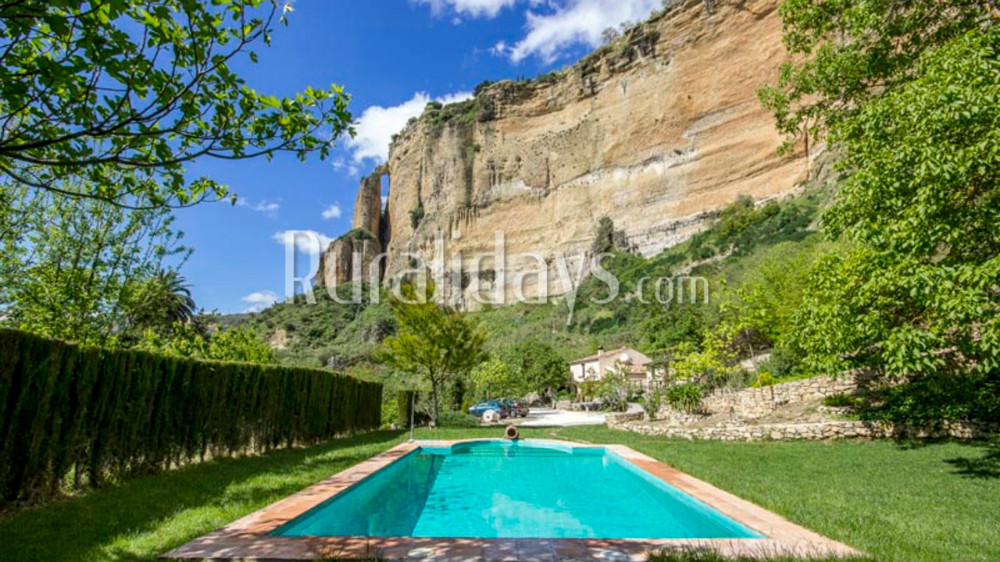 The location of this accommodation is simply awe-inspiring. Can you imagine yourself waking up to the Tajo de Ronda itself? Swimming in the private pool, relishing the delicious specialities of Andalucia in a home provided with all the modern comforts, but with rustic touches that won't make you forget what spending the holidays here means.
We had a lovely holiday. Quiet location and lovely surroundings. The accommodation was great, had everything that you need and more. The owner Jose Maria, superb, very helpful and friendly. Although the road to the house is not the best, soon we got used to. The house is literally 5 minutes to the centre of Ronda and the Barrio San Francisco has everything you need, bakery, mini market, bars, restaurants and petrol station. We recommend this property to anyone who likes privacy but convenience at the same time. Ideal place for families and friends.
Maria , United Kingdom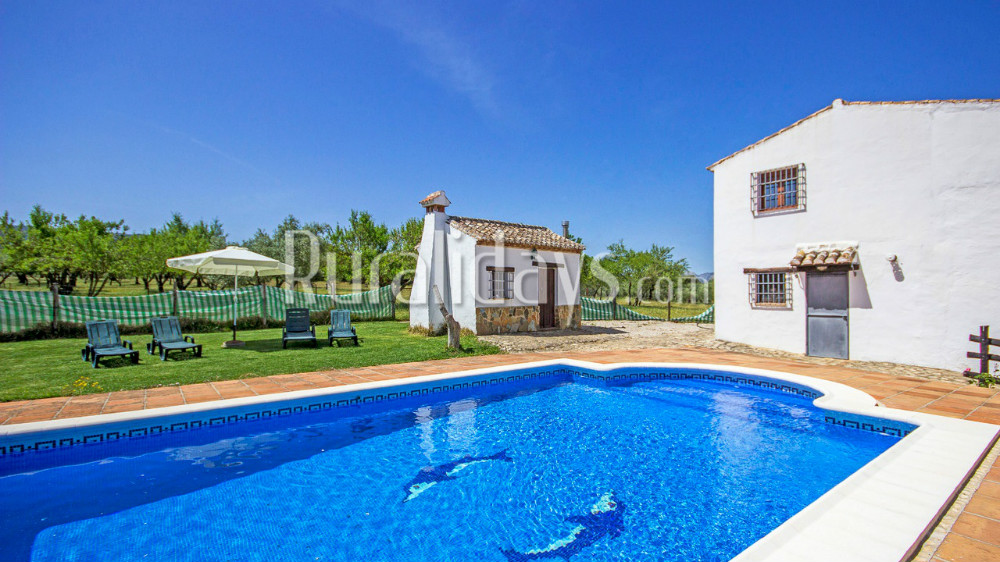 When all you want is enjoying your holidays in complete relaxation, with your beloved ones and surrounded by nothing by singing birds, then this is the villa you were looking for. Located in a 100,000 square metre property and 200 metres from the paved road that leads to the villa, you will find that this accommodation provides you with the most relaxing holidays ever. Take a dip in the private pool, soak up the natural atmosphere powered by the surrounding olive yards and have the most regenerating nights of sleep in the spacious bedrooms.
A super comfortable weekend, tranquility, the best the kindness and treatment of the owner who treated us super well and left us more time than agreed. Whoever wants to spend a few pleasant days I recommend it without a doubt.
Manuela, Spain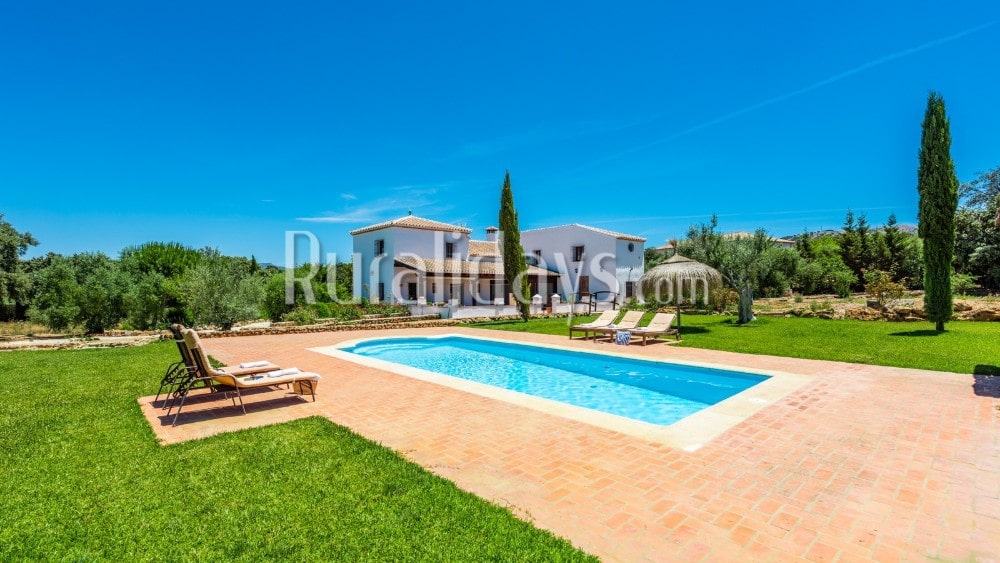 What you will find at this villa is complete relaxation, as much privacy as you need and a huge private pool to beat the Andalusian summer heat. Up to 9 people can spend their holidays here, surrounded by nothing but green hills and high mountains. You will feel like you ended up in some extraordinary place, somewhere you wouldn't expect to find in sunny Andalucia, would you?
Villa with a very good size outdoor area garden and a good size pool. Close to Ronda so it is perfect to relax and visit de town. The owner was very helpful.
Iván, United Kingdom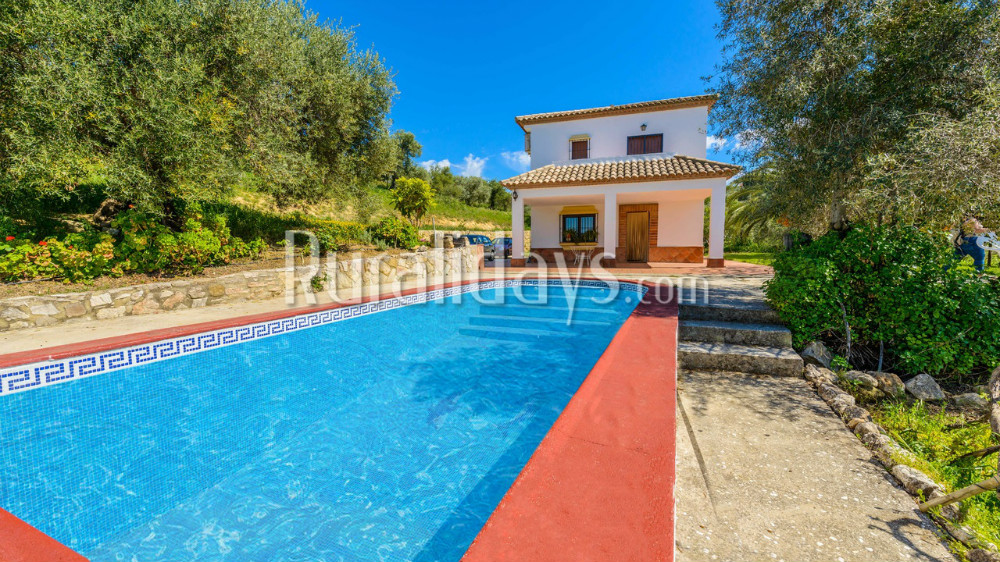 Modern furniture and vintage decoration merge in this holiday villa on the outskirts of Ronda. Welcoming beds will let you hit the sack right away, while the private pool is something you won't be able to leave, we assure you! Just like in the majority of the villas in Ronda, you will wake up to olive yards and hills on the horizon, knowing that there is no better place to spend your holidays.
Excellent home! Located in a quiet area surrounded by nature. Nothing is missing. Ideal for families or friends. I personally recommend repeat the experience.
Álvaro, Spain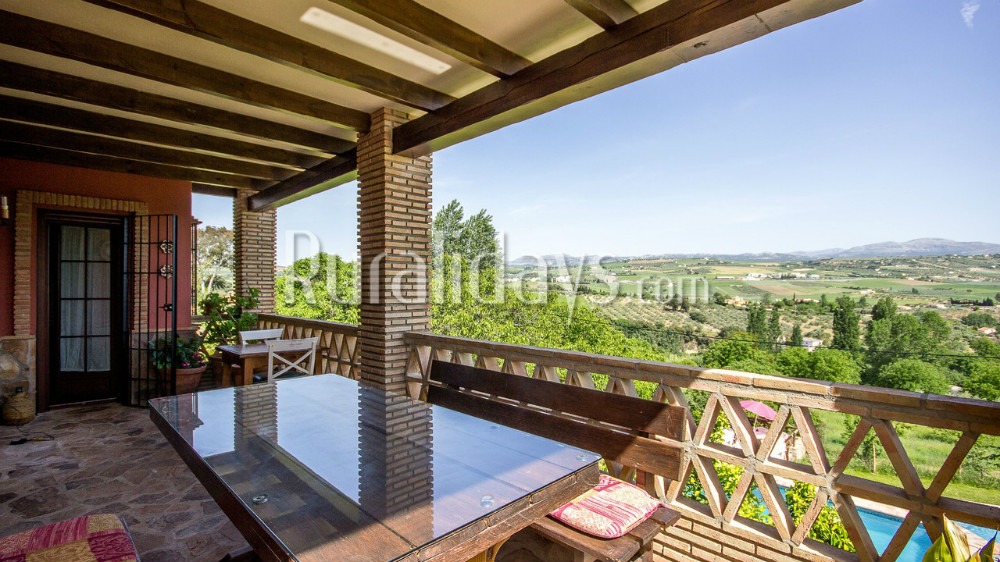 This villa finds itself north of Ronda, close to the small town of Arriate. Once you get here, you will be amazed by the impressive architecture of the villa and the majestic views you can enjoy either from the private pool or the terrace. Relish them while taking pleasure into some delicious dishes, cooked with love on the barbeque provided. The perfectly maintained garden is the cherry on the pie.
A cosy fully furnished house, a breathless view, very kind owners and beautiful surroundings. A great place for charging batteries and spending family quality time. We've been there twice and looking forward to a third one.
Bassim, United Kingdom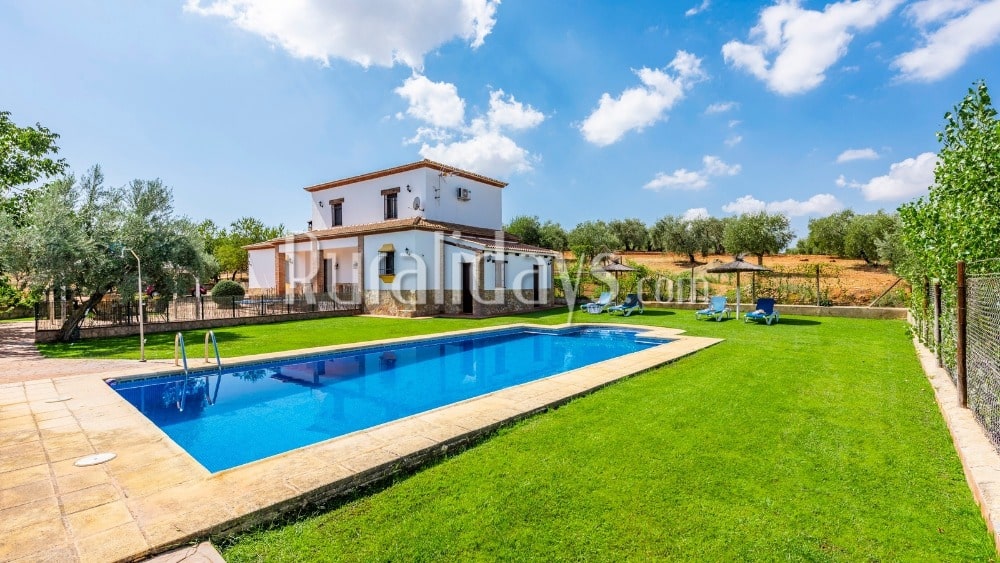 When you think of Ronda and the nearby hills, you can't help but imagine an olive-yard surrounded idyllic spot. And this is exactly what this holiday villa offers to you. The ideal starting point of the Route of the White Villages of Cadiz for its closeness to Setenil de las Bodegas, this splendid accommodation provides its guests with every comfort needed for one to enjoy a well-deserved relaxation.
magnificent house surrounded by olive trees. Nothing better for a total depalting when coming from a big stressful city. no opposite, from time to time a car or tractor that goes by the road but they are very discreet. nothing to say everything is perfect, beautiful, top contact person, reachable, and helpful.
Asma, France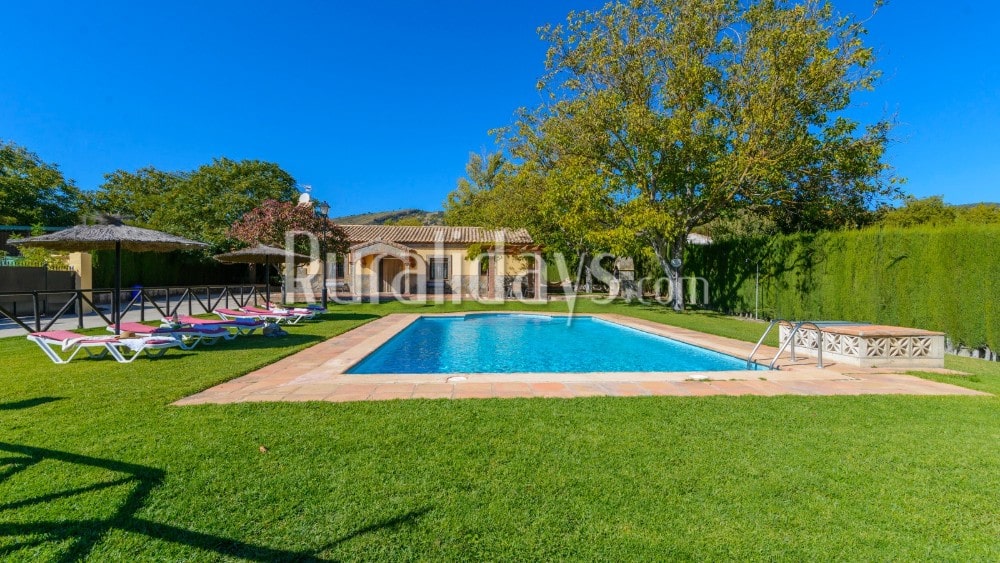 A spectacular outdoor is the most noteworthy feature of this villa. It includes a tennis court, a ten-metre-long private pool and a well-maintained garden. However, you can be sure that the interior doesn't lag behind. It is furnished with rustic, but cosy, decoration, characterised by warm colours and stone finishing touches. This home is the ideal place to enjoy with your beloved ones without giving up the modern-day comforts.
We have chosen this villa because we wanted the space, pool, view and yet closeness to the city. This villa provided all. The owner was very kind and friendly, he helped us with all our inquiries promptly. There was a festival in Ronda while we were there and kids absolutely loved it. Villa has everything you need, all rooms have their own bathroom and living room is more spacious than on photos. Not many insects, few wasps but only few. We didn't cook much but everything was there if you wanted. We did do bbq, highly recommend to buy some fresh fish and prawns from supermarket, they were fantastic! Ronda is beautiful!
Sandra, United Kingdom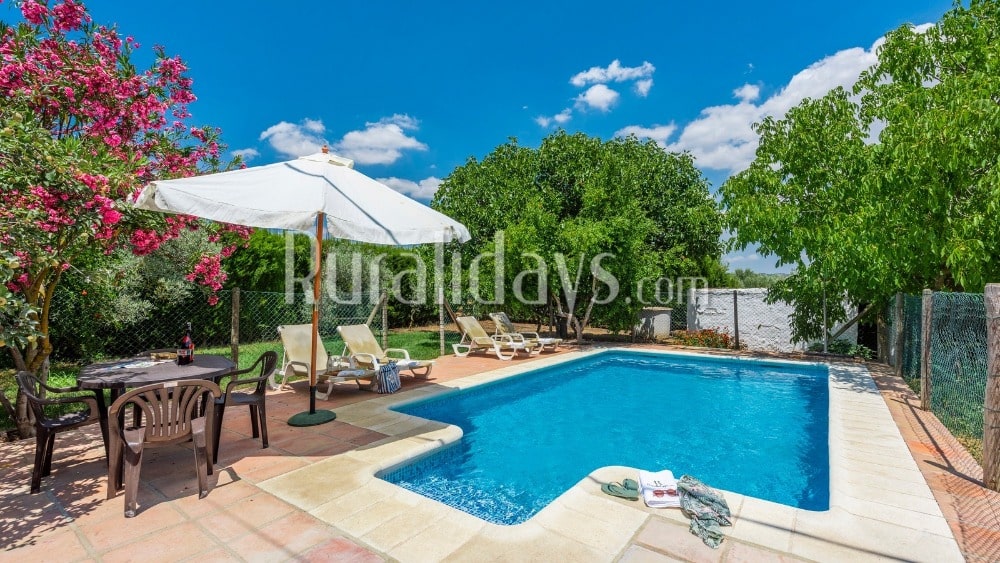 Knowing that this villa can welcome you and nine of your best friends (or relatives, of course) is what will probably make you go for this accommodation without thinking twice. The homely outdoor welcomes a fenced private pool with sun loungers, and a perfectly maintained garden sheltered by a high hedge. Privacy guaranteed.
The house and the outside are clean The owner is super nice and attentive. From Monday to Saturday a car delivers bread. We had a pleasant stay in this house.
Zohra, France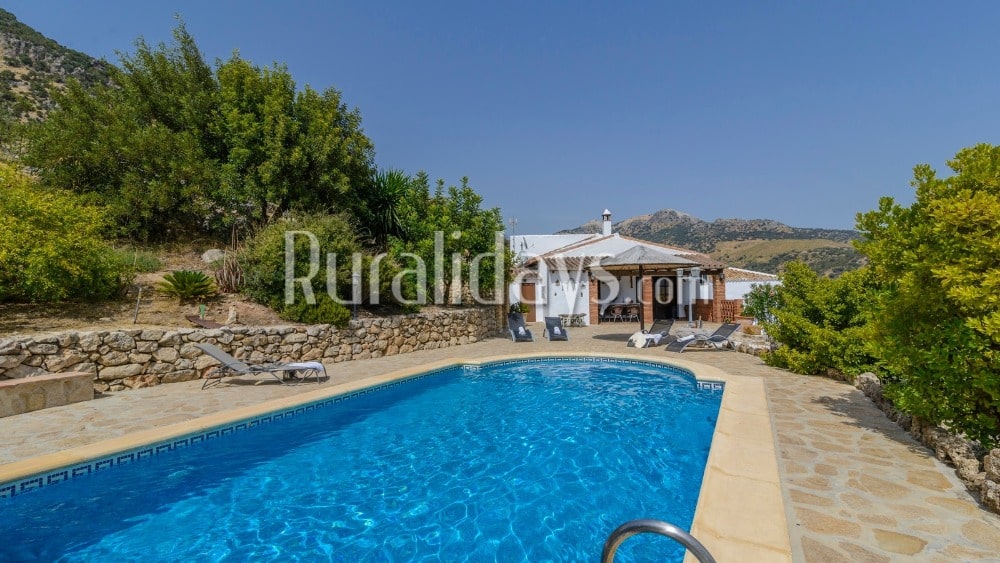 When you all you long for are peace and relaxation, you should consider spending your well-deserved holidays at this villa facing the impressive Zahara reservoir. Although this villa is located closer to the Route of the White Town of Cadiz than to the city of Ronda itself (42km), it deserves to be displayed in this listing, because of the magnificent landscape where it is located and the traditional furniture provided. You won't want to miss out on the opportunity to relax as you never did before, will you?
The villa is set in a stunning location, tranquil, peaceful and private with beautiful views in all directions. The perfect place to unwind and relax. The villa and pool were clean and comfortable with everything you need. The village of El Gastor was very nice and we would especially recommend visits to Grazelema and Ronda.
Paul, United Kingdom
* Translation of the reviews into English is powered by Google Translate.
Places to stay in Ronda
Although it might seem impossible, there are more villas to be discovered in Ronda. Many have the same characteristics of the ones you have been reading about, although each of them is provided with a peculiar touch. The best villas in the Serranía de Ronda are there to satisfy each and every one of your desires. Give them a chance; you won't be deceived.
Discover all the holiday villas in Ronda and start dreaming about your next holiday near the Tajo!
Which is your favourite villa in Ronda? Are you looking forward to going on a getaway? Tell us in the comments.
Top 10 best villas in Ronda, Andalucia is an article that talks about
Top Villas
in
Malaga