Flamenco art has Andalucia written in its features. Discover the history and where to see Flamenco in Andalucia.
Flamenco is a Spanish art that includes three types of art: guitar playing, singing and dancing. Since this art was born, it has been linked to Andalucia, reaching the status of local feature. Keep reading, and discover the art of Flamenco through its history and the best places to enjoy it in southern Spain.
History of Flamenco
The origins of Flamenco are lost in time. Many cultures claim the birth of Flamenco as their own, and the truth is that Flamenco, as we know it nowadays, has borrowed something from each of them.
Flamenco was born in Andalucia, in the surrounding area of Guadalquivir. Its influences range from Greek, whose melismatic style reminds of that of Flamenco, to Roman, whose Puellae Gaditanae, girls that dance during aristocratic parties, used to be depicted as playing the castanets and with the same posture as modern Flamenco dancers.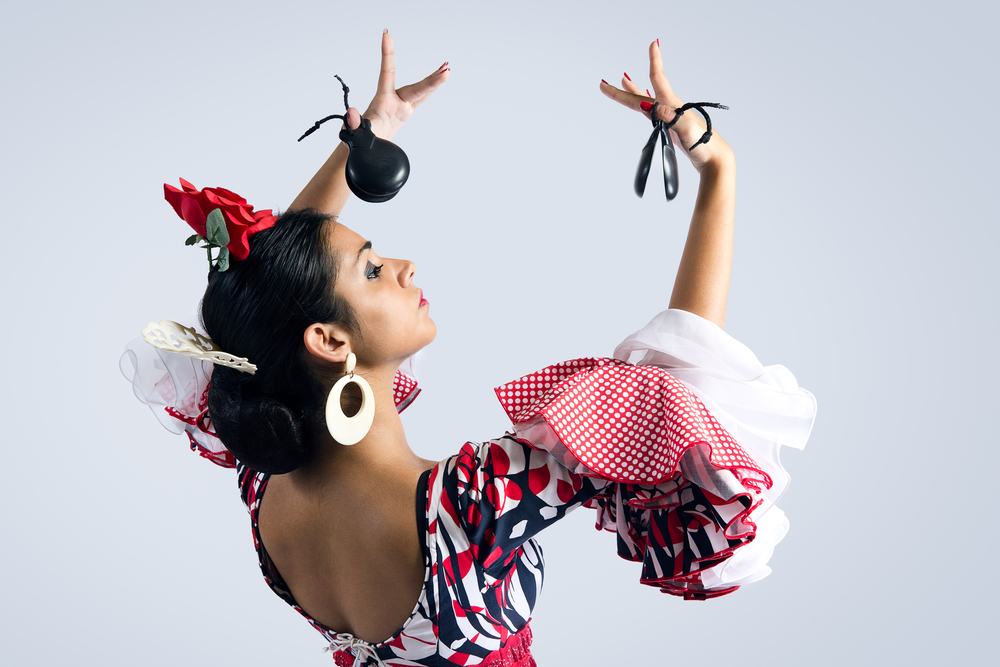 Some also say that Flamenco's chants Seguiriya, Saeta and Fandango are remarkably similar to some Jewish chants. The Andalusí music, which originated from a fusion between the Moorish music of northern Africa and the Christian and Jewish music already present in Andalucia, has sounds that are also very similar to those of Flamenco.
Lastly, and maybe the origin of modern Flamenco that can be verified, is that which proceeds from the gipsy culture of Andalucia. One can recognise the gipsy influence in the sounds and dances of Flamenco music, typical of the Asian areas that the first gipsies left to reach Andalucia in 1465.
Fun fact: the first masterpiece, which described the dance between a gipsy male and gipsy female, was Miguel de Cervantes's La Gitanilla (1613).
This is why, nowadays, the culture of Flamenco is strictly recognised as a gipsy feature. However, there's no need for Flamenco cantaores (singers) to belong to the gipsy culture, such as Miguel Poveda.
Modern history of Flamenco
The modern history of Flamenco can be divided into four stages.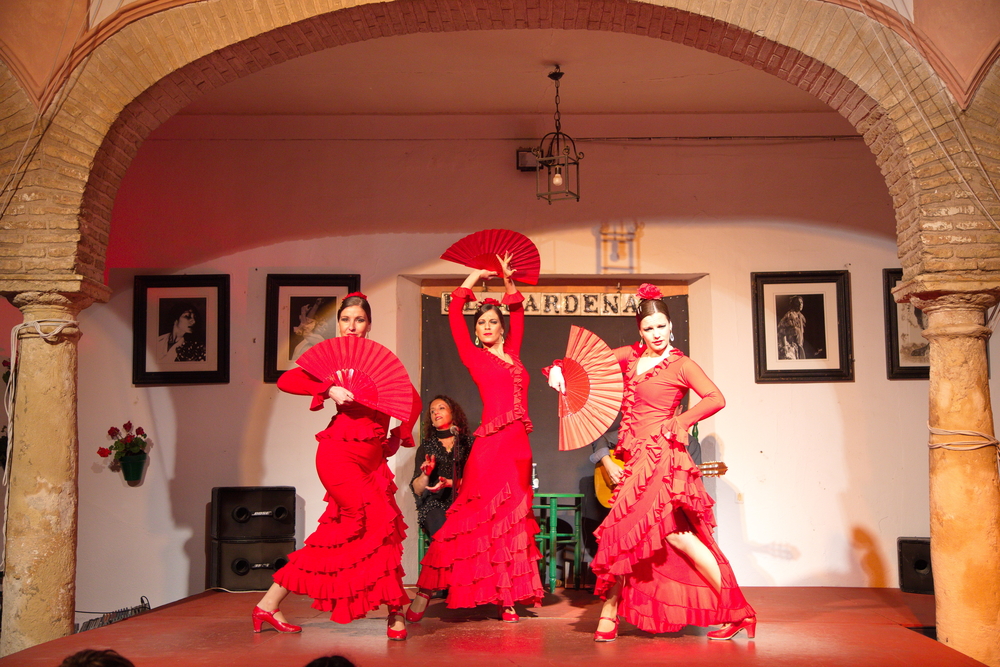 The 1765-1860 stage was when Flamenco started becoming recognised as a dance on its own, and the first schools opened in Cadiz, Jerez de la Frontera and the Sevillian neighbourhood of Triana. It is then when the guitar starts to accompany the singers, who until then only had hands to make some music.
The 1860-1910 stage is the "Golden Age of Flamenco". The art's main features (music, sing and dance) become modern. Dances acquire a fundamental role, and the guitar becomes an essential tool.
The 1910-1955 stage, also known as "Opera Flamenca", was characterised by softener chants of South American influence. Starting from 1915, Flamenco stepped on stages worldwide, as Spanish dances shows were organised in theatres.
The last stage is that which begins in 1955, the Renaissance of Flamenco, when this art spreads in every tablao (the old café-cantante, where Flamenco dancers exhibit), reaching theatres, festivals and many more sceneries. The guitarists' job is no longer to accompany Flamenco dancer and singer, but they are recognised as artists themselves, doing solo performances, too.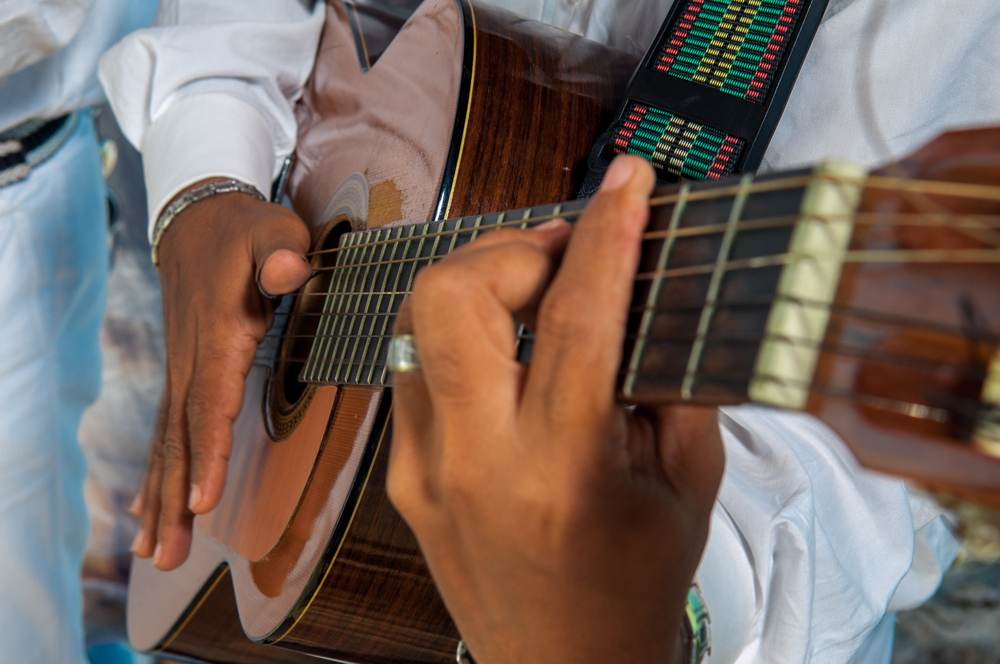 The most famous Flamenco guitarist is undoubtedly Paco de Lucía, while the referent for chants is Camarón.
Where does the word "Flamenco" come from?
As you could have seen, the origins of Flamenco art are unclear, and this happens to the word itself. However, the one that is accepted by almost everyone is that that is described by the Spanish writer Blas Infante, who in its masterpiece Orígenes de lo flamenco y secretos del cante Jondo, affirms that the word comes from the Arab "Felah-Mengus", which means "errant peasant".
Another theory presents the version of the poet Antonio Machado, who said that "gipsies call the Andalusian people gachós, and are called by them flamencos". This may refer to the strict relationship between the gipsy culture and the Flamenco art.
Where to see Flamenco in Andalucia
Flamenco is rooted so much in the culture of Andalucia that you won't have any problems to find places where to see it.
First of all, know that Andalusian people don't dance Flamenco all day, every day, nor they go seeing it seven times per week. Its cultural appeal lets loose, especially during fairs and celebrations. The Sevillana, a Flamenco dance typical of Seville, is danced mainly by women during the April fair of the capital city of Andalucia. Starting from this period, you can spot women and men dancing in fancy dresses for months in the fairs of cities and towns, which take place in southern Spain from April to October.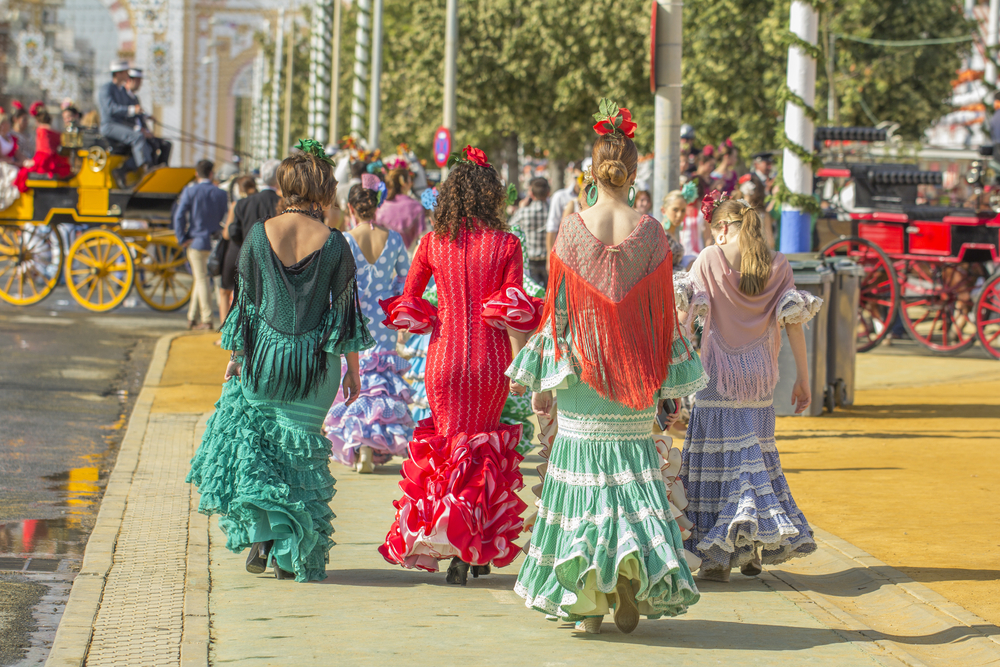 If you are a lover of Flamenco art, you can't miss the Bienal de Arte Flamenco, a fair that takes place once every two years in Malaga (in odd years) and Seville (in even years) and it lasts one month.
In case you are planning your trip to Andalucia in another time of the year, don't be depressed! You can still enjoy Flamenco in the multitude of tablaos and theatres that offer shows all year long. For example, in Granada, the neighbourhood of Sacromonte offers shows in its magnificent cave houses, where you can mix the art of Flamenco with spectacular architecture.
Places to stay in Andalucia
The best way to enjoy Flamenco art in Andalucia is when you know that you can relax in a fantastic holiday home in the surrounding of the main Flamenco spots. Therefore, we provide you with a selection of the best holiday homes and villas in Andalucia, for you to choose the one that appeals you the most.
Flamenco in Andalucia is an art that can't be missed out on!
Did you learn something new about the history of Flamenco and where to see it in Andalucia? Do you enjoy Flamenco? Tell us in the comments!