Cordoba Train Station helps connecting the capital city of Cordoba and the province with the rest of Andalucia and Spain. Discover its characteristics.
Cordoba Train station doesn't own a proper name, in contrast with Malaga – María Zambrano and Seville Santa Justa.
It was inaugurated in 1994, when it substituted the station of Cordoba Central, which, nowadays is the see of the provincial RTVA (Andalusian public radio and television broadcaster). When the high-speed trains started working, the grounds surrounding the station were recuperated, thus helping the integration of those districts that got separated from the rest of the city by the old railways. In the station, there are eight railways, four for high-speed trains and four for Long and Half-Distance trains, and Cercanías trains.
Characteristics of Cordoba Train Station
Estación de Córdoba from adif_videos_es on Vimeo.
Cordoba train station is provided with services such as shops, cafeterias, restaurants, toilets, off-licences, an tourist information point and ATMs. It is also possible to have access to Renfe's Atendo service for people with reduced mobility. If you have bought a ticket in the Preferente class, you can also access the VIP Club Hall. The station is equipped with parking, managed by Saba agency. To leave the car parked here costs €1.95/hour, although there are discounts if you leave your car for more than one day or for the weekend.
Destinations from Cordoba Train Station
One should differentiate between AVE, long and half-distance trains, and Cercanías.
Regarding the high-speed trains, AVE connects Cordoba with bigger cities such as Madrid, Barcelona, Valencia, Seville and Malaga, in addition to the intermediate stops of Cuenca, Ciudad Real, Zaragoza or Tarragona.
Speaking of long-distance trains, the Alvia from Madrid to Cadiz and Huelva, the Altaria to Algeciras and Granada and the Talgo Seville-Barcelona all stop in Cordoba.
Half-distance trains connect the city of the Caliphs with Seville, Jaen and Malaga (starting from Seville, with five and four daily trains respectively). The half-distance train Cadiz-Jaen, with one daily train, also stops in Cordoba.
Lastly, it's worth mentioning the Cercanías. There is a single Cercanías line, known as "Metrotrén", that goes from Villarubia de Córdoba to Alcolea de Córdoba, for a total of 23 km and 39 weekly trains. You can get off on the metro stop of El Higuerón, in Cordoba city, or in the University Campus of Rebanales. Two more stations are under construction.
Where is the Cordoba Train Station
The Cordoba train station is located at the roundabout Glorieta de las Tres Culturas, s/n, which is accessible from the Ronda Oeste of Circunvalación of the city, in the area of Vial Norte.
How to get to Cordoba Train Station
Cordoba train station is located only 2 km from the Old Town, to which it's connected via public transport. The Aucorsa buses that reach the city centre from the station are numbers 3, 4 and 5, which stop at "Renfe – Est. Buses" and "Glta. Tres Culturas". The bus lines 10 and 11 end at the bus station (Renfe – Est. Buses), right in front of the train station.
Opening hours of the train station
Cordoba train station opens daily from 6 am to 12 am. Keep in mind that restaurants, shops and other services may open at different times.
To ask for information about tickets or receive personalised attention, you can call (+34) 912 432 343. If you prefer, you can also call the general telephone and number for bookings, (+34) 912 320 320.
Your holiday home in Cordoba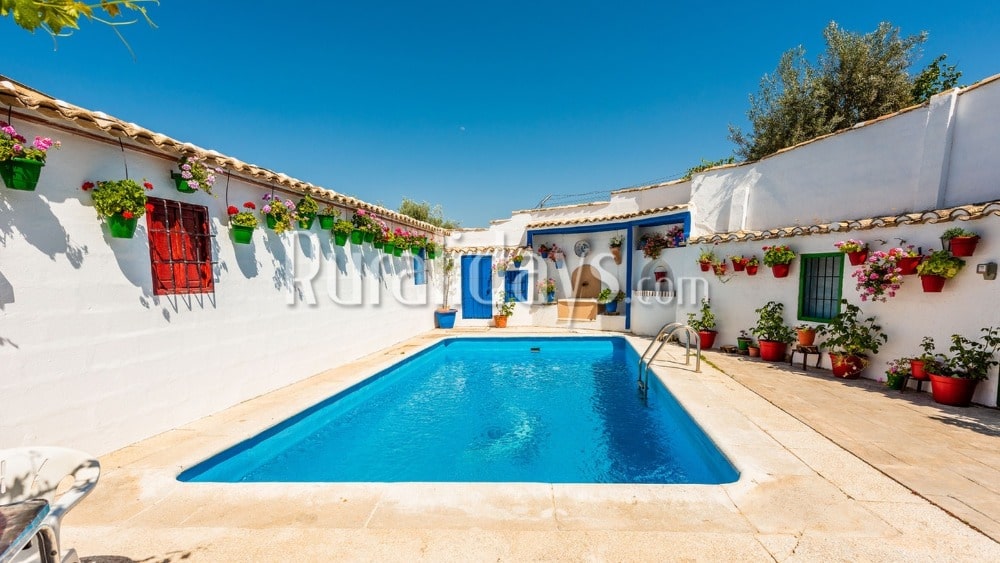 On our webpage, we provide you with a wide offer of villas and holiday homes on the outskirts of Cordoba. Now that you know how to move around the area, you only need to book your holidays in a dream villa and make the most of your well-earned relaxation in the Cordovan province.