If you are planning to visit Andalucia in winter, here we show you some activities and sports you can do in the province of Granada
Despite the fact that the sun and warmth are its main features, Andalucia in winter has still much to offer. Although it may be hard to believe, we do have snow in the South! If you are planning to visit this Autonomous Region during wintertime and stop in Granada, you won't feel disappointed by the vast quantity of charged-up activities provided here.
The mountains of Sierra Nevada have an incredibly high skiing potential. The Sierra Nevada is the highest mountain range in Europe, after the Alps and Caucasus, in addition to being Europe's most southerly ski area. Its top skiing elevation is 3300 m, and it is provided with more than 100 km of runs, and various famous ski stations, where you can enjoy a fantastic time, skiing and snowboarding from November until early May.
This marvellous ski station is 33 km far from the city of Granada and its magnificent monuments, and only 100 km far from the majestic beaches of the Costa Tropical. The 85 km-long runs start mostly from the top of the second highest peak in the Sierra Nevada, theVeleta (3395 m), while the highest peak is 3479 meters high, the Mulhacén.
The Pradollano ski station is particularly crowded on weekends, as well as on holidays, thanks to its high-quality services and excellent equipment. You can find all kind of structures, whether you need to rent a ski or snowboard equipment, or you prefer to relax in one of its bars and restaurants.
Undoubtedly, Sierra Nevada will offer you a magic and gratifying experience:
if you are a ski lover, you will have the possibility to enjoy yourself in night skiing, since the Rio and Maribel ski slopes stay open and illuminated during night time

if you are a sunset lover, you will enjoy the highest sunsets of Europe from the top of Veleta

if you are a paragliding lover, your dream of flying in tandem won't be a dream anymore!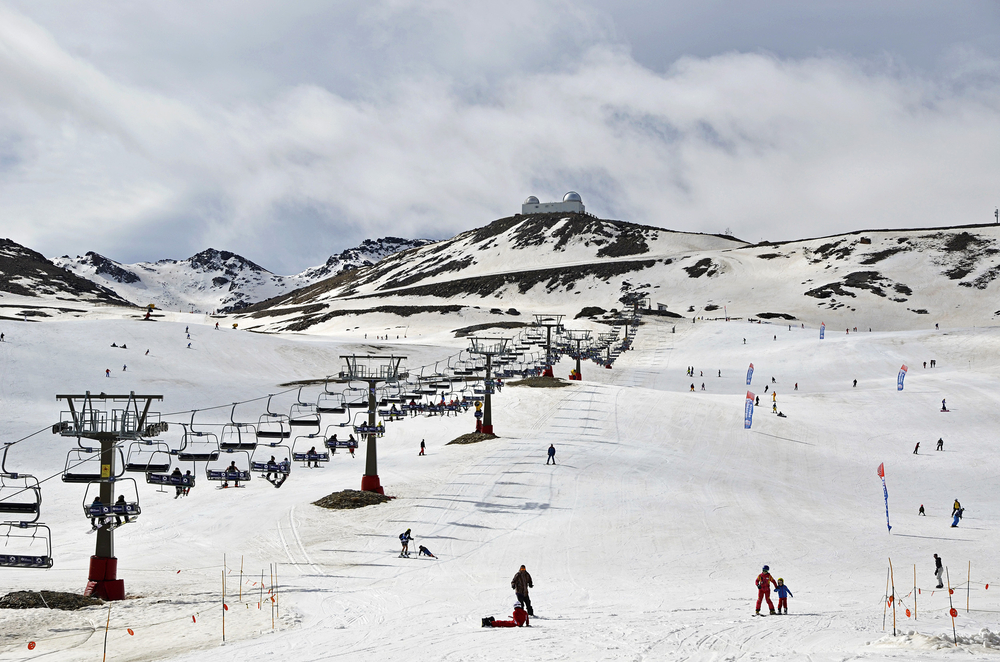 Nevertheless, there is much more to discover! If you belong to those who don't dare to get on those running tables, you can enjoy yourself in countless activities that don't require wearing a pair of ski. Andalucia in winter has plenty of activities to offer to you! The fun area of Mirlo Blanco opens all days, from 10 am to 5.15 pm, and its main attraction is the Russian Sleigh, a 250 m rail route, ideal both for children and for their parents, which costs €5 per person.
There are more activities to do, without leaving the snow aside. Among them, you can jump on a cable-car without having to buy a pass and get some impressive views over the Ski Station, or you can go on a guided route with snowshoes, or you can even throw yourself on the sledges with an inflatable doughnut.
If you want to run away from the cold weather, you will have the possibility to take part in one of the many hiking routes, whose difficulty varies from moderate to difficult to extremely difficult. You can also relax in a warm spa. And if you stay in the Sierra Nevada Ski Station once the night falls, you will have the possibility to enjoy a dinner on heights, as well as take part in an astronomical observation workshop.
How to get to Sierra Nevada
A bus service connects this ski station with the city of Granada. The bus company Tocina provides three daily fares during the week (at 8 am, 10 am, 5 pm), and four on weekends and festive days (one is added at 3 pm), all of which depart from Granada's bus station. One way trip costs €5, while the round trip costs €8.
If you prefer to go by car, you can reach the Sierra Nevada Ski Station through the A395, at the km 31, while the taxis usually stop at Pradollano square, next to Meliá Hotel. Peak season is between Christmas and New Year, and between early February and March, therefore the prices might be slightly higher.
Places to stay in Sierra Nevada
Families and friends will appreciate the villas in Granada so that they can enjoy a snowy getaway. You can discover hundreds of holiday homes close to the Sierra Nevada, whose warmth during the night and the facilities provided will help you enjoy Andalucia in winter even more.
As you have just seen by yourself, winter activities in Andalucia are possible! Come and enjoy yourself in the Sierra Nevada Ski Station!
What to do in Andalucia: winter sports is an article that talks about
Activities
in
Granada