Are you longing for a full-privacy getaway? Take a look at Ruralidays' selection of 10 of the most secluded holiday homes in Andalucia.
When you want to enjoy a full-privacy getaway, you should look for a set of predetermined characteristics: isolated houses, not overlooked thanks to high hedges or fences, with all the comforts that you need to spend unforgettable holidays with your loved ones. In our selection of the top 10 secluded holiday homes in Andalucia, you will find country houses, on hilltops and others that, despite being "near" other houses, are entirely private and not overlooked.
Take a look at the best secluded holiday homes in Andalucia.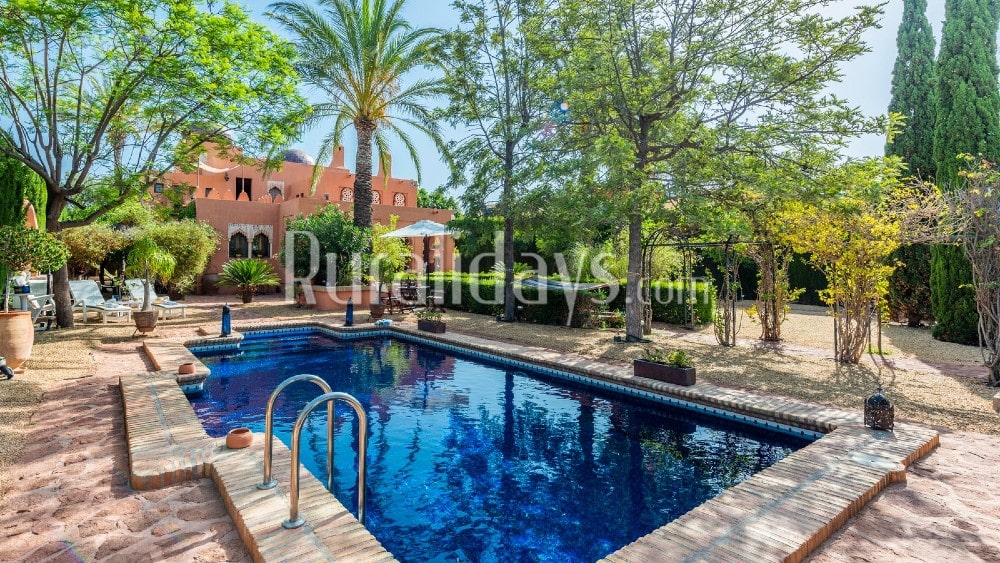 This magnificent holiday home features a decoration that will surprise you. As soon as you enter its garden, you will be enveloped by a Mudejar atmosphere: luxury gardens, fountains, a fully private swimming pool and the architecture of the villa itself lead you into a one-thousand-and-one-night fairytale. The style of the house is also reflected in the interior of the house, whose rooms are equipped with Mudejar-style furniture. The provided comforts and guaranteed privacy will make you enjoy your holidays in a unique setting.
This is not just a holiday home, this is an Arab palace. The Arabic theme is reflected in a tasteful way in every room and everywhere in the spacious garden (with excellent swimming pool). Even on a (rare) rainy day it was therefore nice to be in the house. The location is great: beach, village and supermarkets a 5-minute drive away, less than an hour from the airport, plenty of outings in the area. Furthermore, the owner is exceptionally friendly and the children thought it was an experience to be here. Nothing but praise.
Frank, Netherlands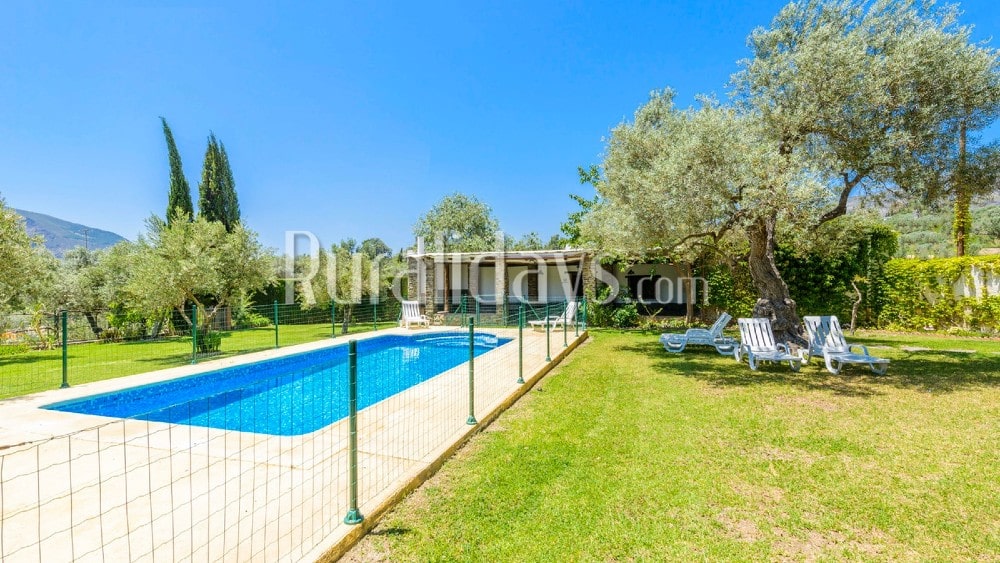 The characteristic that stands out the most about this holiday home is its splendid private garden, which is also wholly fenced, thus ensuring full-privacy holidays for the whole family. The high hedge and trees that envelope the outdoor area let you relax away from prying eyes, and even enjoy a refreshing dip in the fully fenced private pool. The rustic interior adds a unique charm to your well-earned holidays.
We had a wonderful relaxing time. The house is beautiful and well equipped and Orgiva is a great base from which to visit places and go for walks. It is about 40 minutes to Salobrena beach. You do need a car to get about. A great location!
Wilma, United Kingdom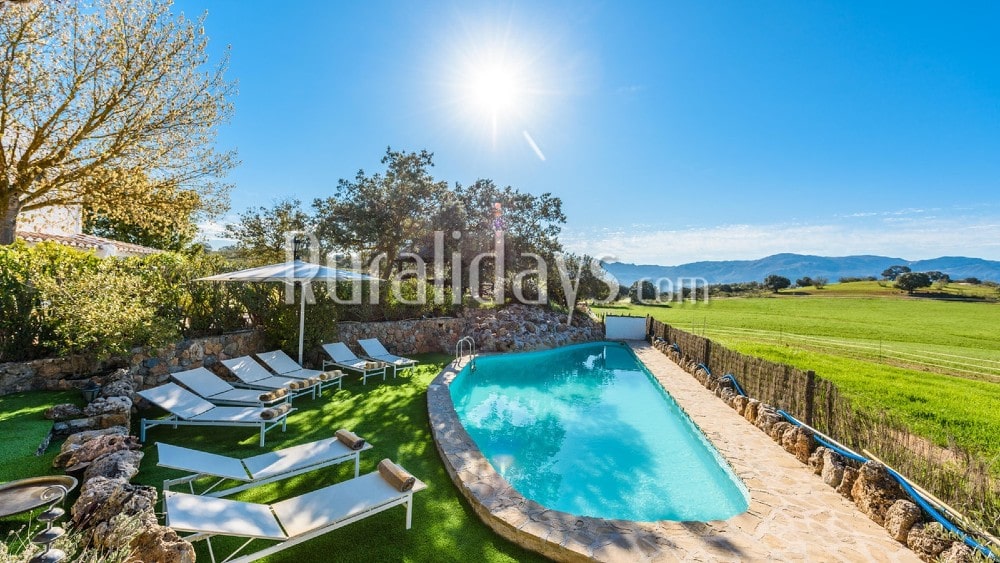 If you want to spend your holidays in an entirely secluded setting, this house is exactly what you need. Located in the countryside of Malaga, surrounded by fields and smooth hills, this lovely holiday home provides the perfect relaxing environment for a family of 12 people. The fabulous, not-overlooked pool area, lets you refresh and sunbathe as much as you want; and, of course, the interior space doesn't lag behind. With modern equipment and light-filled rooms, you will regain your strengths during your well-deserved holidays in Malaga.
Manuel was friendly, welcoming and helped us with everything we needed to know about the house and area. Manuel was exactly on time at the meeting point to bring us to the house on our first day and on the day of check out he was also there exactly on time. The house was very comfortable, very warm and cozy in winter with lots of space. Beautiful big dining table to have wonderful family dinners and the sauna at the end of cold winter days was fantastic! Everybody enjoyed having their own ensuites and the kitchen was well fitted out. Highly recommended. Granada, Cordoba, Ronda and the coast are all easy day trips.
Erik, United Kingdom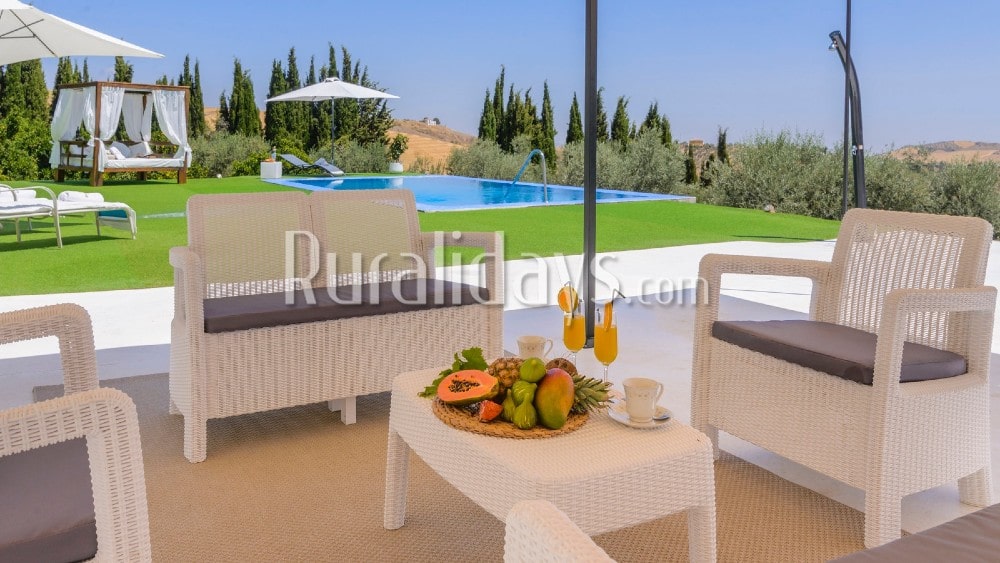 To enjoy the breathtaking vistas and fabulous equipment of this villa, you will only have to move to Antequera – La Higuera, only 15 km from the renowned Torcal. Once here, you will enjoy a secluded setting that lets you spend your holidays as you want. The panoramic views, the enormous private pool, the Balinese bed and the modern equipment and decor become your trustworthy companions during your holidays in this villa.
We spent 14 days in this wonderful villa. The location is ideal if you want to get away from everything, and stay in authentic Andalucía. The sight and sound of the goat bells as they passed daily was a great experience and added to the atmosphere. The outside areas are the best we have had from any rental villa in Spain, the view from the pool is wonderful and relaxing, and you can see the sea on a clear day. El Torcal de Antequera, (definitely worth a visit) is viewable from the villa, and eagles fly over daily. The villa was exceptionally clean and well kept, with everything you need for a great holiday. The local town of Villanueva de la Concepción has a good supermarket and a selection of bar/restaurants, authentic and not touristic. We recommend Restaurante Meson Rincón de la Villa, and Bar Oasis, both with friendly staff with good food. You will need some Spanish language here, as little English is spoken, but for us this added to our holiday experience . The owner Juan was extremely helpful, and responded to emails very quickly (in English) All in all, a great experience which we would fully recommend.
John, United Kingdom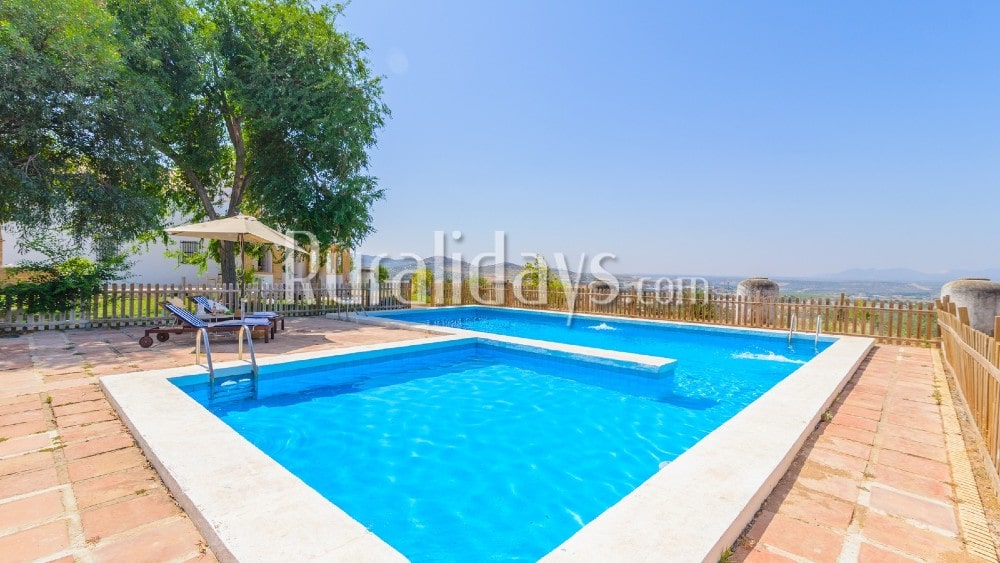 This holiday home is located in the countryside of Cordoba, surrounded by hectares of fields that guarantee total privacy for its seven guests. Its location is perfect for enjoying your holidays in full privacy and quietness, in a not-overlooked setting and with your loved ones. Last, but not least, the fact that this house is actually a recently-renovated convent provides it with an even more peculiar atmosphere.
We had a lovely time! Javier and his brother were very friendly and accommodating. The home was large and inviting. There is only one bathroom so that might be difficult for large groups but was fine for us. It was also chilly in the evenings because there are only electric heaters (the gas heater wasn't working at the time). But overall the environment was quiet and peaceful and we really enjoyed our stay.
Justine, United Kingdom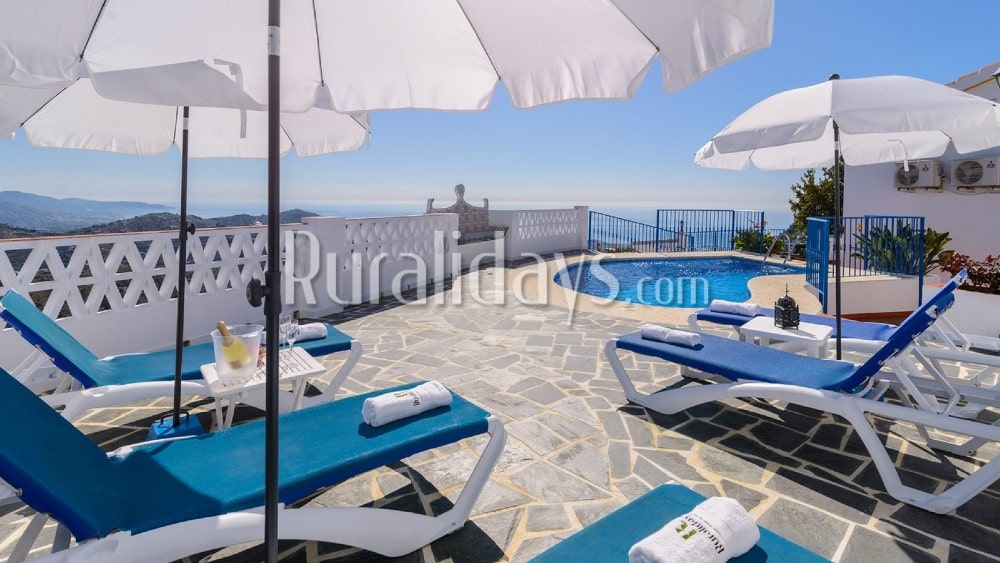 Thanks to its location, on a mountaintop, this holiday home enjoys breathtaking vistas that will leave you breathless. It also features full privacy so that you can enjoy your not-overlooked holidays. Refresh in the magnificent private pool while you fall in love with the surrounding views, relax on the sun loungers and have your breakfast in the outdoor dining area. You can do all of this in an isolated holiday home, thus making these holidays the best you've ever had.
We recently spent two wonderful weeks in this beautiful house. It's in a gorgeous location, with truly amazing views, just what we were hoping to find! Definitely just as good as it looks in the photos! Lovely seating areas, creatively decorated inside and out with interesting tiles and colours, spotlessly clean and well equipped, a very relaxing place. We received a very kind & friendly welcome from Carlos, who was always available if needed and who truly cared that we would have all that we needed to enjoy a great vacation. We highly recommend it!
Dr. Tony, United Kingdom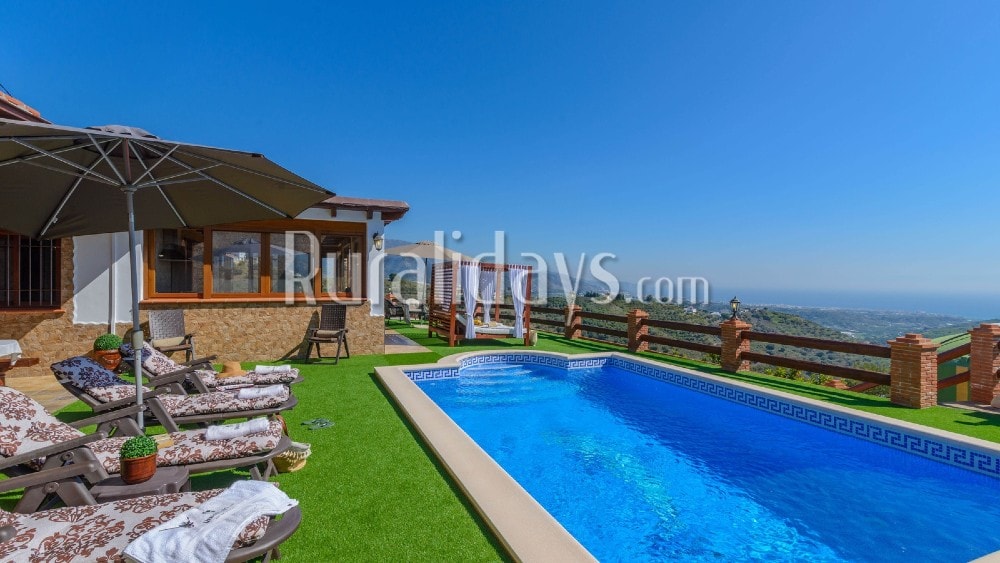 The charming views provided by the location of this holiday home ensure the perfect place for a relaxing stay. You will enjoy the quietness and modern rooms of the indoor area, in addition to making the most of the secluded setting of the house. The valley that extends at your feet and the comforts of the outdoor space, which include a fabulous private pool, an area for dining "al fresco" and a summer kitchen, guarantee the best holidays you can imagine.
This Villa is lovely and modern, which is why we chose it. The kitchen area is very modern and in tip top condition. (Has anyone ever used the oven?) There were plenty of utensils, crockery etc, and lots of cleaning stuff as well. Well taken care of. The outdoor space is fabulous and we enjoyed our week there, swimming, reading and relaxing. The view was great and I enjoyed looking at the hills every day. They fascinated me. The Pool was fabulous and I enjoyed that part tremendously. Lovely and clean. The owner Jésus is a wonderful man, and he made sure that we were ok. Would not hesitate to recommend the Villa, but one would require a vehicle as you are a little remote, which is wonderfully quiet.
Anne, United Kingdom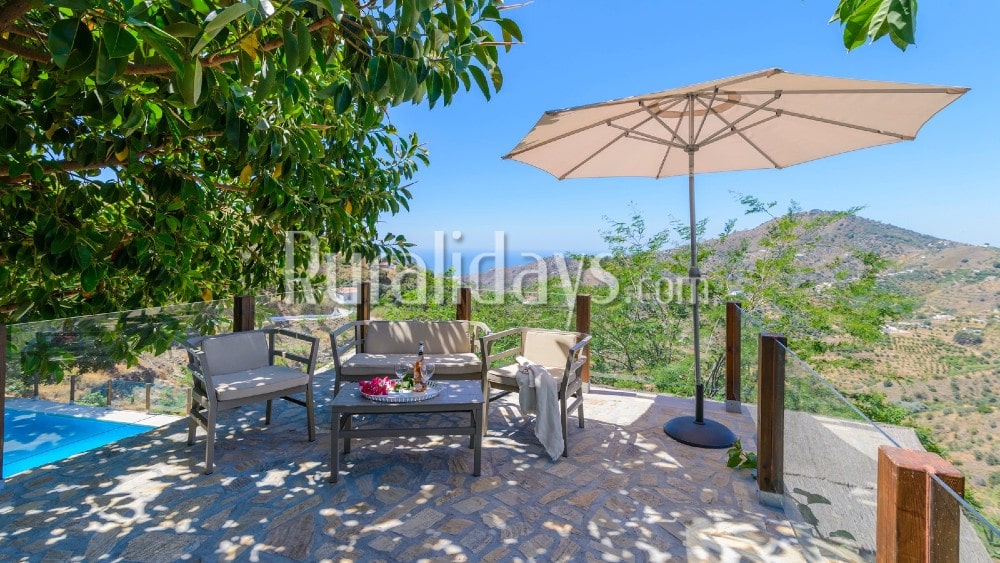 Modern design and unbeatable location: this holiday home relies on everything you need to spend the dream holidays you've been longing for, in a secluded setting. Besides, it sleeps 16, which allows the whole family to spend their holidays together. The houseware and its fabulous outdoor area provide a warm and cosy ambience where you will spend the most relaxing holidays: all of this, in a not-overlooked setting.
Just awesome villa!! Everything was perfect for us!
Jani, United Kingdom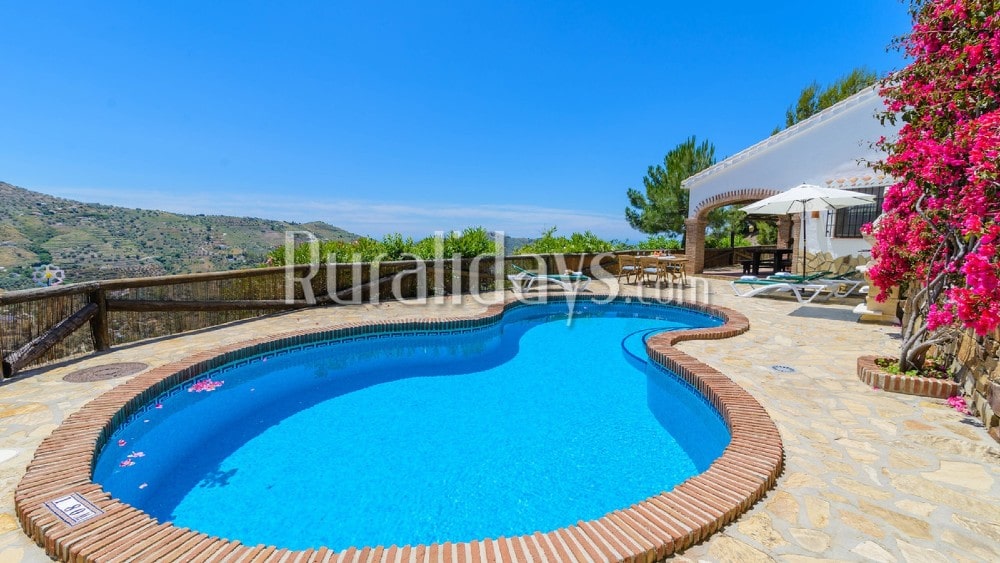 If you're looking for a place where you can relax and recharge your batteries, this holiday home on the hills of Competa is exactly what you need. Its rustic indoor area is typical of the holiday homes in inland Andalucia, and its cosy outdoor space is perfect for enjoying the renowned good weather of the province of Malaga. Besides, as it is surrounded by lush vegetation and located on a hilltop, it guarantees the privacy you need to make the most of your stay.
Zeer kalme omgeving met goed onderhouden zwembad. Zeer goede service door antonio, zeer snel en vriendelijk
Peter, United Kingdom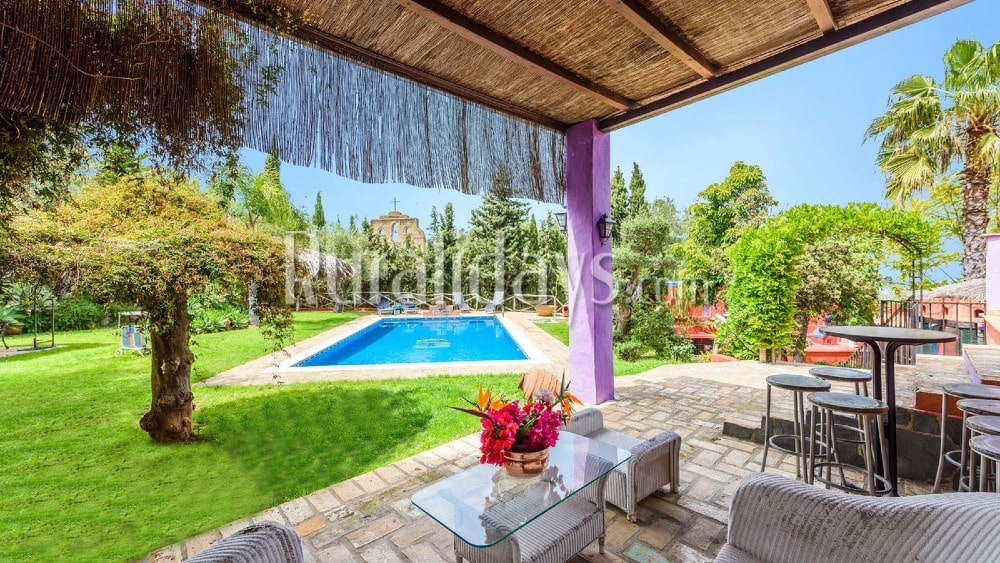 Surrounded by lush vegetation, enveloped by a perfectly-maintained garden where you can enjoy the Andalusian sun, this fabulous rural holiday home is ideal for your not-overlooked holidays. The house sleeps 6, which makes it ideal for a family getaway or a trip with a small group of friends. The picturesque decor of the indoor area mixes with the comforts provided. Everything you may desire, you will find in this holiday home on the outskirts of Alhaurín el Grande, for secluded holidays.
We used the main areas of the house and it is really spacious, great external areas and perfect pool. Super clean and maintained well. As many places in this area it is situated at 10 mins from the main village but you need a car to reach it.
David, United Kingdom
Your secluded holiday home in Andalucia
More properties await you on our website. You can choose the one that suits your needs for privacy better, by selecting the comforts that you prefer and the location that draws your attention. Take a look at the best holiday homes in Andalucia and ask our team for advice about the best secluded and isolated holiday homes in Andalucia.
Top 10 secluded holiday homes in Andalucia is an article that talks about
Top Villas
in
Almeria